The Raspberry Pi 4 Model is one of the versions of the low-cost Raspberry Pi computer. It is not like the normal devices since in its cheapest form it has no case, and is just a credit-card-sized electronic board similar to the ones that you find inside a computer or laptop. Nonetheless, it is considerably smaller.
At the time when it was unveiled, the basic device cost around $35. But, experts advised users to go for the Raspberry Pi 4 4GB model at $55 for its all-around performance.
What Can A Raspberry Pi 4 Do?
This device can do a lot of things. In some cases, amateur tech enthusiasts use the Pi 4 boards as file servers, routers, media centers, network-level ad-blockers, and retro game consoles. Nonetheless, that is just a tip of what the Raspberry Pi 4 can do.
There are many projects where people have used the device to build phones, tablets, smart mirrors, laptops, and robots. It has also been used to run experiments on the International Space Station and take pictures on the edge of space.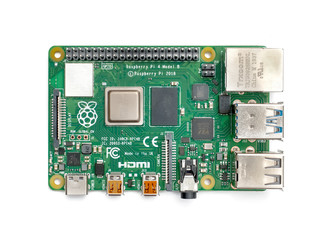 With Raspberry Pi 4 being significantly fast, having the ability to decode 4K videos, benefiting from faster storage through USB 3.0, coupled with faster network connections through Gigabit Ethernet, it is always open to a plethora of other new uses. It supports two screens at once, up to dual 4K@30 displays, making it a boon for the creatives who need more desktop space.
How To Get Started Using The Device
Please note that in its cheapest form, this device is just a bare board. There has to be a power supply, a screen, monitor, or TV, a micro HDMI cable to connect to the monitor, a keyboard, and a mouse.
After hooking up all cables, new users need to download the NOOBS (New Out-Of-Box Software) installer. After this download is complete, instructions on how to install an OS on the Pi are available here. The installer enables the user to install different operating systems. But, first-time users are advised to use the official OS that is known as Raspbian.
In the coming years, metro traffic will grow 4X faster than anywhere else in the network and a majority of it stays there, serving the distributed edge service. The lines that separate different parts of the services and network will blur with time. Also, the newly distributed 5G and edge services will push almost 33% of all workloads out to edge clouds.
To capitalize on the 5G and edge opportunities, the network operators need a network created around experience-driven outcomes, but not connectivity. The traditional metro networks created to trombone traffic through a centralized core are not guaranteed to get the job done. A Cloud Metro comes in handy.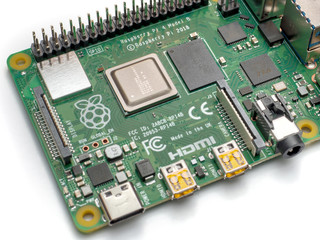 Juniper's Cloud Metro managed to redesign siloed, point-to-point metro networks to operate as one versatile IP services fabric. It translated the network designs to address new needs of next-generation Metro networks. As opposed to the fragmented architectures, a Cloud Metro is designed for resource-pooling, network slicing, and various cloud-based operations.
It interfaces with virtual and physical network functions to provide distributed services nearer to the end-user. Additionally, Raspberry Pi 4 kit intelligently distributes user plane functions and the service edge wherever required to enhance quality and efficiency. Furthermore, it implements a cloud-like architecture to introduce cloud agility and resiliency to the metro networks.
Raspbian dominated desktop computers for years and the OS is constantly being improved with multiple graphical overhauls that give it a minimalistic look. The Raspberry Pi 4 Windows 10, for instance, has an optimized web browser, programming tools, an office suite, educational games, and many other software packages.
How Is The Device Different From Its Predecessors?
The Raspberry Pi 4 model is faster and more capable than its predecessors. Its main processor offers two to three times the performance delivered by the predecessors in various benchmarks.
Unlike the rest, this board plays 4K videos at 60 frames per second which enhances its media center credentials. But, not all videos play smoothly. But since then, the hardware acceleration for H.265-encoded video was developed for Pi's different operating systems. Notably, the Pi 4 supports wireless internet straight out of the box, designed with built-in Wi-Fi and Bluetooth..
These boards could originally boot directly from a USB-attached pen drive or hard drive, and after several firmware updates, they now support booting from a network-attached file system, via PXE. The network-attached drive comes in handy for remotely updating a Raspberry Pi 4 and for sharing an OS image between different machines.
Can The PI 4 Operate Like A Desktop PC Or A Laptop?
This device can be operated as a budget desktop and since the release of the Pi 4, it has never worked better. The most significant benefit for daily use including accessing online services, web browsing, and office apps, is the extra memory.
The Raspberry Pi 4 8GB does not struggle with heavy web pages and applications. It can switch between the full online services like the current JavaScript-laden sites and Google's G Suite without lagging. In most cases, it seems a little different to a PC costing many times the price due to its improved specs and the lightweight yet highly capable Raspbian desktop.
The Pi 4 runs a computer on mobile-targeted processors and although its performance is good enough, it does not feel the same as a high-end computer. Since the browser seems like the only application that a computer requires to run with the shift from software to online services, the Raspberry Pi 4 excels on this front.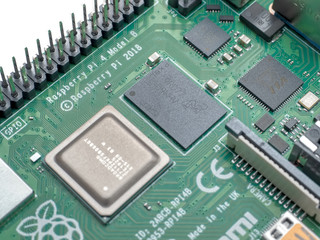 It performs excellently due to its extra memory and the Raspberry Pi Foundation's effort to optimize Raspbian's default Chromium browser. The technology installed in the Raspberry Pie 4 projects managed to enhance 4K playback on media center operating systems including LibreELEC.
Nevertheless, Pi 4 works also like a thin client for Windows 10. Its performance is nearly the same as operating a modern Windows 10 PC except for the slow transfer of data to USB sticks. With more updates coming up, the in-built Gigabit Ethernet work even better like a thin client.
These devices have Chromium browser, which is the open-source browser that Chrome is based on, enabling users to browse with it. Its performance on the 4GB and 8GB models is great with minimal lag on heavy sites. The only discovered wrinkle was screen tearing on YouTube video at launch but it was fixed with an update.
Can Pi 4 Work As A Media Center And Run Classic Console Games?
There are several options available for anyone that wants to use the Raspberry Pi 4 as a media center. The most popular choices include LibreElec and the Kodi-based OSes OSMC.
This device comes with the extra advantage of a quick and new CPU and graphics processor that the Raspberry Pi Foundation has assured can play local H.265-encoded video. But, the video has to be recorded at 3840 x 2160 resolution and 60 frames per second. Nonetheless, support for the acceleration is still being improved across Pi's operating systems.
Pi 4 comes with built-in support for Wi-Fi making it easier to stream content to the Pi as the Bluetooth functionality simplifies the hooking up peripherals.
In the case of games, a plethora of vintage games run on the Pi using emulators like RetroPie. It plays a variety of games but the more recent the system is, the more likely it might be that the more demanding titles will struggle.
Operating Systems Supported By The Pi 4
This device can support an assortment of systems, that include Snappy Ubuntu Core, the official Raspbian OS, the Kodi-based media centers OSMC, Ubuntu Mate, and LibreElec. Additionally, it can run Windows 10 IoT Core that is quite different compared to the desktop version of Windows.
How Pi 4 Functions Integrates With Windows 10
The Pi 4 runs Windows 10 but it does not offer the experience of the full desktop version of Windows 10. The cutdown version of Windows 10 does not boot into the graphical desktop and it is controlled through a command-line interface on a remote computer. It just operates a single full screen Universal Windows Platform app per session.
But, the Pi 4 can work as a Windows 10 thin client where Windows 10 runs on a server and is streamed to the Pi using a powerful server. In this context, the experience can be nearly the same as running a Windows 10 machine.
With the extra power of the Raspberry Pi 4 Windows 10, coupled with its dual-display support, the device can make more inroads into the thin client space. Technological advancements have also made it possible for the Pi 4 to run a full desktop version of Windows on Arm.
The Pi 4 runs Windows desktop apps but it needs lots of effort to do that. But users need to use, Pi386 software for this process. whichever approach is taken, the performance is not up to par with the desktop Windows version.
Interestingly, the tools needed to run Windows apps on the Pi need a lot of processing power which restricts users to running the 20-year-old Windows apps and games, together with a few simple modern text editors.
Raspberry Pi 4's Specs
This device operates on Broadcom BCM2711 system-on-a-chip technology that enables it to be compatible with several other systems. The Raspberry Pi 4 is packed with a Quad-core 1.5GHz Arm Cortex-A72 based processor CPU, a VideoCore VI GPU, and 1/2/4GB LPDDR4 RAM for smooth operations.
Pi 4 comes with 802.11ac Wi-Fi / Bluetooth 5.0, Gigabit Ethernet connectivity features that enable it to support various browsers and deliver a desktop or laptop browsing experience. You can connect it with other systems through the 2 x USB 3.0 and 2 x USB 2.0 ports.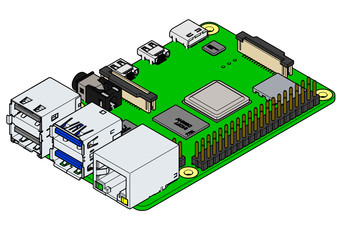 It is powered using various methods. To achieve 5V/3A you can connect power through USB-C, and get 5V use the GPIO header. Pi 4 comes with expandability that can accommodate up to a 40-pin GPIO header.
In the case of video and sound functionality and capability, the Pi 4 comes with 2 x micro-HDMI ports that support 4K@60Hz displays through HDMI 2.0. It has a MIPI CSI camera port, MIPI DSI display port, a composite video port, and 4 pole stereo output to deliver an exquisite video and sound output experience.