Crypto lovers seem to settle in places where the rules and regulations of the land favor their business activities. But for now, there is not a lot of official government data that points to the places where the crypto lovers settle.
While North America might be the largest trailblazer with regards to speedily normalizing crypto and blockchain, adoption is not happening everywhere at the same rate. In some cases, small cities are outpacing big metropolitan areas in terms of crypto adoption.
Some analysts say that it might be worth relocating to the less populous cities that do not outlaw cryptos. Some of the indicators that a city is ideal for crypto lovers include the presence of businesses that accept crypto payments and Bitcoin ATMs.
Although most of the Bitcoin ATMs are found in the United States, the crypto kiosks are also available in many other nations throughout the world, including small countries like Georgia and Tbilisi.
Related: How to Use A Bitcoin ATM
"Bitcoin ATMs are becoming an increasingly common fixture in countries with volatile financial markets whose citizens require a quick exchange of an official currency for a digital asset not regulated by the government."
In 2022, other smaller cities are poised to rival the major metropolitan areas in terms of bitcoin adoption which, in turn, attracts crypto lovers. Here are the top cities that are attracting crypto lovers.
San Francisco
The technology capital of the United States appears prominently on this list. San Francisco is home to crypto trading platforms Kraken and Coinbase. Over 200 merchants accept bitcoin in this city ranging from bars and restaurants to stores and hostels. Some of the notable companies that have embraced crypto payments include Pizza Patrón, Curry Up Now, and Spirito's Italian Diner.
There are nearly 440 bitcoin ATMs in the Bay Area, including 68 in the city of San Francisco itself. Most of these ATMs support other cryptos like Dash, Ether, and Litecoin. That is impressive considering its small population of 880,000. Not only does this city let you pay for meals using bitcoin, but it also lets you use digital currencies at several shopping centers, nightclubs, cafes, and hotels.
This city hosts many crypto-related events and meetups including the annual Bitcoin Conference and Blockchain Week. Hence, the city is a great destination for all crypto lovers.
Toronto, Canada
Canada is playing a major role in the advancement of cryptos and blockchain technologies. The North American nation legally permits the use of digital assets and cryptos. At some point, even the Bank of Canada tried to adopt blockchain technology within their banking system.
Although that project was suspended until more research data is collected, the bank invested in the central bank digital currencies (CBDC) concept. It tested a project on R3's Corda distributed ledger technology solution. That project was live-tested in a cross-border settlement test with the Monetary Authority of Singapore in 2019.
The capital of such a progressive nation is another hub for crypto lovers. Toronto currently has a thriving startup ecosystem that has produced many notable projects, including Aion Torontonians, Cosmos, and Ethereum. You can spend Bitcoin at Grossman's Tavern, Downtown Dental Hygiene Clinic, Toronto Coach Terminal, and many other merchants and consulting firms. There are at least 345 Bitcoin ATMs in Toronto.
Zug, Switzerland
The small Swiss town of Zug is home to "Crypto Valley," which is a cluster of firms and foundations that deal with blockchain technology and digital assets. There were around 450 crypto/blockchain firms in 2018 that were active in the region.
But since the pandemic ravaged the world, the number of companies registered in the Crypto Valley has surged to over 920. However, not all of these firms operate from Zug. The other hotspots of the Crypto Valley include Ticino, Neuchâtel, Vaud, Zurich, Liechtenstein, Geneva, Lucerne, and Bern.
As of 2021, the top 50 among the crypto firms in Crypto Valley had a cumulative value of $37.5B, with the Ethereum-network alone accounting for $25.3B. Zug is one of the smallest cantons in Switzerland. But, it has one of the nation's lowest tax rates, which attracts hundreds of global firms and crypto lovers.
The Swiss Municipality of Zug engaged in a bold experiment in 2016 accepting Bitcoin as a means of payment for municipal services. It was the first case of a government agency accepting cryptos. Since then, taxes in the Canton of Zug can be paid using cryptos like Ether and Bitcoin due to its partnership with Bitcoin Suisse.
Ljubljana, Slovenia
Ljubljana is the capital of Slovenia and its biggest city. It has a population of 289,000 but appears to be a haven for crypto lovers. Notably, Bitstamp exchange was launched by Slovenians before it set up operations in London and Luxembourg.
As of 2022, Ljubljana has 14 bitcoin ATMs in the city and the surrounding areas and about 200 merchants already accept bitcoin payments. Although the city is not among the most popular destinations in the crypto world, it is dedicated to blockchain technology and bitcoin. Ljubljana constructed the first Bitcoin-friendly shopping center in the world, the 'Bitcoin City'.
With at least 500 retail stores and covering over 1.56 million square feet of commercial space, this mall is filled with sellers who accept crypto payments. Bitcoin City welcomes more than 20 million visitors who come seeking relaxation and entertainment. It is a must-visit for the crypto lovers who splurge out on their tokens.
The city strives to adopt more strategies to pay, it now has many bitcoin ATMs and more than 200 retailers who confirm that they accept crypto payments.
Berlin, Germany
The German capital is already a major center for cryptosystems development. It is the host to EOS and IOTA crypto, a blockchain operating network for commercial-scale decentralized applications. So far, Germany has attracted huge talents and funding for its different crypto projects.
Notably, the government legalized  some electronic-only securities, paperless bearer bonds. Since the start of 2020, the new law also allowed banks to store and custody cryptos. BaFin got nearly 40 applications from different banks to participate.
Related:Germany's BaFin Clarifies Licensing Process for Foreign Crypto Custodians
In the meantime, Berlin has an open ecosystem, many comfortable and innovative co-working spaces, and businesslike citizens. The city is popular since 'it never sleeps' making it appealing even to young entrepreneurs. The network of crypto-adoption in daily transactions is starting to develop making it a perfect destination for crypto lovers.
The first Bitcoin ATM in Berlin was set up on November 24, 2020, at Telewelt. For now, hundreds of businesses are ready to accept crypto payments.
Buenos Aires, Argentina
Buenos Aires appears to have adopted the more practical route with Bitcoin. With the nation being in a recession, having high rates of inflation, and its fiat currency highly undervalued, local businesses have now turned to bitcoin payments.
This city ranks among the largest crypto cities in South America with over 130 organizations accepting crypto payments. It means that you can pay for coffee, meals, drinks, and cab fares within Buenos Aires. The city started introducing Bitcoin ATMs in 2021 and now almost 15 of them are around the city making it a great destination for crypto lovers.
The other cities in Argentina that are adopting a crypto-friendly approach are Santiago and Sao Paulo.
El Zonte, El Salvador
The tiny tourist town in El Salvador has rebranded itself as "Bitcoin Beach," the world's first bitcoin-centered economy. This decision was made after a considerable crypto donation to the municipal government.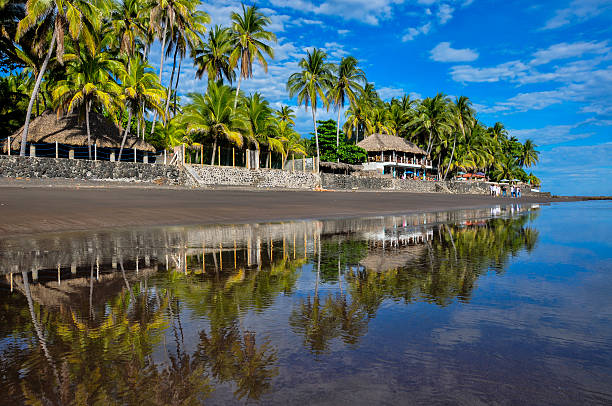 El Zonte got its first bitcoin ATM in 2020, one of 1,500 that are being installed around the nation as El Salvador moved to adopt the crypto as legal tender. Bitcoin can now be used for paying taxes, and foreign investors are not subjected to capital gains taxes.
Related: When Bitcoin Became a Legal Tender in El Salvador!
President Nayib Bukele's administration is working with entrepreneurs to introduce a simplified bitcoin wallet, Chivo, for low-fee transactions. Hence, El Zonte is an attractive destination for crypto lovers.
Singapore
Singapore is a major hub for crypto-related companies. Today, there are over 397 blockchain startups registered there and this number is growing. Notably, the cryptocurrency boom is enhanced by governmental enthusiasm. In December 2020, some Singaporean government agencies unveiled the Singapore Blockchain Innovation Programme (SBIP).
SBIP is a research project with SGD 12 million, nearly US$8.9 million, in funding. This project focused on the use of blockchain in logistics, trade, and the supply chain. Furthermore, the DBS Digital Exchange was launched with the support of Southeast Asia's biggest lender, DBS Group Holdings.
In Singapore, people and companies that hold cryptos for the long term are not taxed since there is no capital gains tax in Singapore. Most businesses including the Skyline nightclub KOPITIAM foodcourts, Ducatus Café, and many other retailers accepted cryptocurrency payments. Ryde also said in 2020 that it would let clients pay for rides using bitcoin. With all these adoptions around Singapore, crypto lovers are guaranteed to enjoy their stay there.
Malta
Malta is also known as the 'Blockchain Island'. It has performed extremely well to become one of the most cryptocurrency-friendly destinations in the entire world. This island has laid out strategic laws that authorize the trading of cryptocurrencies making it easy for the crypto companies within its jurisdiction to operate.
In case you decide to explore Malta, you can eat and drink in several trendy restaurants like at the Dinner in the Sky, where you can dine 40 meters above the island's rooftops. You can also book a tennis class in one of the elite clubs in Malta or pay for a cab all using bitcoin.
Prague, Czech Republic
The Czech capital was named the most crypto-friendly city in the world in 2018. At the time, it was the best place to spend cryptos, according to a Fortune Jack study. Prague had 154 venues where bitcoin payments were accepted.
Since then, more retailers now accept crypto payments and many ATMs are available where people can withdraw cash from their digital currency accounts. In that context, some services like Flatio allow the renting and purchase of apartments and property in Prague using bitcoin and other cryptos.
The Holešovice district of Prague is home to the "Institute of Cryptoanarchy" Paralelní Polis. Here, like-minded people meet to grow their plans for an alternative society with increased personal freedoms and privacy underpinned by blockchain and cryptos. The organization also hosts the annual Hackers Congress.
Other Crypto Lovers' Haven Cities
Miami, Florida is another major metropolis with over 50 merchants who confirmed that they accept bitcoin and crypto payments. The city has an incredible 651 bitcoin ATMs and tellers. It is also the home to the Miami Bitcoin Conference, which is one of the biggest and oldest conventions of the crypto sector.
The city's local government wants to attract blockchain companies and crypto lovers to the city, with Mayor Francis Suarez proposing the investment of government funds in bitcoin and launching municipal crypto dubbed the MiamiCoin.
Related: CityCoins Community Officialy Launches with Miamicoin
The Takeaway
Bitcoin has made many notable inroads since the first block was mined in 2009. The incredible adoption rate indicates that the cryptos are here to stay. While it is encouraging to see different international financial centers embracing bitcoin and other virtual currencies, it is also interesting that smaller towns and communities are doing the same.