Instagram's new Threads app is barely six days old and it has hit lots of headlines in the social medial space. The new app exceeded 100 million users in 5 days, meaning that it reached the milestone faster than even ChatGPT. OpenAI's popular chatbot surpassed this mark after two months, but Threads, which only launched on July 5, got there within a few days.
The number of users on Threads can be found in the Instagram app that tracks the updated size of the Threads user base. Threads was a massive hit almost instantly. Within the first two hours of the launch, it surpassed 2 million users and constantly surged to 5 million, 10 million, 30 million, and then 70 million.
CEO Mark Zuckerberg said on July 7:
"The launch has been way beyond our expectations."
On July 10, Zuckerberg said in a Threads post that the growth was 'mostly organic.' Instagram head Adam Mosseri posted about it, mentioning that it took only five days to reach there:
"Users aren't just signing up: they're posting, too. As of Thursday, my colleague Alex Heath reported that there have already been more than 95 million posts and 190 million likes shared on the app."
With that in mind, Threads is still in its early stages, and we will need to wait to see whether it acquires a similar cultural cachet as Twitter did. Meta is not aiming to replace Twitter, as explained by Instagram head Mosseri. The firm will not actively support hard news and politics on the platform. Nonetheless, it might be the go-to place for a conversation-based social media platform.
"And while Meta couldn't be more psyched about how the launch week has gone, we don't even know if this thing is retentive yet."
Although these numbers cannot be directly comparable, as of November 2022 Twitter had nearly 260 million monetizable daily active users, according to a tweet from Elon Musk at the time. According to recent The Wall Street Journal reports, it told advertisers that it has nearly 535 million monetizable monthly active users.
However, external data indicates that Twitter's traffic has been on a downside movement in recent months, with CloudFlare CEO Matthew Prince posting to insist that traffic is "tanking."
Threads Is thriving
Threads has smashed the records for the quickest-growing consumer app reaching 100 million users in 5 days. ChatGPT took two months to hit 100 million users while the video-sharing app TikTok took nine months, and Instagram took two and a half years to reach that mark after its 2010 launch.
Threads went live on Android and Apple app stores in 100 countries on July 5, but it is not available in Europe because of legal issues the parent firm Meta has had with EU's data privacy legislation.
Related: The Ultimate ChatGPT Guide for 2023
Twitter has about 200 million daily users but it has suffered multiple technical failures since Elon Musk acquired the company in 2022 and sacked thousands of staff.
Musk is also the boss of SpaceX, Tesla, and the Boring Company. He has alienated many users by introducing charges for previously free services and letting banned right-wing accounts back on Twitter. Many rivals have come up, but most are niche firms with no capacity to grow at an essential scale that can dethrone Twitter.
Threads is having an easy time since it is connected to Instagram, which boasts over 1.4 billion regular users. Quiver Quantitative, an online data service provider, published that the app surpassed 100 million users at 07:00 GMT on July 10.
Other platforms that are using a count of the 'badges' got by Instagram users who have downloaded Threads reckoned that this mark had been exceeded earlier.
Twitter Traffic Is 'Tanking'
User traffic on Twitter seems to have slowed since the launch of Meta's text-based platform Threads. Threads is being touted by Meta executives as a positive "public square" for communities "that never really embraced Twitter." Users seem to be on board so far.
In that context, Meta CEO Mark Zuckerberg said:
"Threads reached 100 million sign-ups over the weekend. That's mostly organic demand and we haven't even turned on many promotions yet. Can't believe it's only been 5 days!"
Twitter seems to have taken a massive hit with Cloudflare CEO, Matthew Prince, sharing a screenshot to Twitter indicating that traffic was 'tanking' on the platform.
Based on Similarweb, a data firm that specializes in web analytics, Twitter's web traffic was down 5% for the first two days Threads was available compared to the previous week. The firm stated that Twitter's web traffic is down 11% compared with the same days last year.
Twitter offered an automated response to this issue but Meta is yet to comment beyond Zuckerberg's post. The massive growth of Threads is assisted by the fact that it is linked to an existing social media behemoth, Instagram. Users can readily sign up with their current handles on Instagram and can retain some of their following as others sign up for this app.
Threads still has lots of room to grow, still inactive in Europe, where Mosseri commented that there is some regulatory complexity to navigate before the launch. If Threads manages to maintain its user base, it might strengthen its position as a formidable competitor for Twitter, which had 238 million monetizable daily active users in its last quarterly earnings report as a public firm last summer.
Twitter Threatens Legal Action Against Threads
Twitter CEO Elon Musk seems to have already shown some worry about Threads, as his longtime lawyer Alex Spiro wrote a letter to Meta blaming the firm for "systematic, wilful, and unlawful misappropriation" of trade secrets.
The letter says:
"Twitter intends to strictly enforce its intellectual property rights, and demands that Meta take immediate steps to stop using any Twitter trade secrets or other highly confidential information. Twitter reserves all rights, including, but not limited to, the right to seek both civil remedies and injunctive relief without further notice."
On Threads, Meta spokesperson Andy Stone said:
"No one on the Threads engineering team is a former Twitter employee – that's just not a thing".
Zuckerberg and Musk were also taking jabs at each other over the weekend, with Zuckerberg mocking Musk's tweet style and Musk calling Zuckerberg a derogatory name.
Threads is similar to Twitter and has already been pitched by Meta bosses as a 'friendly' alternative. On the other hand, Musk said "Competition is fine, cheating is not". However, Meta denied these claims in a legal letter that ex-Twitter staff helped a lot in the creation of Threads.
Twitter has an estimated 350 million users according to Statista. But, Threads seems to be catching up swiftly. Based on an SEC filing from 2013, it took Twitter over four years to gain the same number of users as Threads got in a day. However, Twitter grew from scratch while Threads managed to tap into the pre-existing two billion monthly users Meta says Instagram has.
James Clayton, a BBC News technology reporter James, said that the look and feel of Threads resemble those of Twitter. He also added that the news feed and the reposting were "incredibly familiar".
Related: Do You Own the Copyright When Buying an NFT?
But the United States copyright law never protects ideas. Hence, for Twitter to succeed in court it must prove that its intellectual property, including programming code, was taken. In 2012 Meta was granted a patent for "communicating a newsfeed". This system helps in publishing all the latest posts when using Facebook.
The managing director of Cleo Capital, Sarah Kunst, said that Threads might provide a "brand-safe environment" for the current Instagram advertisers who believe "they can allocate some budget and see what happens".
Kunst added:
"They've made it very easy to cross-post to other platforms like Instagram, so I think that we'll continue to see growth."
As Threads launched in 100 nations, Zuckerberg broke over 11 years of silence on Twitter to post a popular meme of two almost identical Spider-Man figures that point at each other, indicating a stand-off.
— Mark Zuckerberg (@finkd) July 6, 2023
Moments later, as the word 'Threads' trended globally on Twitter, Musk said:
"It is infinitely preferable to be attacked by strangers on Twitter, than indulge in the false happiness of hide-the-pain Instagram."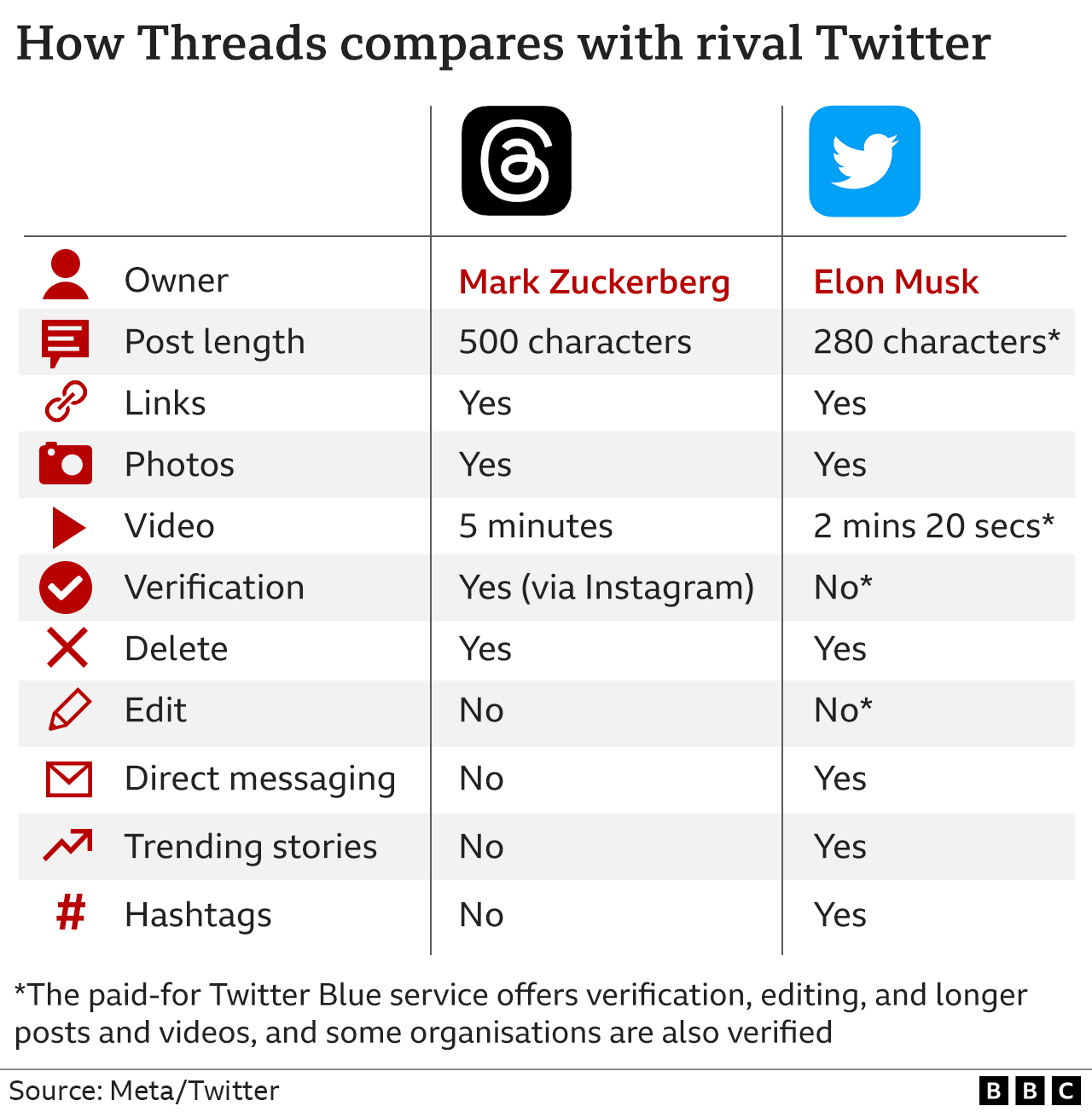 Twitter CEO Linda Yaccarino tweeted on this issue:
"While Twitter is 'often imitated' it can never be duplicated."
Both Twitter and Meta have undertaken massive layoffs in 2023, with Meta saying in April that it would lay off nearly 10,000 employees. Twitter has lost most of its 7,500 employees, up to 80%, in waves of redundancies after Elon Musk's takeover in October 2022.