Cryptocurrency has turned finances and investing on its head. The popularity of cryptocurrency and NFTs have opened up financial options for more people and given them access to opportunities once only available to the wealthy and tech-savvy.
However, the concept of crypto and NFTs can go far beyond simply saving, investing, and making money. Diving into the world of crypto can open up worlds many people have thought were closed to the average person. This leveling of the playing field has brought ambitious projects to the forefront.
The recent foray into the metaverse has opened the door for crypto companies to make things like real estate, high fashion, and celebrity experiences available to everyone.
The far reaches of space have often been the playground of scientists and, as of late, the ultra-wealthy. Jeff Bezos blasted off into space in his own rocket, and Virgin Galactic's SpaceShipTwo will run a person $250,000 to $500,000 for a ticket to space.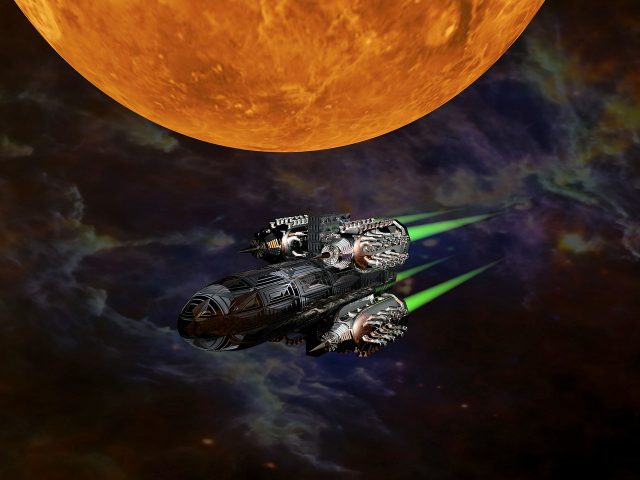 Elon Musk's SpaceX has offered consumer flights to wealthy businessmen, each of whom paid a whopping $55 million for a week's stay in the International Space Station — meals included.
NFTs have indeed opened doors for the Average Joe that were, in the past, sealed shut. Now, people who don't have the financial means of a billionaire CEO can gain access to space through crypto.
Metaverse Communities for an Out-of-this-World Experience According to recent polls, nearly half of all Americans dream of going to space, with some even willing to take on mortgage-sized debts to make that dream a reality.
Space
With tickets to visit outer space prohibitively expensive for the average person, some ventures focused solely on this "new frontier" are creating opportunities for community and, eventually, accessible space travel.
NFT communities have been born out of the Web3 revolution, giving people with similar interests and a penchant for crypto investments a place to communicate with like-minded people, trade, and gain access to society-specific benefits.
Since the popularity of NFTs has taken off, societies for every interest — from art to music to athletics — have sprung up throughout the internet.
In addition to interest-specific platforms and metaverse communities, celebrities have been early adopters of the move to the metaverse. Some of the most famous names, from Snoop Dogg to Paris Hilton, have laid claim to massive NFT collections, metaverse-based real estate, and virtual communities.
The line between real life and virtual living is already beginning to blur, bringing the storied "haves and have-nots" closer together in terms of what they are able to have access to. Access to space exploration may be the ultimate equalizer.
There are ventures emerging, such as our own Bad Astro Society, that seek to make affordable space travel a reality. These crypto companies are offering community memberships that seek to not only bring opportunities to people who may not have these particular chances offered to them otherwise but create communities around similar interests such as space exploration.
With consumer space exploration is already offered to the ultra-rich, there are opportunities for spaces on rockets to be reserved, which is where the purchase of space-travel-related NFTs comes in.
Through memberships in particular space-related metaverse societies, people have the chance to reserve seats that were before only available to those with hundreds of thousands or millions of dollars to throw at the adventure.
As NFTs, cryptocurrency, and the metaverse grow in popularity and use, one will begin to see more opportunity for niche offerings that also provides a gateway to community and connection.
Just like the connectedness that social media provided as it grew into the behemoth, it is today, NFT communities allow people to grow their social circles and explore a wider range of interests.
The Limit Does Not Exist
What makes the entire concept of the metaverse so exciting to those at the forefront of innovation is the limitless potential possibilities it presents. Almost anything someone can dream of doing, seeing, experiencing, buying, or creating can be possible within the metaverse. This limitlessness makes things like space travel for the average person a tangible idea.
To stay competitive in this new market, idea generation must remain continuously inventive. Offering something such as real-life space exploration within a metaverse society is indicative of this push for more radical innovation.
It's a new level of participation in the crypto and NFT space.
Where once the idea of saving and investing in cryptocurrency was mostly passive and metaphorical, ideas like NFT-linked space travel have brought tangible benefits to NFT holders.
Though ideas such as crypto-related space exploration goals are rooted in tangible realizations, many who are breaking into metaverse-based ventures have more intangible goals as well.
Ideas of resilience, human connection, rising above one's circumstances, and pure artistic vision color the technological advancements growing in companies like ours.
Even a decade ago, the idea of consumer space travel, a community within a virtual environment, or attending events within the metaverse would have seemed like something out of a sci-fi movie. The strides that have been made within this realm, even in the last 10 years, are incredible.
Metaverse-focused ventures and products have hit the mainstream, and people are starting to understand better how the metaverse, cryptocurrency, and NFTs can work for them in the real world, even if they are not famous, ultra-wealthy, or even, particularly tech-savvy.
To Places Unknown
This next phase of the internet is a foray into unknown places, wherein those with an adventurous enough spirit willing to take the proverbial reins are the ones who will blaze the trail
for others to follow. It may be too early to tell what precise impact the metaverse and cryptocurrency will have on society as a whole. Still, the future continues to look brighter with each passing year and each innovative step forward.
Online spaces have become increasingly more "real-life," with AI, VR, and social networks allowing people to communicate with one another and experience things that were previously impossible without these technologies.
Now that science has shown us that a metatarsal existence — one that mirrors real life — is possible, the next step is to bring real-life experiences within reach like never before.
About Bad Astro Society
Bad Astro Society (BAS) is the most ambitious, one-of-a-kind NFT project to date. Their beautiful artwork, aggressive business plan, and out-of-this-world benefits position the BAS to be the ultimate NFT club and sought-after membership.
These benefits include a complimentary ticket to real-life outer space for all 10,000 members (see LFG2Space section), participate in future BAS events (from minting future projects to IRL events), the ability to access the members-only area (the Bad Astro Station), purchase BAS merchandise, receive airdrops, have an elite pfp, and receive first-class treatment with all of their projects moving forward for decades to come.
Charlton Haupt
Charlton Haupt is the Founder and CEO of Bad Astro Society. He's also a husband, father, friend, adrenaline enthusiast, and lover of all things crypto and the outdoors. When Charlton isn't watching sports, he's constantly up to date on the latest news in the crypto market.