On July 24, the TikTok video-sharing app announced that it will allow posts of up to 1,000 words, in a move described as 'expanding the boundaries of content creation'.
With this announcement, TikTok becomes the latest tech giant looking to capitalize on people who might be looking for an alternative to Twitter.
The video-sharing platform announced on Monday that it will let users create "text-based content", in a notable move that is defined as:
"Expanding the boundaries of content creation for everyone on TikTok and giving the written creativity we've seen in comments, captions, and videos a dedicated space to shine."
Users will also get a chance to add colored backgrounds and various stickers to their posts, which have a limit of 1,000 words.
Creators have already been able to make content on TikTok across various formats ranging from Duets, photos, Stitch, to LIVE videos. Text becomes the latest addition to options available for content creation on the platform, enabling creators to share their poems, stories, recipes, and many other written content on TikTok. Hence, it is a great way for creators to express themselves and makes it quite easy to create content.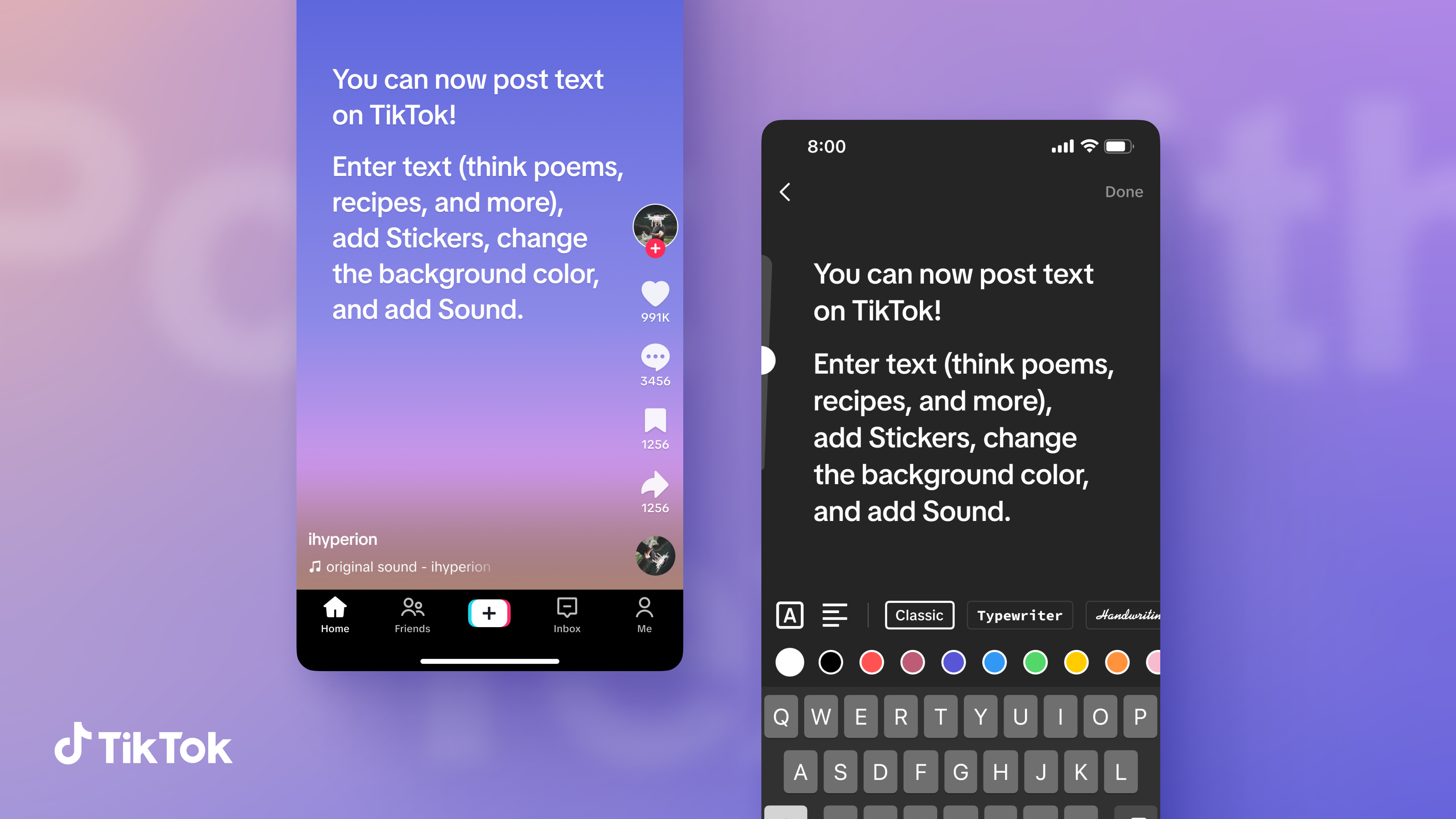 How Does It Work?
Text posts provide a simple publishing experience that makes it very easy to share text content. When users access the Camera page, they can choose from three options: video, photo, and text. By choosing text, they will be redirected to the text creation page, where they can type out the content of their post.
Upon getting to the Post page, users find familiar options to customize their content. These include tagging a location, adding sound, allowing Duets, and enabling comments. Notably, all these features make it easy for text posts to become as dynamic and interactive as any video or photo post.
Text posts provide a wide range of features that empower content creators to make their text-based content stand out. Stickers will help enhance the text by choosing those that relate to the content and they add some flair to the post.
Rewrite: TikTok To Move Into eCommerce In 2021 And Beyond, Innovations Help It Thrive
Tags and hashtags let creators tag other accounts and add hashtags that relate to relevant trends and topics. Notably, background colors add some aesthetic touch to the text post to attract more traffic. Sounds have always been important in the TikTok experience, which is why they have also been incorporated into the text posts. Users can add tunes for readers to groove on as they peruse the written posts.
Just like in the photo and video posts, users can save their drafts and store them with other unpublished posts for later editing.
Twitter Faces Stiff Competition
Market analysts are now comparing the new feature to Instagram, where instead of facilitating a conversation, the posts can just be commented on. Others say that the introduction of this feature was likely meant to take on Twitter (now X) and Meta's Threads.
Threads is Instagram's text-based app. The new app already has over 100 million users just three weeks after it was launched with too much fanfare. But, its success can be linked to its connection with the existing base of Instagram users. However, the total number of active daily users has since dropped by 70%, Forbes reports.
TikTok has more than a billion users, based on the company website, whereas Instagram has 2.3 billion users, as highlighted in the industry website, Business of Apps.
TikTok's audience is younger than Instagram's, with the United Kingdom Communications regulator publishing this week that it is the leading news source for 12 to 15-year-olds, followed by Instagram and YouTube.
Related: Zuckerberg's Threads Reaches 100 Million Users In 5 Days, Twitter Feels Threatened
But, TikTok has faced criticism over its connections with China, with the US, UK, Canadian, and Australian governments limiting the app on government-owned devices. Recently, the company confirmed that its China-based staff can access a portion of Australian user data.
Elon Musk Changes Twitter To X
In his latest change since taking over Twitter in October, Elon Musk rebranded the social media company to X this week. Commentators have already labeled this move as 'extremely risky'.
Twitter is currently suffering financially, confirming in July that its ad revenue has plunged by about 50% as advertisers withheld most of their spending on the site. Rival tech firms have used the perceived chaos and confusion of Musk's acquisition of Twitter as a chance to attract some of its user base and launch formidable rival platforms.
In the radical rebranding of Twitter, owner Elon Musk replaced the iconic bird logo with X. He made the shock announcement on these plans early on July 23. A day later, he tweeted that X.com now redirects to Twitter.com.
Moments before sharing a photo of Twitter's headquarters appearing with a giant new X, he wrote:
"Interim X logo goes live later today."
Notably, the Twitter website now has the same logo, while the familiar blue bird is already gone. Musk has previously said that he is bidding "adieu to the Twitter brand and, gradually, all the birds."
Twitter was launched in 2006 and has maintained its vivid, globally recognized blue bird emblem for more than 10 years.
The rebranding might be seen as something of a company overhaul for the platform. Musk in recent months has said that Twitter is facing severe losses in ad revenue and is on the edge of bankruptcy.
While criticizing the exit, or suspension, of Twitter advertisers like Macy's, General Mills, and some car firms that compete with Tesla, Musk has referred to himself as a "free speech absolutist" and explained that he wanted to purchase Twitter to boost users' ability to speak freely on this platform.
Musk said that his strategy for free speech is meant to give a voice to everyone. He explained his approach by saying:
"Is someone you don't like allowed to say something you don't like? And if that is the case, then we have free speech."
He also said that Twitter would "be very reluctant to delete things" and that it would strive to let all legal speech be published. Most users are now worried that this approach could mean an increase in hate speech.