ZachXBT is Crypto Twitter's masked on-chain detective. Using their on-chain analysis expertise and skills, ZachXBT has managed to expose projects and venture capitalists (VCs) that behaved badly. Also, the account has managed to expose the so-called influencers that are actively posting on YouTube and other social media platforms. For some reason, people still follow these scammers.
The crypto sector is always volatile despite the prevailing circumstances at any given time. This volatility attracts different types of people seeking to make a profit from the market trends and movements. From a sector that is plagued by so many hackers, scammers, pump and dumpers, rug-pullers, and many others – arises ZachXBT.
Notably, the budding crypto sector has mostly been compared to a digital 'Wild West' – a lawless place where fortunes can only as easily be made as broken, and black hat-clad bad operators roaming the frontier, unregulated by law.
He might be one person with massive blockchain analysis skills. But, one thing has become synonymous with him – he makes the influencers who have dark secrets feel afraid each time he publishes a Twitter post and some already believe that he is the crypto version of Batman.
— ZachXBT (@zachxbt) May 1, 2022
Only recently, ZachXBT helped a person retrieve $50,000 out of his stolen $240,000 worth of Solana (SOL) coins from a criminal by tracking where these funds went and contacting the right people hence freezing some of the funds that were being transferred.
Related: How Can Investors Save Their Hard-Earned Cash From Potential Crypto Scams? 
He also might have unmasked who the hacker is, although that case is still under investigation. Some of ZachXBT's famous exposes include Ran Neuner & Crypto Banter, BitBoy Crypto, and Tai Lopez.
In case you get most of your crypto-related information on Twitter and YouTube, you may want to check ZachXBT's exposés. If you are not careful, you might be taking advice from swindler influencers who just dump their bags on you, or worse, you may end up investing your money in shady projects.
ZachXBT's whole list of investigations includes Influencers, Projects, and VCs.
In most cases, ZachXBT exposes these scams on Twitter: @zachxbt.
Notably, the crime buster is asking for help to enable him to continue his crime-fighting spree. You can donate to his Ethereum wallet:
zachxbt.eth / 0x9d727911b54c455b0071a7b682fcf4bc444b5596
(Always double-check this wallet address through his Twitter account to ensure that you get it right.)
ZachXBT Leaves No Place For The Crypto Scammers To Hide
The pseudonymous Twitter investigators' viral exposes of on-chain fraud and criminal activities have enabled many authorities to arrest criminals. In early December, he helped lead French authorities to arrest a crime ring that stole $2.5 million in Bored Ape Yacht Club NFTs.
Although the crypto space is not regulated, several government agencies in the United States and elsewhere are tasked with overseeing the sector and hunting down any criminals that exploit the space. But, these regulators are mostly outnumbered and outgunned by tech-savvy criminals and hackers.
That is where ZachXBT comes in. Working like a pro bono bounty hunter or a scam-busting vigilante than a sheriff, the pseudonymous Twitter detective has been striving to expose all sorts of scams since May 2021.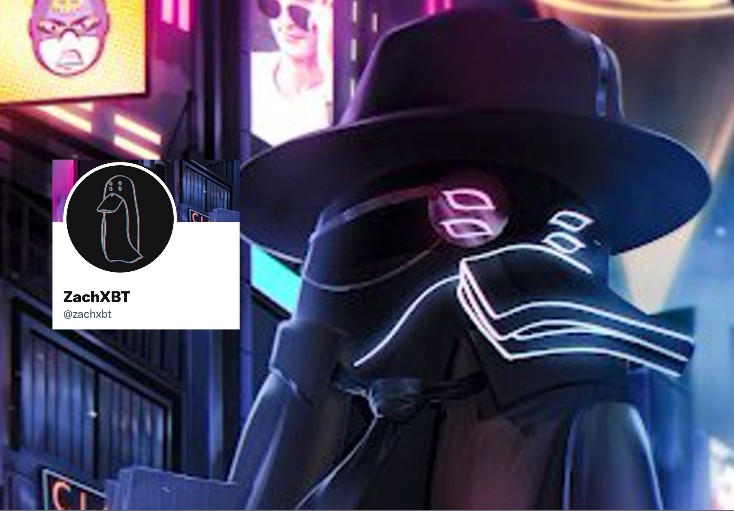 ZachXBT executes extensive on-chain research – tracking wallets and transactions that are linked to phishing scams, hacks, and other attacks. He then shares his knowledge in Twitter threads naming and shaming all the criminals and bad actors involved in any given criminal operation.
The online investigator is not just useful to Twitter users as he advises them to avoid these scams. ZachXBT's research has resulted in real-world consequences for some of the cybercriminals, including the alleged phishing scammers who executed the theft of $2.5 million worth of Bored Ape Yacht Club nonfungible tokens (NFTs).
French authorities are said to have arrested five people supposedly behind the crime ring and gave ZachXBT a shout-out in their press release published in October 2022.
In the same month, crypto artist Beeple recognized and celebrated ZachXBT with a digital artwork known as "NO PLACE TO HIDE," depicting the investigator's signature 4-eyed platypus avatar towering over many fleeing rats.
FBI Recovered $260,000 In Crypto Assets Helped By ZachXBT Research
The United States Federal Bureau of Investigations (FBI) seized cryptos and luxury goods valued at around $260,000 from the nonfungible token (NFT) phishing scammer Chase Senecal, also known as Horror (HZ), as highlighted on February 4 in a forfeiture document.
The FBI said the seized crypto assets included two NFTs – Doodle 3114 and Bored Ape 9658 – valued at $116,433 and $104,856 respectively. Notably, the FBI also recovered an Audemars Piguet Royal Oak Watch valued at around $41,000. That operation happened on October 24, 2022.
Related: The World's Most Infamous Crypto Hacks and Scams
Authorities relied heavily on an investigation by ZachXBT to catch up with the scammer HZ, purportedly responsible for many attacks on multiple NFT projects. The scammer's victims include JRNY Club, and Nouns DAO, among others.
The criminal executed his attack with a Twitter panel he got from another hacker Cameron Redman.
1/ I am very happy to share the FBI seized crypto, BAYC 9658, AP watch, and Doodle 3114 from the phishing scammer known as Horror (HZ) aka Chase Senecal as a result of my thread. pic.twitter.com/H1JjOjQNuF

— ZachXBT (@zachxbt) February 3, 2023
Moreover, HZ and other criminals also exploited the Discord servers of many projects like BAYC Otherside, Anata, Lacoste, and 333 Club, among others.
ZachXBT tracked HZ after he flauntingly posted an iced-out Audemars Piguet Watch on Twitter. The research revealed an address related to the scammer it showed that he paid $47,500 for the watch.
4/ Why would he ask to take them down?

Few remember that prior to the Twitter hacks HZ has been also responsible for the majority of Discord attacks working with Popbob and Two1

Back in April 2022 I mapped out their known wallets with over $3.9m in them at the time. https://t.co/lm1EnE1NBW

— ZachXBT (@zachxbt) September 1, 2022
Authorities Enhance Crypto Policing
The US federal agencies and authorities from around the world have increased their scrutiny of the crypto sector. In January 2023, authorities made lots of progress on their investigations into Mango Markets' hacker Avraham Eisenberg and Sam Bankman-Fried's imploded crypto empire.
In recent weeks, CFTC Chair Rostin Behnam has promised to introduce more enforcement strategies to help eliminate non-compliant crypto projects. This reiterates the sentiments held by its sister firm, the SEC, which often urged crypto companies to register with it and is still entangled in a lawsuit against Ripple.
ZachXBT has been relentless in helping authorities fight crimes within the crypto sector. His efforts have resulted in the recovery of millions of dollars' worth of stolen funds. He is fighting a criminal at a time leaving crypto scammers with nowhere to hide.
Whoever is behind the mysterious ZachXBT identity, every proponent of the crypto sector wants them to continue fighting crime in this space.