There exist many barriers when it comes to the transfer of digital assets from one blockchain to another.  Many solutions have been created to solve this problem. However, most of these problems have ended up creating more problems than solutions.
We reached out to Barney and Oscar Chambers, the Co-founders of the Umbria Ethereum Layer-2 solution for a way out.
Luckily,  they already have started the initial testing of Narni network bridge solution.
Here is what they had to say.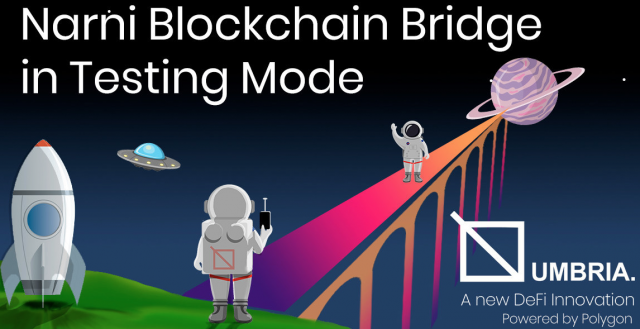 E-Crypto News:

Congratulations on the successful testing of your network bridge! What's next for Narni?
 Narni bridge is launching imminently and will facilitate cross-chain transactions.

It will initially enable the transfer of UMBR (Umbria's governance token) between the Ethereum Mainnet and Matic Mainnet.

Following that, we will very quickly develop the bridge to integrate with other blockchains such as Binance Smart Chain and ultimately any asset on any EVM-compatible network.

With one click users will be able to migrate liquidity from other exchanges. People will be able to stake assets on the Narni Bridge for high APY, particularly for stablecoins.

What's next after that? Umbria becoming the main hub for cross-chain transactions.
E-Crypto News:
        What are the various benefits of implementing the Narni network bridge?
The benefits for the user will be easy, super-fast, and cheap cross-chain transactions.

Narni users will be able to migrate liquidity from any decentralized exchange on any EVM compatible blockchain into Umbria's DEX.

Liquidity provision on the Narni bridge will be a particularly compelling proposition for stablecoin farmers, who usually generate low APY when pooling.

The developers of Narni expect the majority of bridged assets to be stablecoins such as USDT and USDC – subsequently earning a large volume of fees for the liquidity providers.

These fees will potentially generate far greater APYs than those offered in traditional DeFi farming as liquidity is used more efficiently than in traditional AMM pools.

With lots of different blockchain ecosystems, liquidity becomes diluted.

When you have a decentralized exchange, the main thing that you need for it to function seamlessly and properly is a large amount of liquidity.

Umbria will have a bridge, which enables people to potentially transfer all their assets very easily from any DEX on any EVM compatible blockchain into the Umbria protocol.

This will give Umbria a massive liquidity advantage over many of its DeFi competitors.
E-Crypto News:
As ETH 2.0 looms, what should we expect to happen to the Narni bridge?
ETH 2.0 will bring many interesting changes to the Ethereum protocol, such as the transition from a Proof of Work to a Proof of Stake mechanism of consensus, and the use of Sharding to optimize efficiency on the Ethereum network.

ETH 2.0 is not expected to have a great impact on interoperability.

These changes will not affect the Narni bridge much. Users of Ethereum and other EVM blockchains will still want to move their assets to and from each blockchain.
             E-Crypto News:
Please, can you tell us more about the inner workings of your cross-chain bridge?
The Narni bridge functions in a similar way to exchange.

However, rather than exchanging assets for one another, the Narni bridge facilitates the migration of assets between cryptocurrency networks.

It is comparable to exchange in the sense that the Narni bridge is the hub for migration functionality. The Narni bridge uses a method dubbed as "the two-hand method".

When a user migrates liquidity between networks using the bridge, they send their assets to the bridge "with one hand" and receive the assets on another network "with the other hand" instantly.
                                                                               E-Crypto News:
As new smart-contract enabled ledgers come into the cryptocurrency space, we're seeing all kinds of innovation that we thought wasn't possible until now. What are your thoughts on this?
The main innovation we see in the smart-contract space is the scalability offered by Polygon and similar scaling solutions. Smart contracts have been hungry for this kind of scaling for many years.

Particularly in recent months as crypto interest has increased, and the efficacy of on-chain solutions is a function of how well they scale.

Scaling means cheaper and faster transactions for everyone, which are primary concerns for smart-contract users.

 E-Crypto News:
 What are we to expect from Umbria this summer?
There'll be lots more coming from the Narni bridge in terms of more assets and chains added.

We're constantly developing and innovating so you can expect features popping up all the time; these are mainly announced on our Discord channel.

As an example, we've just pushed live the Umbria Connect page: https://umbria.network/connect/ From here anyone can configure their metamask wallet to connect to any EVM compatible chain in a click.
                                                                                     E-Crypto News: 
 As so many different decentralized finance (DeFi) ecosystems come into the cryptocurrency space, what is Umbria doing to stay at the top? 
 Making transactions extremely fast and cheap is paramount. However, it's also about the user experience.

Umbria aims to demystify and simplify DeFi and get people accessing innovative and easy-to-use financial services and products.

We've forked the best features of current DeFi projects and are simplifying the over-complicated user experience, which currently acts as a barrier to entry for those with limited experience and knowledge of cutting-edge cryptocurrency technologies.
                                                                                        E-Crypto News:
  How has the year been for Umbria? What has been happening?
 We've really hit the ground running and it's been a great year.

We're ahead of our roadmap in terms of release of products despite our very stringent testing.

In Q1 of 2021 we announced our partnership with Polygon which was the catalyst for our innovation and the Umbria Uniswap pool launched making our $UMBR governance token available for early community adoption/trading on Uniswap.

Soon after that we airdropped 100,000 of UMBR to holders that had participated in the Uniswap pool. This along with bounty programmes really piqued interest in the project and enabled us to organically build a very strong, engaged community.

Subsequently we launched our first farm for staking UMBR-ETH LP tokens; it's had a consistently high APY.

Following that, we had our second airdrop and then in May launched our Layer 2 DEX on Polygon AND a new UMBR-MATIC Farm on the Polygon chain.

Since then we've been focussed on the Narni bridge development.
                                                                                             E-Crypto News: 
Please, can you tell us more about Umbria's Dex?
​​The Umbria DEX is a fully decentralized AMM exchange that facilitates the swapping of any ERC20 tokens.

Users can also deposit their tokens into the exchange to receive LP tokens and earn interest on their crypto holdings.

As it is on Polygon, users benefit from very fast and low cost transactions; the transaction fees for swapping ERC20 tokens is usually less than USD0.001.

Additionally, anyone that's provided liquidity to the UMBR-MATIC pool can add their LP tokens to the farm to earn more $UMBR. The farm is currently paying in excess of 170% APY.
E-Crypto News: 
Please, can you tell us more about Umbria's Polygon partnership?
We announced our partnership with Polygon back in March of this year and immediately started to create a suite of applications on the Polygon network (which provides scalable, secure and instant Ethereum transactions using its plasma proof of stake chain) as part of the Umbria ecosystem.

We can fulfil bounty programs and airdrops and create farms and other DeFi products within the faster and cheaper environment afforded by Polygon.

Through Polygon's Developer Support Program we've been able to get invaluable technical guidance and marketing support.
E-Crypto News:     
What do you think are the main problems that affect the mass adoption of cryptocurrencies and DeFi? What are your proposed solutions?
When we first started researching the space in 2019, we concluded that most popular DeFi platforms were totally inaccessible to people without a lot of technical knowledge and this represented a big opportunity for us to provide a user-friendly experience.

We are focussed on creating accessible applications, which provide anyone – including those without a deep understanding of the technologies behind cryptocurrency and DeFi – a simple entry-point.

The purpose of Umbria is to bring DeFi further into the mainstream by amalgamating the most compelling features of the technology, and simplifying them for a wider community.

We are supporting this with lots of documentation; 'how tos' and video tutorials.

Cost is a huge barrier to mass adoption.

A lot of people want to get in on the action but just can't afford the Ethereum gas prices.

We've released our DEX on Polygon; it's similar to Uniswap… SushiSwap, but with a fractional fee for swapping and it is way faster to initiate a swap; instead of taking minutes it takes just a fraction of a second.
E-Crypto News: 
In terms of statistics, just how fast is the Narni Network bridge? Please, can you give us the numbers?
In testing, moving USDT from the Ethereum network to the Polygon network took an average of 47 seconds and cost just $2.80; Polygon to Ethereum took an average of two minutes 12 seconds and cost $5.62.
E-Crypto News:
How does the Narni cross-chain bridge differ from traditional transfers? What makes the Narni cross-chain bridge special?
10 times faster and 10 times cheaper compared to bridges like the Polygon bridge, due to a semi-decentralized approach to consensus.
E-Crypto News: 
What do you think will be this year's greatest decentralized finance (DeFi) innovation?
The Narni bridge is a good candidate. We feel many alternative bridge developers have become distracted by the grandiose idea of total decentralization; which has its place.

However, total decentralization is not the ideal solution for many on-chain applications, particularly transactions and migrations that require the quick completion of small amounts of funds at a time.

This is where the Narni bridge comes in.

We think it will pave the way for a whole new set of arbitrage opportunities that would have otherwise been impossible.
E-Crypto News: 
What are Umbria's plans for generation Z?
First of all, education. We want to make sure the next generation understands the value of crypto and how it has changed the concept of money, empowering individuals and communities and that it's not just about crazy headlines and memes.

DeFi is a better way for finance to work and serve people and we want to push that message.

At the same time, our plan is to master user experience of crypto applications, particularly DeFi, so it is easier and cheaper for users to adopt and interact with blockchain products.
E-Crypto News:
Do you have any secrets you want to tell us? Care to spill the beans?
We don't really have any secrets since this is a community driven project first and foremost, but our plans for the bridge are to build a robust API for traders to use the bridge quickly and effectively for arbitrage opportunities, and much more.
E-Crypto News:
If you had three wishes and a Genie that could make them come true, what would they be for Umbria and Narni?
The Umbria Narni bridge becomes the most useful and efficient means of transport of assets between blockchains.

The user experience of the Narni bridge is unparalleled and very easy to use for the layman.

The cryptocurrency community and space continues to grow, and Umbria, the Narni bridge and cryptocurrency in general continues its growth of mass adoption.