It is undisputed that Saudi Arabia hosts some of the world's most captivating and ambitious architectural projects. Nevertheless, the latest urban endeavor in the nation might just exceed everything that has existed ever before.
In 2021, the Saudi Arabian government introduced their visionary plans for construction of Neom, an innovative city project that consists of a monumental structure known as The Line.
This mega project, which is still several years away from completion, is designed to include an entire cityscape comprised of a pair of parallel skyscrapers measuring a remarkable 656 feet (200 meters) in width.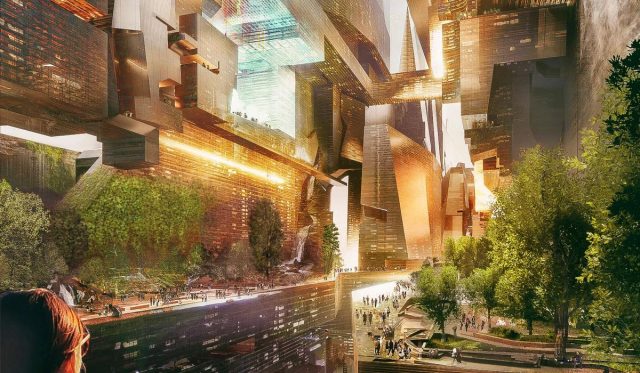 These skyscrapers, each spanning a length of 106 miles (170 kilometers) and rising to a height of 1,640 feet (500 meters), surpass the heights of many of the world's tallest skyscrapers. Reports confirm that The Line will extend across the northwestern region of Saudi Arabia, situated near the shores of the Red Sea.
If you find yourself comparing this city to the backdrop of a futuristic dystopian novel, you are right. The Line is described as a vertical city encapsulated within one structure, installed with external mirrors, spacious enough to accommodate up to 9 million residents.
This beautiful environment will not only provide living quarters but also incorporate a comprehensive array of amenities, ranging from incredible parks and waterfalls to airborne taxis and robotic attendants. As an extra awe-inspiring feature, there are plans to integrate an artificial moon, offering residents a celestial spectacle to behold.
Related: The Metaverse: Dubai Set to be the World's First Virtual City in Global Metaverse Launch
With its projected width measuring around 656 feet, The Line's ability to accommodate its population and a many other contemporary amenities will predominantly rely on its towering stature. Furthermore, a high-speed railway network is designed to interconnect different segments of this expansive 106-mile city.
According to Saudi Arabian authorities, The Line is expected to remain free of roads, automobiles, and all emissions, relying fully on clean energy sources for its power (although specific details are still undisclosed). Here are some of the most remarkable features of The Line:
Year-round climate control of all outdoor and indoor spaces.
Vertically layered public parks, homes, offices, and public schools.
A 5-minute walk to all amenities.
High-speed rail that will help transport residents from end-to-end in 20 minutes.
Accessibility to the beautiful parks and natural elements within a 2-minute walk.
Once it is completed, The Line is expected to stretch over an area of 13 square miles (34 square kilometers) across the Arabian Desert, effectively changing into a major oasis, as stated in the official press release. Architectural designs show one building divided into two distinct facets, consisting of a lush central area decorated with water features and plants. These designs were developed by the American firm Morphosis.
Although the timeline for this project was not part of The Line's announcement, the first earthwork operations started in October 2021, and it is expected that residents will start moving in by 2030.
On that note, the deadline was shared as part of a bigger countrywide improvement that is called Vision 2030.  This improvement is expected to attract over 100 million annual visitors and ensure Saudi Arabia competes well with travel hot spots such as Abu Dhabi and Dubai. The Line is one part of the $500 billion Neom Project, an initiative introduced in 2017, nested within the Vision 2030 plan and focused mainly on the Northwest part of Saudi Arabia.
Together with The Line, there are other plans in place to set up a network of airports and the world's biggest energy plant. The area is expected to become highly self-sufficient that it is now known as a "country within a country" where residents will be known as "Neomians" instead of "Saudis."
Saudi Crown Prince Mohammed bin Salman, alleged in a July 25, 2022 press release:
"NEOM will be a place for all people from across the globe to make their mark on the world in creative and innovative ways. NEOM remains one of the most important projects of Saudi Vision 2030, and our commitment to delivering The Line on behalf of the nation remains resolute."
The Line Will Be Powered By Renewable Energy
All the energy in NEOM is expected to be 100% renewable, acquired from wind, solar, and hydrogen-powered power plants, guaranteeing clean and pollution-free urban style environments. The Line supports the development of an environmentally friendly transmission and distribution system by incorporating utilities into the infrastructure spine.
Related:Teslafan Token Receives Strong Support from Many Renewable Energy Companies
Although the developers insist that the project is highly 'environmental,' debates are everywhere about the massive destruction of the environment during the construction process of this project.
Based on a statement by the head of the built environment school at the University of New South Wales (UNSW), Philip Oldfield, around 1.8 million tons of carbon emissions will happen when using the materials utilized in the construction of such a project. That amount is significantly more than the annual carbon emissions of most European nations.