The internet of behavior (IoB) is an evolution of Internet of Things (IoT) .The integration of IoT has helped people interact at a much-deeper level with technology than ever before.
Due to the advancements of Internet connectivity throughout the world especially via smartphones, more people have managed to connect the internet to everything around them like the case of smart homes.
From Bitdefender BOX IoT security solution, Belkin WeMo smart light switch, to the August doorbell cam, Google Home voice controller, and more it is evident that IoT plays an integral role in people's daily lives. All data accumulated by the IoT devices offer valuable information about the users' behavior, preferences, and interests. It has paved the way for the development of the Internet of Behavior.
Notably, the Internet of Behavior ranks among the top tech trends of the year. The coronavirus pandemic is partly responsible for making IoB become a major trend since it has managed to change the way consumers interact with different brands. Due to that development, companies are striving relentlessly to adjust how they engage with their clients.
Gartner said in the strategic predictions for 2020 that the IoB (Internet of Behavior) is a trend that will become quite popular in the coming years. It is projected that by 2023, up to 40% of the global population's activities will be traced digitally to influence human behavior. Why is the Internet of Behavior expected to change the world?
Internet Of Behavior, A Segment Of IoT
By description, the Internet of Things (IoT) is a source that connects an electric device to the internet, while IoB is the extension of IoT. Internet of Behavior reveals considerable information about the user's behavior.
The interconnection of devices offers extensive data and valuable insights into user experience, behavior, interests, search experience optimization, and preferences. Based on a statement by Gartner:
"IoB combines technologies focused on tracking location and facial recognition of the people, connecting the data, and mapping them to behavioral events."
The Internet of Behavior integrates existing technologies that primarily focus on individuals directly. From location tracking to facial recognition, it links the resulting data to associated behavioral events including device usage or cash purchases. Analyzing and understanding all the data collected from users' online operations and activities from a behavioral psychology point of view is what IoB does.
Developers now strive to understand the data acquired from the Internet of Behavior and how it is applicable from a human psychology perspective to create market new products. Thus, IoB is the process by which a lot of user-controlled data is analyzed via a behavioral psychology perspective and the collected data is used to determine how to market the services and products offered by companies.
Engaging in an IoB data analysis is not complicated since it is done from a psychological point of view. It needs statistical analysis to be done, mapping daily habits and behaviors of the users without disclosing consumer privacy entirely for legal and ethical reasons.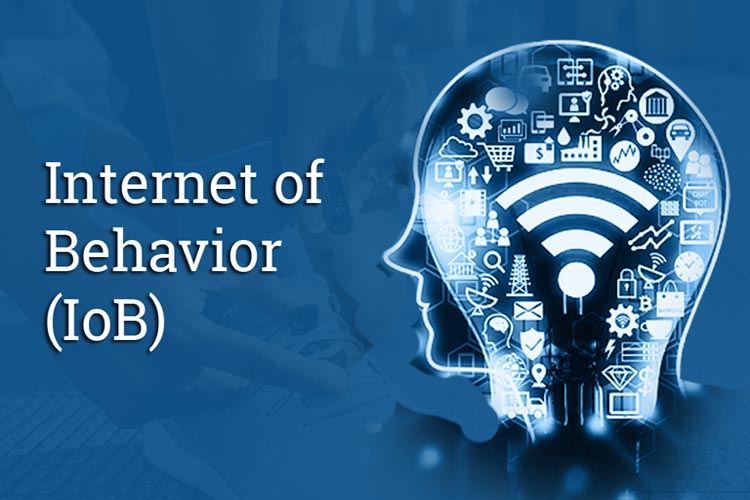 The Role And Contribution Of IoB
Using the budding technologies, innovations, and developments in machine learning algorithms, IoB assists in recording, analyzing, understanding, and responding to every human behavior in a manner that guarantees tracking and interpreting people's behavior.
The nascent technology is descriptive and proactive. It means that it helps in the analysis of user behavior and detection of the psychological variables that influence human behavior to bring out a particular outcome. It is designed to influence consumer choices which enable manufacturers and companies to enhance the customer experience of the services and products that they offer. Boosting quality and efficiency is the primary target of the Internet of Behavior.
The IoB could be considered as an integration of data analytics, technology, and behavioral science. Behavioral science is divided into four areas that are considered when using technology. these areas include emotions, decisions, championships, and augmentations.
For instance, the health app on a smartphone can help the user to track their sleeping patterns, heart rate, and blood sugar levels. The mobile app can help in alerting the user about adverse health situations and in many cases suggests behavior changes for the positive and desired outcomes.
Importance Of IoB
Data has been an integral part of the business world since the inception of the internet. But in 2021, Gartner referred to the IoB as one of the top technological trends in the digital and real world. The Internet of Behavior is now offering people more opportunities to collect s much data as they want and analyze it.
It ensures that companies continue their growth in the considerable upheaval face that is related to the COVID-19 pandemic and changing climate of the global economy. But, the primary purpose of the IoB is to collect, analyze, respond, and understand all types of human behaviors to enhance user and customer experience.
Apart from that, behavioral data is also helping businesses to make informed choices and decisions. This strategy enables them to enhance their service quality and value chain in the best possible manner. In general, psychology and marketing work together from the start of advertising campaigns. In that way, the companies and businesses can get some new insights into the data that is collected by the Internet of Things.
The Internet of Behavior has now become a new and powerful tool for companies and businesses' sales and marketing campaigns globally. With that in mind, businesses get a deep understanding of their users to ensure that they are always satisfied. Hence, IoB is designed to generate a considerable boost in the sales sector's development.
How IoB Helps Businesses
Through Big Data, businesses can access information about their visitors from various points of contact. IoB lets companies explore CX from the starting point up to the end of the process including:
Customers' journey to make a purchase
Determining the point where the interest of the customer starts in the service or product
The strategy used to buy a product or service
Knowing all that information helps businesses create many touchpoints to engage with the customers positively. Eventually, the customization helps businesses enhance their service quality and efficiency in an effective manner.
With enhanced service efficiency, more customers will begin to interact with the business. Moreover, IoB continues to impact how companies and organizations interact with prospective clients. Internet of Behavior can also collect, process, and integrate data from many sources including:
Social media
Location tracking
Citizen data processed by government agencies
Customer data from the website
With the help of IoB technology, businesses improve the quality of data that they collect and manage the way they integrate data from various sources for optimal results.
Benefits Of The Internet of Behavior
This technology is still evolving and is expected to become quite beneficial in many ways. From determining where the customer's interest in a product starts, positively engaging users, discovering their journey of purchase, to determining the methodology they use to make purchases. There are many aspects of the Internet of Behavior that will prove beneficial in the long term.
IoB makes it significantly easy to study previously unachievable data on how the users interact with products and devices, acquire more detailed information about where a client is in the buying process, and scrutinize customer buying habits across all platforms. Additionally, it offers real-time notifications that target and resolve issues rapidly to close sales and ensure that customers are always satisfied.
Businesses are currently using IoB to observe and enable them to make changes in consumer behavior to achieve desired results by selling their services and products. The Internet of Behavior gives businesses cutting-edge marketing strategies for their products and services. It also influences user and employee behaviors to ensure that companies are running at optimal levels.
The technology can also be used to monitor health protocol compliance at industrial sites to acquire behavioral events. For instance, sensors and RFID tags on a person or in the working environment can be used to check whether employees are washing their hands as required or not.
Computer vision can also be used to determine whether workers comply with mask protocols as required. In this case, speakers installed in the working environment can be used to warn people about any protocol violations that come up.
IoB has so far proven beneficial for companies because they can optimize their relationship with the client base on the collected data. While the Internet of Things changes data into information, we have to wait to see whether IoB can change human knowledge into actual wisdom.
Applications Of IoB In 2021
There are many applications of the Internet of Behavior businesses can explore in 2021 and apply them in their context. Many companies and organizations are using online advertising as an effective method of reaching out to more clients in the current digital world.
The IoB technology enables them to identify and target specific groups and individuals that can benefit from their products and services. For instance, Google and Facebook are utilizing the behavioral data of their users to display their advertisements to the people accordingly.
This strategy helps businesses to get connected with their possible audiences and track their behaviors towards their adverts through click-through rate. YouTube is also using behavioral analytics to enhance the experiences of its viewers. By keenly tracking behavioral data, the platform recommends users' videos and shows that they might be more interested in.
Also, the latest technologies like Alexa, Google Home, and Siri study and interpret the data collected and user's behavior to function more efficiently.