Are Non-Fungible Tokens (NFTs) art? 
It is the question that has bothered many art enthusiasts. They have given themselves to their passions. It is also a recurring question for many New Kids on the Block who still wonder how they make digital art and get paid in real-time. 
The truth is NFTs, as an art form, is an industry that is still in its infancy. We are looking at the emergence of a whole new way of looking at all forms of artistic expression. 
How NFTs Have Changed Art
NFTs may not be what many expected. One thing is clear: they have to change the way people express themselves. Perhaps for the first time in human history, people can now create and own their intellectual property without the need for third parties. 
This fact alone is something that is driving many Gen Z'ers to the art scene. Born with all the advantages technology offers, this group of young people has found that NFTs are perhaps the safest way to express their passions. 
Millennials are also part of the movement. Michael Cohen, for instance, who is Former President Trump's ex-Attorney, had his NFT exhibit at the Miami at week, which recently concluded. A few years ago, this would not have been possible. 
The World is changing. Everyone is looking for an outlet for self-expression. NFTs provide a safe zone for people who have tried to express themselves. Before now, they have been cheated and scammed. 
This time, it presents opportunities for both the artist and their fan bases. Investors aren't left out. It costs nothing or very little to secure NFTs than providing security for the Mona Lisa, for instance. Also, if an artist within the art space develops a cult following, NFTs purchased for very little can become the investment of a lifetime. 
Why Are NFTs Hot Stuff?
One thing NFTs have going for them is the underlying technology. Anybody can create an NFT and be sure of its security. Once the issues of NFT storage (which can also be decentralized) get resolved, the rest is easy.
Related:NFTs Allow Gamers To Enjoy Digital Property Rights
So much so that so many new NFT platforms are emerging from all sorts of places. With the emergence of new smart contract capable blockchains and ledgers, we shall see a higher number of marketplaces than many people thought possible. 
It could also be that the NFT space would be a significant component of the cryptocurrency industry. The probability for this exists as people are seeking new ways to use and deploy NFTs. 
On the art scene, these forms of innovation will flourish. The NFT art scene hasn't received mainstream coverage yet. But that time is coming. 
Art is the Gold of the Twenty-First Century
Like it or not, art is the gold of this century. Gone are the days where people dig the ground to obtain value. Today, the very abstract idea that exists in the mind of an individual brings value.
We now even have a liquidity generation concept called the Initial NFT Offering (INO). It is an event where NFT creations get crowdfunded and, by Smart Contract rules, the contributors get a portion of NFT sales. 
It is not going to be the end of this fundraising trend. We shall see higher contributions from people who have made the NFT space their home as time progresses. 
NFTs also present another form of investment in the cryptocurrency space without exposure to volatility. These penny NFTs are known to have higher rates of return than their fungible counterparts. 
Especially NFT art pieces. Rare NFTs hold a higher potential than regular NFTs that anyone can copy. It is this allure that has drawn artists from the mainstream art scene to the NFT space. A continuous stream of entrants into the space will continue because of the growth potential that NFTs hold. 
During the Miami art week, we were lucky to reach out to Avery Andon. Avery is the Founder and CEO of ArtGrails. A rare and expensive NFT art platform. We spoke to him on the sidelines of exhibitions. He told his thoughts on NFTs as art. Here is how the interview went.
About Avery Andon
Avery Andon is a veteran art dealer and manager most notably known for his work with renowned graffiti artist, Alec Monopoly. Having worked with Monopoly since the inception of his career, Andon has helped the notable street artist grow into one of the most profitable visual creators in the world and created an eight-figure business out of the artist's brand.  In addition, Andon has been responsible for facilitating lucrative endorsement deals and producing sold-out global exhibitions from New York to Morocco.
Considered a pioneer in 'artist+brand' collaborations, Andon has overseen and executed successful activations and partnerships with some of the top brands including Forever 21, Disney, Formula 1, Aston Martin, Cipriani Monaco, Hyundai, as well as 'W' and St. Regis Hotels.  He has also curated and facilitated talent collaborations with a wide range of artists ranging from Kygo and Swedish House Mafia to Madonna and Justin Beiber.
In addition, Andon is the Founder of www.ArtLife.com; a successful e-commerce art platform founded in 2015. ArtLife continues to grow, using an innovative business model Andon has coined "Click & Mortar" – combining online and social media "click"-driven sales with strategically planned brick-and-mortar physical pop-ups.
Most recently, Andon has shifted his focus to Web3 and the blockchain space and has built and launched ArtGrails.com as a curated, exclusive NFT platform with a unique focus on highly curated and rare digital assets.
Avery Andon is an active philanthropist, having served as co-chair for several foundations including UCLA Mattel Children's Hospital, Goldie Hawn's Mind Up Charity, along with co-founding City Seats in partnership with The New York Yankees to benefit The Boys & Girls Club of America. Avery currently serves on the Committee of anti-poaching non-profit WildAid, and Amazon conversation charity ACT.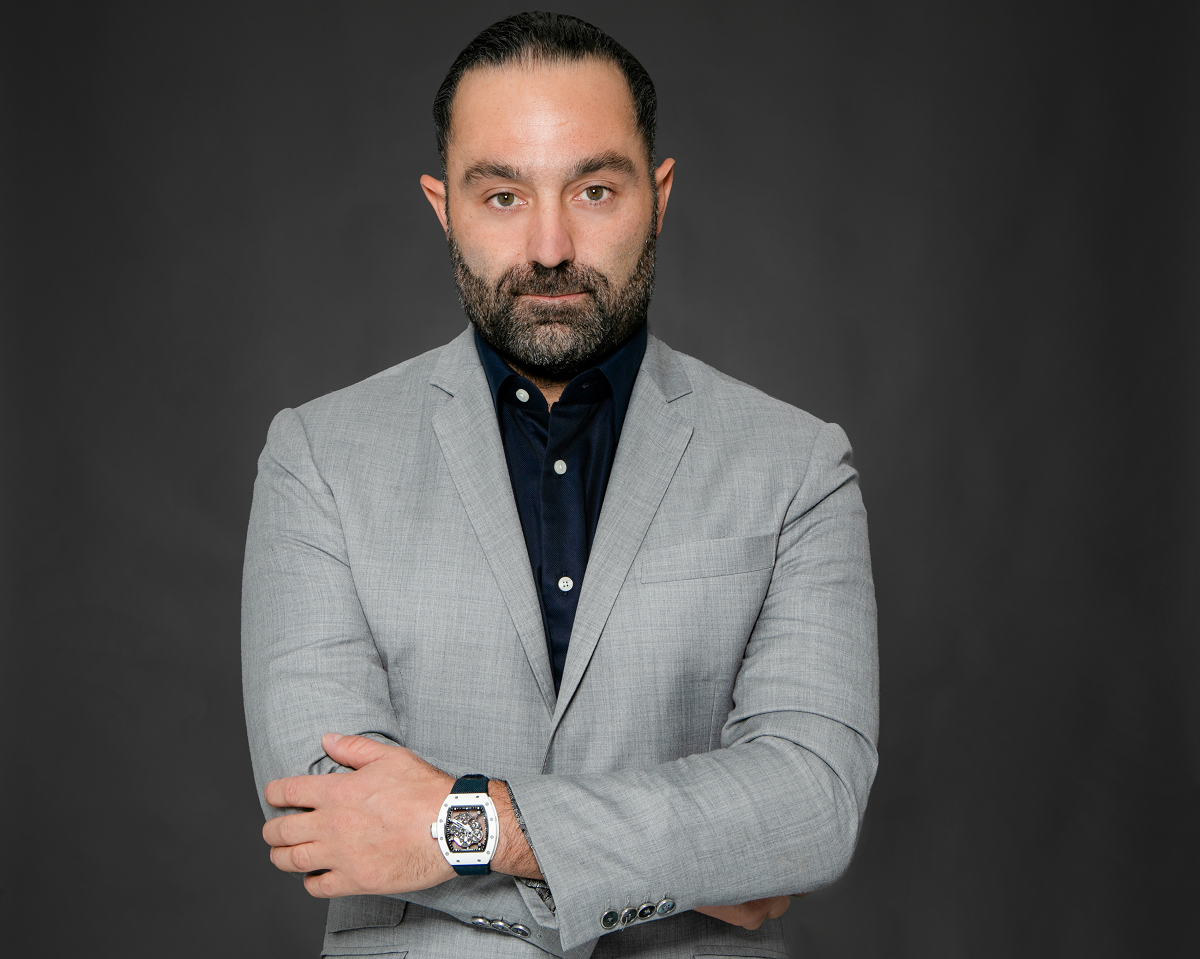 Avery Andon, Founder and CEO at ArtGrails
E-Crypto News:
What is your collection about?
Avery Andon, Founder and CEO of ArtGrails: ArtGrails is an NFT technology platform that aims to lead the market in high-end, exclusive, luxury collectibles sold as NFTs.

The high-touch, exclusive NFT platform has a hands-on approach to curating and selling contemporary art and believes in a future where every piece of art is tied to a unique NFT identifier, immutably tied to a blockchain.
E-Crypto News:
What's the message you want to send to your audience?
Andon: I feel firmly that Web3, NFT's and Digital Assets will only grow more culturally significant in the coming years.
E-Crypto News:
What is your muse?
Andon: My Bored Ape!
E-Crypto News:
What do you aim to achieve at the Miami Art Week?
Andon: We are hosting our first physical Pop Up in Miami's Design District at 112 NE 41st Street, Miami from December 4th through 12th!

I hope to convert some old school art collectors into the NFT world, and provide an exciting experiential exhibit for fans of both art, historic collectibles and NFT's.
E-Crypto News:
Who are you featuring at the art week and why is this important?
Andon: We have a Pop Up Exhibition featuring never-before-seen releases from Ghostface Killa, iconic sculptor and artist Anthony James, Lawyer Provocateur Michael Cohen and rising artworld star Javier Martin to name a few!
E-Crypto News:
What role do you think NFTs will play in the coming years in the Art scene?
Andon: I think it is already apparent that NFT's are here to stay, and due to COVID and shutdowns – the artworld actually adapted very quickly.

You will see NFT's being offered in booths at Art Miami and Art Basel, and satellite shows like ArtGrails Exhibit!
E-Crypto News:
How have NFTs changed art?
Andon: They haven't changed it, they have simply added a new layer and a fresh, exciting new medium for Artists to explore.
E-Crypto News:
What plans do you have for the end of the year?
Andon: ArtGrails will be releasing Generative Art NFT collections from Street Art Icon Alec Monopoly and celebrity / entrepreneur Scott Disick, both of which feature incredible art and amazing utility!
E-Crypto News:
What should we expect from you in 2022?
Andon: We will be launching a Utility Token called GrailCoin, and unveiling our debut NFT Video Game along with some other major NFT releases!
Related: Editorial: Why we are Minting Non-Fungible Tokens (NFTs) for E-Crypto News