Now, the NFT space will not be complete without the name Andrea Bonaceto. Having collaborated with humans and robots (he collaborated with Sophia!),  he is definitely one artist that is worthy of mention. His latest NFT drop on Nifty Gateway and the second one with Sophia has put him in place to be an icon within and outside the NFT space. So, we decided to have a chat with him about the NFT space and other issues.
Here is what he had to say.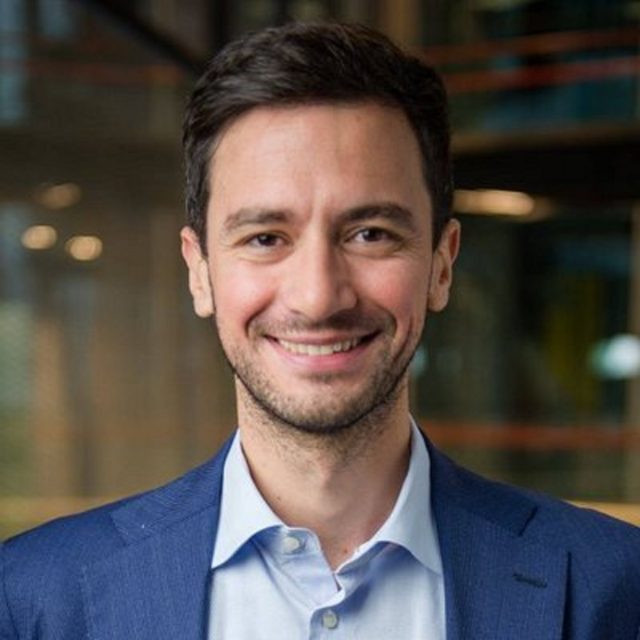 E-Crypto News:
What is your muse?
Just observing people is a great source of inspiration for me, as well as my dreams. In a nutshell, I'm just trying to be more and more myself. This tension toward my true essence is what generates all my art.
E-Crypto News:
Please, can you tell us more about your creative process?
My creative process is completely unstructured. If I could define it, I guess it wouldn't really be a true creative process.
E-Crypto News:
How did you get into digital art?
I have been writing music, poetry and drawing for many years. I'm also an early blockchain investor and supporter. I discovered the NFT trend pretty much from its inception, it was the perfect opportunity to merge my interests in technology and art.
E-Crypto News:
What are your thoughts on the explosion of the NFT space?
Like all disruptive technological innovations, we'll see several hype cycles along the way. I believe NFTs are here to stay and will revolutionise many industries, not only the creative ones.By leveraging NFTs as a tool, it will now be possible to represent everything we see in our world in a digital form, doing so with a unique immutable identity attached to the blockchain. This will give rise to new business models underpinned by these latest technologies. I dive into the idea further in a blog post I wrote for Eterna Capital earlier this year.
E-Crypto News:
Please, can you tell us more about the coming NFT drop?
I have always been fascinated by space exploration and extraterrestrial life from as early as elementary school. "2021: A Space Odyssey" is a homage to the pioneers of space exploration, as we approach a new phase of space discoveries that will most likely lead to human beings being a multi-planetary source.

This collection portrays space pioneers of today such as Elon Musk and Yusaku Maezawa along with space pioneers of the past such as the first man and woman in space, Yuri Gagarin and Valentina Tereshkova. The 1/1 pice titled "The Aliens and I" is a programmable art NFT that will change to a new state if I travel to space during my lifetime. If this happens, the NFT will change into my reinterpretation of "The Aliens and I" which I will draw while in space.
E-Crypto News:
What was it actually like collaborating with Sophia?
Collaborating with Sophia and the Sophia Collective Intelligence has been an incredible experience. The goal of our collaboration was to generate new questions, without providing any answers. I believe we achieved the intended result.
E-Crypto News:
Do you think AI-inspired art has a place in the art world? Please, can you tell us the reasons for your answer?
Yes, definitely. AI and robotics will become incrementally more important in the future. Robots will not only engage with humans on operational tasks, but also on creative endeavours. The collaboration with Sophia was a first step in that direction.
E-Crypto News:
Why is the commemoration of space exploration important? What lessons do you want to portray here?
Space exploration is extremely important. The human race will have to evolve into a multi planetary society in order to survive in the long term. Since the moon landing in 1969, space exploration has developed slower than expected. The recent initiatives by companies like SpaceX will start a new era of space exploration and discoveries.
E-Crypto News:
What advice do you have for anyone who wants to take on the NFT space?
Create original artworks coherent with yourself and build an engaged community around your vision.
E-Crypto News:
What are your thoughts on the emergence of so many NFT marketplaces?
The NFT boom has generated an inflation of marketplaces, and there is space for there to be several NFT marketplaces focusing on different niches. That said, only a few with clear, competitive advantages will survive in the long-term.
E-Crypto News:
Will digital art overtake physical art? Please, can you tell us the reasons for your answer?
I don't think the point is for digital art to overtake physical art as digital can work in conjunction with physical. For example, NFTs can streamline the process of physical art authentication guarenteeing the provenance and authenticity of the artwork as that information will be stored in an immutable and transparent manner on the blockchain. Every time the artwork changes hands, that transaction will also be recorded on the blockchain. As human beings, we often think the future should overtake the past. In reality, a future that humbly learns from the past is a better future.
E-Crypto News:
What practical uses do you think NFTs have apart from art?
I dive deeper into this idea in a blog post I wrote for Eterna Capital earlier this year. But, in short, NFTs have clear use cases in gaming, collectibles,  inventory management, digital land, metaverses, and more.
E-Crypto News:
Please, can you enlighten us on previous NFT drops and collections?
My most recent NFT drop was in collaboration with Sophia the Robot this past March, which marked the first time a collaboration between an AI and human artist was sold in such a way. It was quite fascinating to witness Sophia create art as much more human than one would expect. It goes through her neural network, and then she reinterprets what she has seen, which is what also happens with humans.

If you'd like to find more information about my past NFT drops and collections, you can visit Cryptoart.io, which is a great source to monitor the most iconic NFT sales.
E-Crypto News:
How did you get involved with cryptocurrencies and their allied technologies?
I first began investing in the cryptocurrencies and blockchain space in my own personal capacity. Then, in 2018, together with three ex-BlackRock employees, I founded a blockchain investment firm called Eterna Capital, which backs innovative entrepreneurs who harness blockchain technology.
E-Crypto News:
What are your favorite NFT collections, or what is your favorite NFT?
I like the work of my friend and fellow NFT artist, Skygolpe. I bought his first 1/1 auction on Nifty Gateway last year. Since then we became very good friends.
E-Crypto News:
Can you give us your version of what the future will be like for the NFT space?
We won't talk about NFTs anymore as they will be fully embedded in the digital space and as well as supporting the physical space
E-Crypto News:
Do you have any secrets you want to tell us? Care to spill the beans?
No, as they wouldn't be secrets anymore otherwise.