For anyone using Discord, chances are high that they have heard of Discord bots. These are artificial intelligence (AI)- powered bots that enable you to perform a wide variety of actions, starting from welcoming new members to paraphrasing influencer content.
Discord has grown in leaps and bounds since its launch in 2015. While initially it was dedicated to gamers, digital marketers are now discovering ways to make the platform work for them. For anybody seeking unique and exciting ways to engage their online communities, the Discord bots seem to be the ideal solution.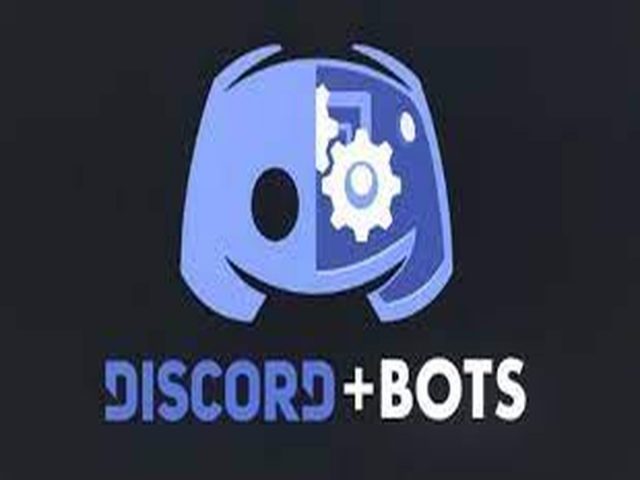 What Are Discord Bots?
Discord bots are described as some of the most useful features of the digital communication network. These are artificial intelligence programs that business owners and marketers can use to perform an assortment of automated tasks on their servers.
Creating a fully functional community is not easy. However, using Discord to do it is an excellent way to give people a feeling of exclusivity. If you have an active audience, the strategy will benefit your business in the mid and long term.
Through Discord, you can record videos, offer tips, host lives, and even teach your community everything you know in a safe and closed community environment. Whenever the users feel like they are getting something they cannot find anywhere else, they become more inclined to share it with others and then pay more for the information.
On their part, the Discord bots make it quite easy to create an engaged community. You can use them to welcome the new members who join your server, moderate communications between members and ban people that refuse to obey these rules.
These bots can also be used to add games, memes, music, and many other pieces of entertaining content to the server to make it quite enjoyable for the members.
Knowing what Discord bots to add is the important thing. Some of the bots enhance your server and offer a better community, which makes users want to stick around and even engage with your products and services. Going for the wrong bots might push people away and even create a poor environment.
Some Of The Best Discord Bots To Try
Experts say that the way to succeed with marketing on this platform is using the best bots to create a highly entertained and engaged community. Here are some of the top-ranked bots that you can use with your server.
MEE6
MEE6 is described as the most comprehensive Discord bot available in the market. It can be used to create custom commands that automatically offer users roles and send messages in the main channel or via DMs based on specific actions.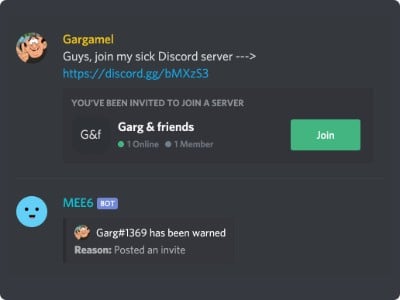 The bot is also used to set up welcome messages and automate roles using a few simple commands. It welcomes, assigns roles, and even explains the rules of the server without needing to do anything manually.
The best component of this bot is the level of customization one can apply to their Discord bot commands. You can kick someone automatically if they promote unwanted links, ads, or spam. Thus, it helps in creating a tight-knit community where all participants can enjoy themselves.
ProBot
ProBot is a Discord bot that lets you automatically set welcome messages. Hence, every time someone joins the server, they are greeted with a customized message that showcases your personality.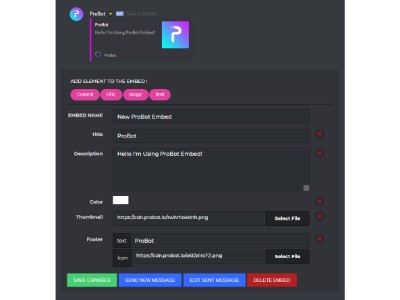 With the automated system set in place, you can quickly detect any bad behavior and warn people not to do such things again or kick them out automatically whenever needed. For instance, if someone posts something obscene, you cannot give them a second chance to ruin your reputation.ProBot kicks them out and keeps your group in line with the topic of the day.
These Discord bots enable you to put up unique and customized commands that have different tiers to determine what actions merit an instant kick without warning and what result in a stern warning. One critical factor to consider in the bots is their uptime. ProBot is said to have 99.99% uptime. Therefore, you rarely need to worry about it going down and your server appearing shambolic.
Dank Memer
If you are wondering, "Why would memes be important for marketing?", then you will be surprised to see that they are becoming a majorly powerful marketing tool and something that can be used to develop a better community.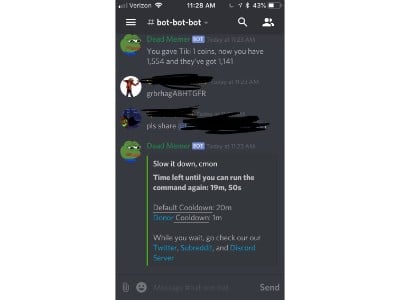 Memes are a perfect way to increase engagement since people in the online world love humor and the point of Discord is to develop a light-hearted community that is filled with entertainment and fun. Memes are simple and effective ways to increasing fun in the community.
Dank Memer is ranked highly due to the number of commands that you can use with it. They come with commands from simple animal pictures to real games to play blackjack against the artificial intelligence program using coins acquired with real currency.
If you want to develop a community where the people come to relax, unwind, and have lots of fun, Dank Memer is the perfect solution.
Voicy
Communication is integral to any community and getting new and funny methods to communicate with members sets the server apart from the competition. Please note that many other people are competing to get the same users into their channels just like you are trying to do. It is important to come up with unique ways to draw attention to your space.
Voicy lets you search through a library of over 50,000 funny sound clips from their network. They are continuously updating the platform using new sound effects and your members can use the commands to develop an enjoyable experience and entertaining environment where people will always want to stick around.
Community Hubs Beta
The Community Hubs Discord bots are designed to enhance the way people link and communicate with each other across multiple servers and various platforms. It integrates a Discord channel with a Hub room where other channels exist so that you can share all information that you want between the two spaces.
That is a powerful way of joining two communities whenever you have different audiences across many genres. For instance, if you have a server that focuses mainly on Influencer Marketing and another for SEO.
In case you wish to do a live stream for both audiences since the subject matter might be relevant to both communities, you can use Hubs to bring them together to watch the live stream and benefit from the information. This bot also enables two channels to communicate with one another.
Not only does this strategy have instant and upfront benefits, but there are advantages on the back-end too. For instance, someone may decide to join both communities.
Musibeth
Musibeth lets you play YouTube content directly on the Discord platform. This comes with several benefits like enabling you to share videos with the members to offer context or extra information on a topic you want them to know.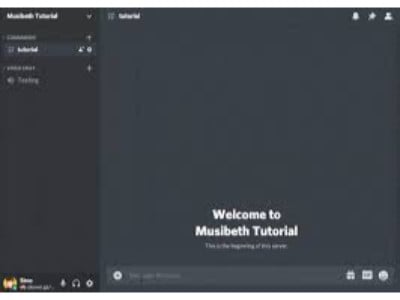 You may also set up automatic commands that offer videos for the frequently asked questions to enable you to spend more time building the community and less time answering the same questions multiple times.
In case you have a YouTube channel, you may use the Musibeth Discord bot to spread and advertise your channel around to get more views while informing members what they may want to know. Nevertheless, be cautious to avoid spamming your channel with YouTube videos that users are not interested in.
The most common use of this bot is to play music on the server which is a good way to relate to the audience and develop a comfortable atmosphere.
Quillbot
Quillbot is one of the unique Discord bots that enable you to paraphrase something that someone said. Its commands automatically take written text and then rewrite it for you. There are several useful purposes for the bot, but the biggest involve writing and content marketing.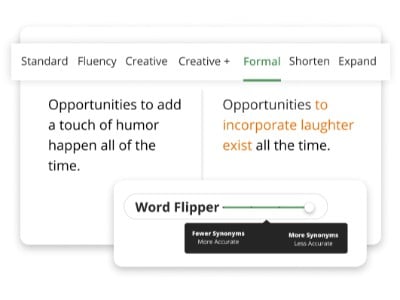 For example, if you are interviewing an expert on a certain subject matter, they can offer answers using text from an article that they wrote previously or even a feature that they had somewhere. It is not advisable to use their words directly. Quillbot paraphrases whatever they said enabling you to use the information in your content.
There are other relaxed uses for this bot that you can implement when you just want to use it for fun. For instance, you may go for a flip modifier to change sentences using as many synonyms as possible.
Spixx
This bot lets you use commands for music, memes, and games. It creates an enjoyable environment for a niche community where people feel like they are always welcome.
You can indirectly market to your audience using the Discord bot games. Once you create a vibrant community and engage with them often, that is considered to be marketing.
Spixx enables you to use the simplest form of marketing that is enjoyable when everyone is having a great time. But, monitor how people are using it since some of the commands and memes may be a little obscure.
How To Add A Bot
After you determine what Discord bots you want to include in your channel, you need to seek them using an online bot list or using a simple Google search. After that, look for the invite or add button and select what server you want to add your preferred bots to. Please note that you can only do this for the servers where you are provided with admin or moderator access.
Once the bot uploads on the server, you can use it instantly with a series of commands. When you want to get rid of a bot, right-click on it on the server member list and click ban or kick.