The immutable nature of blockchains and ledgers have kept dynamic interactions on a limited scale. Oracles level the playing field by extending their functions and bringing a fresh flow of innovations.
We reached out to Marcin Kaźmierczak, COO and Co-founder of RedStone Oracles who gave us further insights into a new trending product: modular oracles.
Here's what he had to say.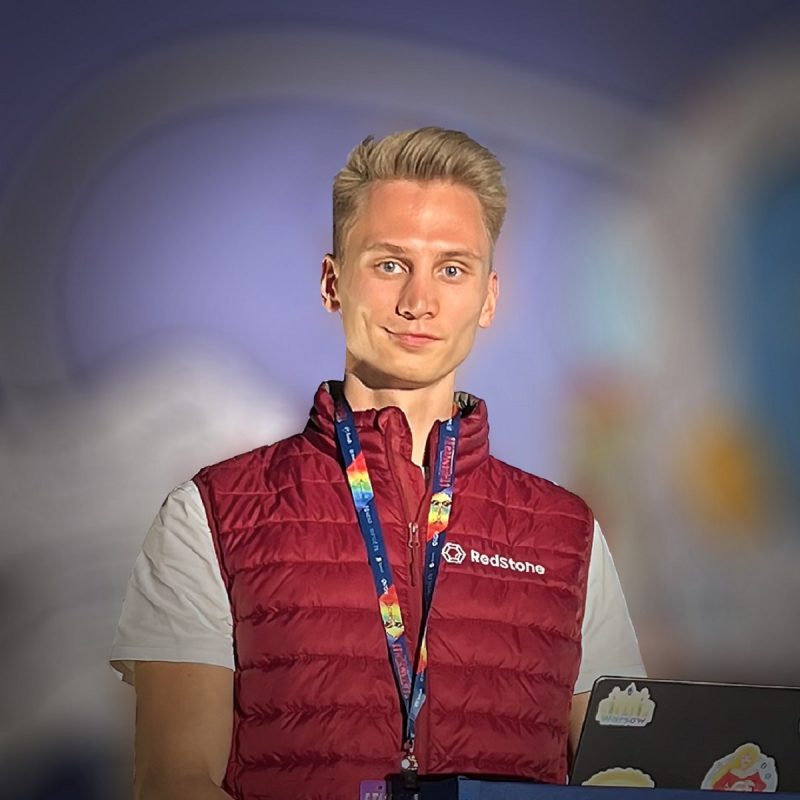 Marcin Kaźmierczak, COO and Co-founder of RedStone Oracles
E-Crypto News:
What are the roles oracles play in blockchain ecosystems?
"Oracles represent critical infrastructure that bring off-chain and on-chain data to dApps, so that Smart Contracts can execute automatically upon receiving certain strands of information. Without Oracles, DeFi wouldn't exist as we know it today, as they bridge the gap between blockchain networks and real-world data."
E-Crypto News:
What exactly do oracles do?
"At a macro level, Oracles aggregate data – mainly TradFi and crypto market  data – from various sources and securely deliver it to Web3 protocols. They are trusted data sources that provide external information to Smart Contracts."
E-Crypto News:
What are the different kinds of oracles?
"The most commonly known type is the Push Oracle that delivers data on-chain in an interval. Currently the quickest raising sector in Oracles is the Pull model, also called On-Demand. RedStone has been the first startup to promote such a system, establishing a market leading position."
E-Crypto News:
Why is RedStone focused on modular oracles?
"Modular Oracles allow for more customisability while enabling us to better serve developers' needs in a more timely and efficient manner."
E-Crypto News:
Congratulations on your successful seed round! What's next for RedStone?
"Thanks! We raised our $7 million seed round in the first half of 2022, and since then we've achieved multiple milestones on our roadmap. This includes our first mainnet implementation, becoming the first Oracle on zkSync Era and Scroll, a successful launch on Polygon zkEVM and Linea, and of course securing over $200 million in funds on multiple Layer1 and Layer 2 networks. We also recently announced an exclusive $350,000 angel investment round led by a host of recognized Web3 leaders such as Stani Kulechov, Sandeep Naiwal, Alex Gluchovski and Emin Gün Sirer. Moving forward, we'll be expanding our product suite, adding firepower to our team and onboarding new swathes of customers."
E-Crypto News:
Please, can you tell us about RedStone's backstory?
"In 2020, our Founder Jakub Wojciechowski recognized that the Oracle landscape was ripe for disruption, and set about challenging the status quo modus operandi. He had grown increasingly frustrated with the limited availability of data and the standard hours-long lag in update frequency. By harnessing the highly secure Arweave blockchain, Jakub launched RedStone to build a nimble Oracle that addressed the needs of developers."
E-Crypto News:
What's with the wide presence on almost every smart contract L1 and L2 blockchain?
"RedStone's modular architecture makes it compatible with all EVM Layer 1 and Layer 2 networks. We provide affordable and reliable data feeds delivered to over 40 chains including Ethereum, zkSync Era, Avalanche, Polygon PoS and zkEVM, Linea, Celo, Optimism, Arbitrum, Fantom, Stacks and EVMOS – all with testnets. We've also announced implementations with Starknet, Fuel and TON."
E-Crypto News:
Please, can you explain why RedStone deploys customizable feeds?
"We want to enable builders to innovate at pace, experiment with confidence and quickly build PoCs that can become viable products in the long term."
E-Crypto News:
How can developers interact with RedStone's infrastructure?
"Developers can integrate with our proprietary infrastructure in smart contracts, dApps and explore available feeds at app.redstone.finance."
E-Crypto News:
What steps have you guys taken to integrate, improve and enhance security?
"Our Founder Jakub Wojciechowski is a former SC auditor at OpenZeppelin, a framework to build secure smart contracts on Ethereum. We've had 5 independent audits and we conduct regular crunch and attack tests."
E-Crypto News:
Why are you guys focused on DeFi and Web3 ecosystems?
"That's where the demand is most pronounced. Oracles are in high demand in DeFi and Web3 ecosystems as they enable access to real-world data, automate smart contract functionality, provide reliable price feeds, and bridge the gap between blockchain and external systems, expanding the remit of use cases and improving the accuracy and reliability of dApps."
Related: Polkadot Facts And Features: Is The Network Ready To Dethrone Ethereum Blockchain?
E-Crypto News:
Please, can you tell us about your NFT data feeds?
"This is available purely for demo purposes at the moment but in the future we plan to use these NFT data feeds to power a bespoke NFT lending platform."
E-Crypto News:
What are the costs of deployment for developers?
"We optimised RedStone for gas cost consumption, offering a significantly cheaper option than traditional oracles. We are spearheading the development of cost-efficient, cross-chain oracles that provide high-performance DeFi protocols with rich, actionable real-time data at lower latency."
E-Crypto News:
How did you get involved with this industry?
"I've been immersed in the blockchain space since 2017 and I've developed a deep appreciation for the underlying technology. I've always gravitated towards the startup space and I was energized at the prospect of working directly with Jakub on his vision for RedStone."
E-Crypto News:
Just how big will oracles be in the coming years?
"The growth potential is boundless. I anticipate it will grow exponentially in tandem with DeFi, becoming a multi-billion dollar market in the coming years."
E-Crypto News:
Can you tell us about the people behind RedStone?
"We have an amazing team, comprising 70% engineers, seasoned builders and decorated professionals in the fields of marketing, business development and operations. We have fostered a real culture of collaboration and we are all firmly aligned on the RedStone vision for disrupting the status quo oracle space."
E-Crypto News:
There's a lot of investor interest in RedStone. How has the journey been so far?
"Thanks, yes we've received quite a lot of interest, which we think is justified. Investors will always be attracted to startups with a clear and well-defined roadmap, highly reputable leadership team, and market traction. So far we've definitely validated the faith that our investors have shown in us."
E-Crypto News:
What impact will other technologies like AI have on oracles?
"While a host of other industries have been transformed by innovative deployments of AI in recent years, the AI surge has yet to permeate the Web3 landscape in any meaningful way. However, in the future, we could see the intersection of Oracles and AI, perhaps in terms of improving data accuracy and automating data verification, further enhancing their role in decentralized ecosystems."
Related: Finance with Artificial Intelligence
E-Crypto News:
What is your vision for RedStone in the next half-decade?
"We're already one of the fastest growing Oracles on the market, and our goal for the next year is to assertively establish our credentials as a bonafide top 3 Oracle, with a steady and secure growth trajectory. In the next 5 years we aim to become one of the market leaders delivering the highest quality service to dApps and developers all over the world."