The decentralized finance (DeFi) space has been the center stage of the current bull run within the cryptospace. So much so that many think that DeFi is the new darling.  E-Crypto News caught up with Piers Ridyard, CEO of Radix an independent DeFi ecosystem. Here is what he had to say.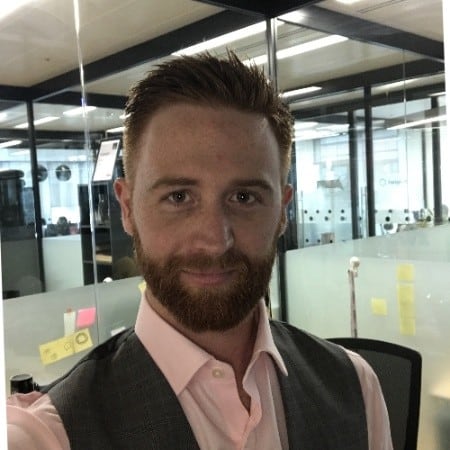 Piers Ridyard, CEO and Co-Founder of Radix
E-Crypto News:
Do you think that decentralized finance (DeFi) will take over the world? Please tell us why you think so?
Taking over the world is a massive task – the global financial service industry is a multi-trillion dollar industry that has grown up over hundreds, if not thousands of years. Ultimately, that has meant that it has been built in a disconnected, disjointed and often dysfunctional way, with billions of dollars wasted every year on taping over the technology cracks. 

However, DeFi is not going to win overnight – for at least the near future DeFi will complement the traditional system, creating new tools that just would not have been possible before while also drawing inspiration and assets across from the traditional system in a way that requires close integration and cooperation – dollar backed stable coins are just the first example of the ways these two space can work together. 

A key change in the near future is going to be the usability of both apps for crypto, and finance for consumers – apps like Argent.xyz put an incredible user experience in front of otherwise complex applications that are fueling the exponential growth of DeFi today. Some of the best experiences will be almost exactly the same as what the average consumer is already used to with great traditional financial products like Monzo or Robinhood.

How these systems run behind the scenes will be different, and the users will see improved speed (seconds, not days to swap between assets); higher rates of interest offered on deposits; seamless swaps between asset types without needing to go into cash as the interim; and fully customized consumer financial products rather than the current one-size-fits-all.

Decentralised Finance is not about moving existing banks onto public ledgers. It is about unbundling of banking services (borrowing, lending, investment) into applications that can all interoperate on a single public network and compete for users' wealth with the best offerings. Banks are like newspapers coming into the internet age, some will make the transition, but not all.
E-Crypto News:
In your opinion, what is wrong with the current DeFi business models?
The biggest issue for DeFi right now isn't a business model issue, but a technology issue.

As we have seen over the past few weeks, the gas prices on Ethereum are causing a lot of difficulties for DeFi participants, with costs in excess of $30 in network fees for a single transaction. In some ways, this is a great sign – it means more people are making transactions on the network which is pushing up the price per transaction. However, the side effect of this is that when a transaction costs $30, moving assets between different DeFi applications loses viability for all but large sums.  

It also isn't something that a DeFi application running on Ethereum can mitigate, even if the situation is not of their own making. A great example would be a new application having a successful launch, and as a result driving a lot of transactions (and thus higher transaction fees). Users of other, completely separate dApps will experience the same costs and congestion. As a DeFi business on Ethereum, this can cause a lot of frustration for your users.

There are quite a few approaches being presented on how to "solve" this scalability issue, however many of these introduce new problems, such as breaking composability. This is fundamentally what we built Radix to solve. There are no quick fixes to this for Ethereum.
E-Crypto News:

What is Radix bringing to the DeFi space that is different? How does radix work?
Radix is introducing the first layer-one protocol built specifically for decentralized finance. Radix is made up of four breakthrough technologies: Cerberus, a high-speed network consensus mechanism; the Radix Engine, a purpose-built development environment for building DeFi applications; the Component Catalog, a library of DeFi building blocks; and the Developer Royalty System, a first-of-its kind decentralized on-ledger incentive program. These core technologies were developed to prepare DeFi for mass adoption. 
E-Crypto News:

What are the security features of the Radix engine?  Can Radix Defi projects be hacked?
Yes, Radix DeFi projects can still be hacked – no coding system is perfect; however, it is possible to substantially reduce the possibility of hacks vs an environment like Solidity and the Solidity VM.

The Radix Engine allows the creation of on-ledger DeFi application logic that is secure by design, reducing the risk of exploits, hacks and bugs. This is achieved because the Radix Engine is a Programmable Finite State Machine, a class of execution environment that is common in mission-critical embedded systems where predictable correctness is the top priority. To make clear the distinction from typical Ethereum-style smart contracts, Radix Engine smart contracts are called Components.

Unlike smart contracts, Components on Radix are like mini-DeFi building blocks, letting developers compose together functionality to create smart contract functionality in a fast, secure manner. This retains the security of each of the Finite State Machines, and makes hacks and exploits far, far harder.

To learn more about how exactly this all works, please see our DeFi white paper: https://www.radixdlt.com/wp-content/uploads/2020/08/DeFi-Whitepaper-v1.0-3.pdf
E-Crypto News:

Does the Radix engine allow for inflows from other public blockchains (Bitcoin Ethereum and co)? Why or why not?
Cross ledger functionality is a very large topic that covers a number of different approaches; some far more decentralised than others! We are already working with Copper.co to provide wrapping services for over 137 cryptocurrencies into the Radix ecosystem, as well as Ren Protocol to trustless cross ledger clearance and settlement between Ethereum and Radix. Beyond this we have a couple of as-yet unannounced partnerships and technologies to bring to the party here as well.
E-Crypto News:

In terms of incentives do you think that royalties for "smart contracts" code within will encourage developers to become creative? Please tell us your reasons why you think so.
The start of any great open source ecosystem is not characterized by massive companies developing code, but by a motivated group of individual developers and small companies who are passionate about the technology. These early adopters make the tooling, the libraries and the first experiments that ultimately lead to successful new projects.

By giving these early developers a direct stake in how easy it is to build on top of Radix, we believe that it will foster an ecosystem that fundamentally incentives the right things to be built, at the right time.

Our Royalty System provides protocol-level incentives – similar to the incentives for secure network operators created by crypto "mining" – for any developer to contribute Components, large or small, that will become key enablers for building DeFi applications on Radix.
E-Crypto News:

How does the Cerberus consensus protocol work?  What makes it unique?
Right now no project has produced a consensus protocol that can allow cross-shard atomic composability. Radix has attacked this problem head-on with a new consensus design called Cerberus that is the end result of seven years of R&D. Cerberus introduces two significant changes from other scalable consensus protocols that give it practically unlimited scalability without compromising free atomic composability.

First, Cerberus uses a different kind of sharding. Rather than split dApps or assets between a static set of shards, Cerberus uses a practically infinite set of shards. Assets and dApps are represented dynamically across these shards. The result is limitless parallelism, meaning that no matter how much demand there is on the Radix network, natural financial incentives can add more nodes to split up the load and increase throughput to keep up. This doesn't just raise the ceiling on scalability; it means there is no ceiling.

Second, Cerberus removes the barriers between its shards with a completely new consensus design. While each shard is able to conduct fast, secure consensus independently, Cerberus can directly "braid" these consensus processes together into one – atomically, and on-the-fly for each individual transaction. Braided cross-shard consensus is just as atomic and secure as simple single-shard consensus, meaning that composability is just as free and frictionless as on a single blockchain, but without the scalability limits. Cerberus gives Radix shards SpaceX satellite internet, rather than messages in bottles.

For each Radix transaction, Cerberus "braids" multiple single-shard BFT consensus (3-chains) together into a single "emergent" atomic consensus process (a 3-braid).

The upshot is that rather than fixing scalability by breaking composability, Cerberus delivers both without compromises. This is one part of what makes Radix the only layer-1 protocol designed to scale a highly interconnected, high-demand DeFi ecosystem.
E-Crypto News:
How will Cerberus handle the scaling requirements of the Radix ecosystem as the platform becomes popular?
As much of Cerberus consensus runs in parallel, higher network demand is simply served by adding greater numbers of staking nodes to the network, much like adding check-out lanes at a busy grocery store. Cerberus ensures network resources are used as efficiently as possible for maximum throughput and composability, making it ideal for the interconnected, high-demand DeFi ecosystem. 
E-Crypto News:

What do you think can be done to enable further adoption of DeFi projects? What are you planning to do to enable people to know about Radix and more importantly adopt it?
There are three pillars to DeFi adoption – access, liquidity, and choice. All are required to build the network effects essential for mass adoption. 

Access is the ability for users to get assets into and out of the DeFi space. The rate of innovation here is staggering, with it being substantially easier now for someone to get into crypto than even a few years ago. However, there is still more work to be done building even easier "bridges" both between Fiat and crypto, and between different crypto projects. 

Having assets on the platform typically results in liquidity. If assets are there, users will want to move them between different products and opportunities. Innovations such as automated market makers are just one of the ways DeFi is shaking up how liquidity is created, and how the average user can participate in the system.

With assets and liquidity, there are clear incentives for people to build products on the system for users to engage with. One way Radix is specifically enhancing this is with the Radix Engine and Components that make building secure DeFi applications faster and easier. Combined with our on-ledger "Developer Royalties" system, where developers can set a small fee each time one of their components is used in a transaction means developers can earn recurring revenue by providing useful contributions to the network.

With more applications to choose from, more users will want to bring their assets onto the platform! Our goal is to leverage both our technology innovations with our go-to-market strategy to kick start and accelerate these network effects.
E-Crypto News:

Where do you see Radix going in the next decade? Where do you think Radix will be within ten years?
To be directly or indirectly providing infrastructure that enables the liquidity for financial transactions that affect over 100m people.