Cryptocurrency holders now have the option of cashing out their Bitcoin at one of 16,000 ATMs across the UK after a collaboration between BitcoinPoint and cash machine operator Cashzone. 
The news comes off the back of an excellent end to 2020 for Bitcoin, a year that ultimately saw the world's most famous cryptocurrency break its all-time high repeatedly. 
Bitcoins Widespread Adoption
With holders of Bitcoin now able to access their digital assets at cashpoints around the UK, a significant barrier to adoption has been broken down.
Some users can struggle to see the benefits of buying into crypto if there isn't a straightforward way of turning their holdings into fiat currency when they're ready to spend their profits. 
"When we started the service early 2018, there was not enough emphasis on making it easier for people to simply buy £5 of bitcoin," explained Benoit Marzouk, BitcoinPoint CEO and former Credit Suisse VP.
"Since registering on a crypto exchange could be a complex process for non-tech savvy people, the scarce availability of bitcoin ATMs made accessibility of bitcoin problematic."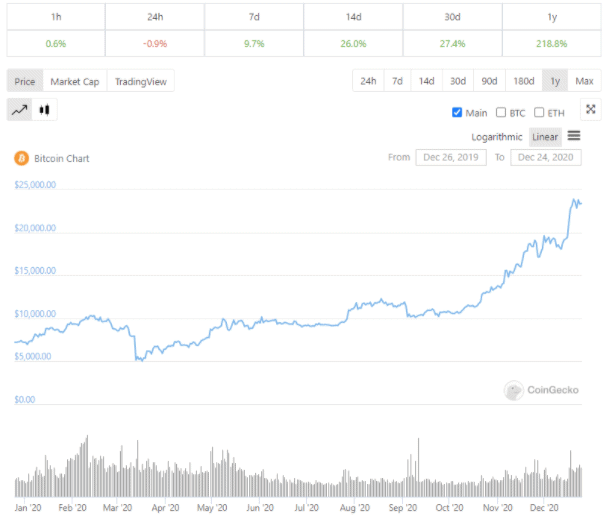 (Image: CoinGecko)
Following a brief collapse in the wake of Coronavirus-driven uncertainty, Bitcoin rallied in the autumn and winter of 2020 to create a new all-time high of $24,225.28, according to CoinGecko data. 
These bull runs to unprecedented heights have rekindled memories of the frenetic late-2017 crypto marketplace and interest in cryptocurrencies is building once again.
The arrival of 16,000 crypto-compatible ATMs in the United Kingdom is likely to make the prospect of investment in the likes of Bitcoin significantly more tangible for many prospective investors. 
But what does the implementation of Bitcoin ATMs in the UK and around the world mean for wider adoption? And will higher accessibility of crypto mean even higher coin values? 
The Arrival of Mass Investment
The past year has seen many significant events take place in the world of cryptocurrencies, from Bitcoin's new all-time high to the rise of decentralized finance, to the launch of Ethereum 2.0 and many more key moments that have helped to pave the way for great optimism across the industry. 
Although Bitcoin stole the headlines for 2020, its all-time high wasn't compounded by the same level of the media frenzy that occurred during its 2017 rally.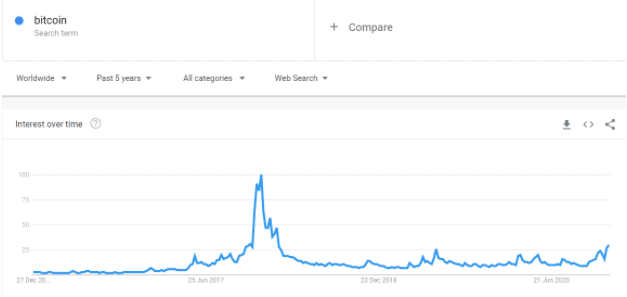 Google Trends data shows that interest in Bitcoin hasn't reached anywhere near the same levels as that of 2017, which may help to underline the reasons behind the coin's growth during its current bull cycle. 
Institutional investors have been key to the growth of Bitcoin. Corporations, foundations, and millionaires alike are all waking up to the growth potential of Bitcoin and are beginning to use the cryptocurrency as a store of wealth.
There are many factors behind this trend, with economic instability caused by Covid, inflation of fiat currencies, and depletion of reserve funds may have all pushed more institutional investment into crypto. 
Where gold had always been the archetypal safe-haven asset, Bitcoin has begun to exhibit lower levels of volatility and consistent growth – showing it could make a solid case for assuming the role of 'digital gold.'
The interest of large capital in cryptocurrencies was the driving force behind the recent Bitcoin rallies, and with a traditional financial landscape still braced for the aftermath of Covid, it's reasonable to expect this trend to continue. 
Paving The Way for Bitcoins Widespread Adoption
Despite institutional influence, there are plenty of indicators that Bitcoin is shifting towards mainstream adoption. In the autumn of 2020, PayPal announced that it would be accommodating the buying and selling of Bitcoin and various other cryptocurrencies within its platform – opening the door to a prospective market of 286 million users. 
For the UK, this essentially means that users could soon purchase Bitcoin at home via their PayPal account, before later converting it to pounds sterling at their local ATM and cashing it out to spend.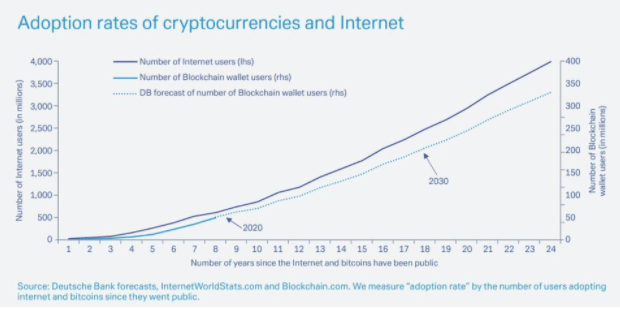 (Image: Forbes)
Despite institutional investment being a key driving force behind Bitcoin's recent rallies, statistics show that cryptocurrency adoption rates are closely mimicking that of the early internet, indicating that huge volumes of investors may soon tap into this greater level of accessibility and buy into crypto. 
With a greater range of more secure and sophisticated cryptocurrency exchanges available compared to when interest in Bitcoin first peaked in 2017, those showing an interest in 2021 may be smaller in volume, but the better accessibility of coins is likely to foster more sustainable adoption rates. 
Once people follow in the footsteps of institutional investors and recognize the potential of crypto, the future all-time high of Bitcoin may well extend to six figures, rather than the five figures it stands at today.
The implementation of Bitcoin ATMs represents one single, imperative step in bridging the gap between crypto and its widespread accessibility.