Cryptocurrencies have had a great year so far. It was even made obvious with the recent performance of cryptocurrency operator CoinFlip. E-Crypto News caught up with CoinFlip Co-Founder and CEO to talk about the positive numbers. Here is what he had to say.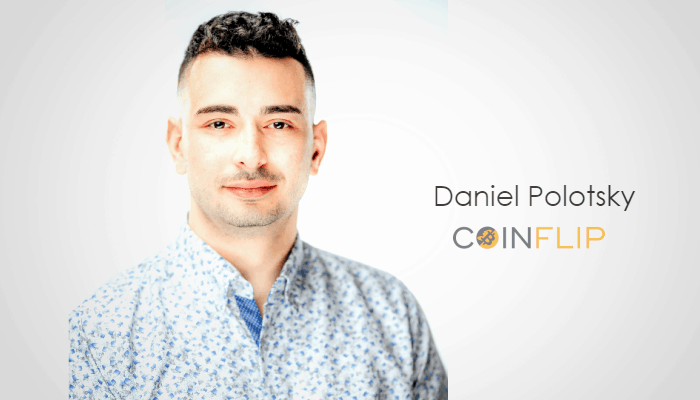 E-Crypto News:
Congratulations on a great performance in the past year! What are your expectations for the coming year?
In the coming year, we plan to add 4-5k ATMs to our network, build out a greater variety of services, and expand internationally into Canada and Europe.
E-Crypto News:
What do you think the future holds for Cryptocurrency ATMs?  Will they become a thing in the near future?
Crypto ATMs will add additional services outside of just buying and selling crypto. These services will possibly include bill paying, remittance and other additional tangent services.
E-Crypto News:
Crypto ATMs offer the most convenient, user-friendly, and efficient way to convert cash to crypto. CoinFlip, in particular, is proud to offer the lowest fees industry-wide. As a user, you can just walk up to one of our ATMs, scan your wallet's QR code (or get prompted to create one if you don't already have one), input cash and receive your crypto within 10 minutes.
E-Crypto News:
Do you think the mass adoption of cryptocurrencies will occur in the near future? Please tell us the reasons for your answer. 
Yes, cryptocurrency has already proven itself with retail and institutional investors and will continue mass adoption as the younger population gets a more significant foothold on the financial system. 

Young people think of bitcoin as the next gold, and as wealth transfers to the next generation, more and more capital will be deployed into crypto.

As functionality increases with further development and adoption, people and institutions will see more use cases and greater efficiency and those who refuse to adapt will ultimately be left behind.
E-Crypto News:
What are your thoughts on decentralized finance (DeFi)?
DeFi is a great way for everyone to access financial tools but always be safe while doing so. You need to do your due diligence and make sure that you understand where you're putting your money. 
E-Crypto News:
What are your plans for allowing usage of DeFi tokens on Coinflip machines?
In terms of plans, CoinFlip is currently looking at different DeFi services and comparing them to see which one makes the most sense for our customers. 
E-Crypto News:
Do you think Bitcoin prices are rising too fast? What do you think is responsible for the rapid rises in Bitcoin prices?
No, it's not rising too fast because the demand for crypto is still way more than what's being created. The fact that Grayscale buys 10-20x the amount that's being created shows that it's still relatively undervalued.

The rapid rise in price is due to institutions, from Twitter to Grayscale, looking for a way to hedge against inflation and uncertainty.
E-Crypto News:
Which of the Altcoins do you think has the potential to upstage Bitcoin? Please tell us the reasons for your answer.
Ethereum has the potential to take over but serves different purposes. I don't see any others taking the helm from bitcoin.
E-Crypto News:
Are there any plans to create ATMs that have their independent blockchain/distributed ledger? Will this be a possibility in the future?
No, this wouldn't serve much of a  purpose as consumers wouldn't have any use for distributed ledger and it would require CoinFlip to maintain 
E-Crypto News:
What are your plans regarding international expansion?
We hope to build out our presence in Canada in the next 2-3 months and Europe in 5-6 months.
E-Crypto News:
Do you plan to list any other tokens on your ATM network this year? Can you hint us at those that you're keen on listing?
People can expect one token listing per quarter. A hint is that the first will be defi related.
E-Crypto News:
12. If you had three wishes for the crypto space and Genie that could make them come true what would those wishes be? 
1. Bitcoin being accepted as a currency worldwide.

2. Increased access to capital for those who are unbanked and under-banked globally

3. A regulatory system that can achieve proper security and AML without taking away from the functionality and efficiency of cryptocurrency