Crypto trading bots are on the rise. In the global financial markets, nearly 75% of trading is algorithmic, and the crypto sector is not different. In the past three years, there has been a surge in the use of these bot trading platforms. They have enabled crypto traders to develop nuanced, 24/7 trading strategies that can be readily refined and adjusted as required.
In case one is a seasoned trader in the traditional financial markets, they will know that most of the industry is now dominated by automated bots. Normally, they are designed, developed, and managed by top-tier financial institutions. Their underlying algorithms are so advanced that the average person does not have any chance of determining how the bot operates.
With that in mind, it is only a matter of time before crypto trading bots dominate the nascent sector that has remained highly volatile since its inception. Many crypto trading bots are available in the market and each of them comes with its pros and cons. But be sure to do a thorough background check on all bots before going with one.
The predominant concept of using these automated bots for crypto trading activities comes in two-fold:
First, they are perfect for experienced traders who want to use their strategies in the crypto trading arena without having to remain rooted at their device for several hours on end. These crypto trading bots can mirror the viewpoints of the trader autonomously, and can do so on many exchanges on a 24/7 basis.
Secondly, automated bots are also perfect for new traders. The inexperienced investors have a chance to get a bot from a third-party firm, with a wide range of automated, pre-designed trading strategies to choose from.
Related:Trading Bots Are Overrunning Crypto Networks As They Seek Maximal Profits
If you believe that an automated bot is what you will need to thrive in the crypto trading space, we have a comprehensive crypto trading bots review to help you choose the best one that works for you.
Crypto Trading Bots Overview
Crypto bots are software applications. In most cases, they use an API to interact with a user's crypto exchange account and automatically execute trades whenever the market conditions meet a predetermined set of conditions.
Notably, the best crypto trading bots can integrate and interpret the traditional market signals including orders, volume, time, and price, with technical analysis signals like the Ichimoku Cloud, Bollinger Bands, all moving averages, and social media sentiment.
Various crypto trading platforms cater to the different needs of the general trading community. Some of these bots are designed for experienced traders ensuring that they create complex automated strategies, which can be readily backtested against historical and developing crypto market data.
Other crypto trading bots target new investors who wish to boost their profits without the stress of making trading decisions themselves. These platforms offer social trading, copy trading, and automated crypto trading powered by well-developed algorithmic strategies.
With the interest in decentralized finance (DeFi) growing and yield farming becoming lucrative, the crypto holders can put their assets to work, enabling them to generate a return. Whether you are an active market trader or a passive investor, many choices are available, and all of them come with risk profiles. Here are some of the top-ranked crypto trading bots for 2022:
Cryptohopper
To try Cryptohopper click here
Cryptohopper is a cloud-based cryptocurrency asset trading platform. Currently, it has proven to be the most popular platform in this space offering a wholly comprehensive Bitcoin trading bot platform that is designed to cater to all levels of investor experience.
Traders can use this platform's Strategy Designer to set up strategies, follow 'experts' or buy a strategy template from the general marketplace. Using the popular Strategy Designer, the traders can choose up to 30 technical indicators and 90 candlestick patterns to develop a strategy. Cryptohopper is installed with an automatic backtester that rates, tests, and deploys viable trading strategies.
Cryptohopper was launched in 2017 and it alleges to have executed many automated trades on behalf of over 140,000 traders since its launch. For the traders that want to build their pre-programmed bot assisted by the proven trading strategies, Cryptohopper offers a huge number of variables. These variables include:
Consolidation period trading
Dollar-cost averaging
Bear and bull market signals
Trailing stop-loss orders
What many like about the interface of this platform is that it also enables beginners to set up their customized bots.
The provider has enabled a simple 'drag and drop' platform to help beginners benefit from the platform. Similar to the 'IF/THEN' function that works in Microsoft Excel, traders have to tell the crypto trading bots what to do in various situations.
Related: Ruud Feltkamp CEO of CryptoHopper Talks to us About Flash Crashes and More
Furthermore, the Cryptohopper interface will enable traders to determine whether a specific trigger has been integrated in error, and that is neat. Most notably, Cryptohopper comes with a fully operational pre-live testing arena. This is important since it enables traders to test and adjust their bitcoin trading bots before releasing them into the wild crypto market.
With regards to the fundamentals, Cryptohopper is powered by nine exchange platforms, and users can trade up to 75 different pairs. Supported exchanges include Binance, Binance US, KuCoin, OKEx, Poloniex, BitFinex, Bittrex, Bitvavo, Coinbase Pro, HitBTC, Huobi, Kraken, and BitPanda Pro. The platform comes with many pricing plans but no free plan is on offer currently.
The available plans cost $19, $49, and $99 per month for the Explorer Hopper, Adventure Hopper, and Hero Hopper plan, respectively. Each plan has some limitations on the number of coins, strategies, and volumes that the users can trade.
BitsGap

To Give Bitsgap a try please Click here: Bitsgap
Bitsgap is an altcoin trading robot that the creators describe as an 'all-in-one trading automation platform for Bitcoin and other Cryptocurrencies.
Investing in Bitsgap means getting access to the automated algorithms of the robot, but also means you can have a platform that is designed to work with more than 15 of the most popular crypto exchanges, including Binance, Kraken, and Coinbase.
The Bitsgap Bot allows traders to use predefined strategies or simply create their own algorithms. You do not need to download any software – the Bot is cloud-based, with safety and security in mind.
The Trading Terminal includes more than 100 of the most popular indicators and customizable chart types (including the fast TradingView chart), and it allows you to make both basic and advanced order types including stop loss, take profit, and even shadow orders.
Included with the Bitsgap Bot and Trading Terminal is a simple and easy-to-use dashboard that pulls together all your trades and balances across exchanges so you can keep an eye on performance. It also allows you to track and monitor 1,800+ cryptocurrencies, and there are no limits to your use of the portfolio.
As with many trading platforms, there is a Demo mode, where you can practice different strategies without risking your finances. The Demo account is funded with 1 BTC and 10,000 USDT so you can try the Bot in different ways to see what works for you.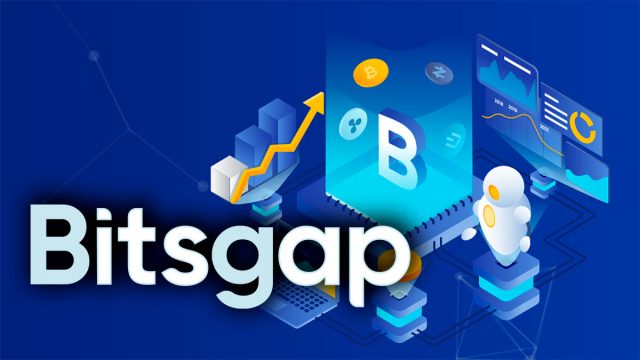 The Basic account ($29/month) gives you two active trading bots, as well as grid orders and unlimited smart bots.
The Advanced account ($69/month) has the same features as the Basic, but you can use five active bots, and it also includes futures bots and trailing up and down orders for bots.
The Pro account ($149/month) has the same features as the Advanced, but you can use 20 active bots and add take-profit orders for your bots.
You can choose to pay for your Bitsgap access using either debit or credit cards, PayPal or even one of 50 altcoins including BTC and Ethereum.
With both desktop and mobile versions, you can use Bitsgap in the way that works best for you – and if you have any problems then customer support is available via email or on live chat.
GunBot
To give Gunbot a try please click here
Gunbot is a comprehensive bitcoin trading bot service provider. It is best suited for traders that have some experience in coding. If you have some experience in coding, you are assured to enjoy lots of flexibility at your disposal when designing your bot. additionally, the programming interface is available on all of the major operating devices like Linux, Windows, and macOS.
Unveiled in December 2016, Gunbot is among the oldest and highly popular crypto trading bots. Its active trading community has at least 7,000 members and it continues to record exponential growth. The Gunbot is designed for new traders and more experienced investors.
For the new traders, Gunbot comes with 14 powerful precoded trading strategies, enabling the beginners to readily pick the pairs that they would want to trade with and then allow the bot to do all the hard work.
Gunbot provides impressive customization for experienced traders. Users can readily modify their precoded strategies to suit all their trading preferences and create fully customized and personalized strategies from scratch. Based on an ease-of-use perspective, Gunbot offers an upgraded interface that enables investors to readily check their portfolio values, trading indicators, chart all pairs, recent trades, and a lot more.
The trading bot comes with four main premium packages that range from 0.02 BTC, 0.05 BTC, 0.065 BTC, and 0.125 BTC. While every plan comes with a considerable number of trading strategies and a huge unlimited number of pairs, it is critical to note that compatibility with exchanges is somehow limited.
While the 3 lowest-priced plans offer only 1-3 crypto exchanges, the most expensive plan offers only five exchanges. Nonetheless, in case a trader wants to trade on a single exchange and hence not engage in arbitraging, then that should not be a problem.
Gunbot also offers many powerful add ons, including BitRage. BitRage is an arbitrage crypto trading bot that offers direct arbitrage and can execute triangular arbitrage on one exchange. The other add ons include Backtesting and TradingView. Gunbot is supported on over 100 exchanges and it continues to add more based on requests.
Shrimpy
To give Shrimpy a try please click here
Shrimpy.io or Shrimpy is a popular rebalancing tool and social trading platform for cryptocurrencies. It comes with an interactive user interface that has distinctive features and responsive customer support. With this crypto trading bot, the users can develop custom crypto index funds, automate rebalancing, and copy trading strategies.
The Shrimpy tool currently supports up to 18 major cryptocurrency exchanges and is continuously adding others. Social Trading and Copy Trading is its unique selling point.
Matthew Wesly and Michal McCarty launched Shrimpy in 2018 in San Francisco under its original name Bethos Lab Incorporation. This platform enables the global crypto community to have quick and safe trading processes. Shrimpy automates digital currency trades and also prepares trading strategies.
The crypto trading bot gained popularity as a result of its efficiency and unique features. It supports many cryptos to prepare a custom index fund. Shrimpy is designed to increase profits and minimize risks without any challenges.
Many users say that Shrimpy is the pioneer for providing many features. New and veteran traders are guaranteed to find great trading opportunities when using the crypto trading bots on this platform. Although it enables the users to trade crypto and sell digital assets, the developers insist that they do not offer any investment advice.
A major reason why clients go for a Shrimpy bot is its working. This tool is designed to offer automated portfolio rebalancing. It helps in realigning assets' weighting within a portfolio. It is achieved by slowly buying and selling assets to maintain the desired or original risk/asset allocation level. The platform insists that it offers an easy trading experience for new and experienced cryptocurrency investors and traders.
Shrimpy even enables the users to copy leading and experienced traders and their various strategies using Social Trading & Copy Trading. This service is free and it helps the new traders get profits from their crypto investments.
Related: How Does A Bitcoin Wallet Really Work?
Experienced users also benefit since a copied portfolio strategy means they are given a reward of $4 per month. Holders access Shrimpy for free but the professionals have to pay $13 per month for an annual plan.
The bot also facilitates collaborative investing through various tools including index automation. The functionalities that are offered by the platform compensate for the cost adequately. Hence, the most skilled professionals place the device above each popular alternative. The only shortcoming of using Shrimpy is that it does not offer any crypto signals.
TradeSanta
If you would like to try  TradeSanta please click here
TradeSanta is a crypto trading platform that aims to simplify cryptocurrency trading activities using customizable bots so that the investors can enjoy the benefits of automated trading without having to engage in a steep learning curve in trying to program these bots from scratch. Analysis shows that the platform is best for both short and long trading.
TradeSanta cloud-based crypto trading software is ideal for beginners and professional traders. Although it is active on a 24/7 basis, users do not have to be on it to make profits. Just like all of the other crypto trading bots, it can be linked to many cryptocurrency exchanges like Huobi, Binance, and many others.
With this bot, traders can use the long and short strategies, many indicators, and a responsive support team to gain the profits that they want. With the long trades, investors buy tokens at a low price and then sell them high. The shorting strategy works on vice versa. With this crypto trading bot, traders can use grid or DCA bots or can place orders with the help of Smart Order functionality.
The TradeSanta maximum plan enables the traders to operate an unlimited number of bots and the support staff is always ready to help. It is among the several crypto trading bots that offer users multiple indicators like MACD, Bollinger Bands, and RSI to help them set up profitable trading strategies.
This crypto trading bot is best of the beginners and automated investors who wish to hit the ground running and learn more about crypto trading as they go. TradeSanta also serves the intermediate to advanced traders and investors who know the crypto markets and know-how to create strategies but are looking for a tool that does the real bot-programming for them.
The benefits of using TradeSanta are many and they include:
A clean and simple dashboard that makes it significantly easy to monitor the market and trading performances, make adjustments, and monitor portfolios.
A simplified process for the programming of a bot using custom parameters and indicators
Affordable and tiered subscription plans
Although this crypto trading bot comes with a free trial program, it only lasts for 5 days and many believe that this time is not enough for potential users to explore the available features and components before investing.
The basic free plan comes with a maximum of two bots. On the other hand, the basic paid plan gets 49 bots max for $10.5/ month, while the maximum plan is priced at $70/month to gain access to an unlimited number of bots. TradeSanta offers a 5-day trial period before paid subscription plans are activated.
Crypto trading bots can enable traders to make informed and educated trades and eliminate emotions that lead to increased losses. But, it is crucial to note that the crypto trading bots are just developed pieces of software. They do not guarantee a profit for the investor, and they might become less useful in periods of high market volatility.
Nonetheless, they make work easier for traders and investors who do not wish to spend long hours trading manually. Thus, always do a thorough background check on all the available and highly-rated crypto trading bots to determine the one that works best for you.
E-cryptonews.com are affiliates and may receive compensation.