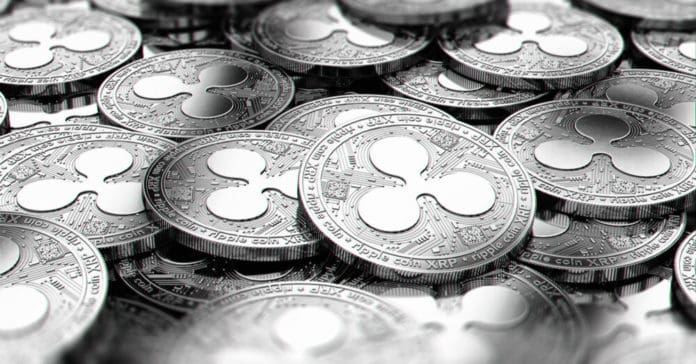 The past week has seen major movements in the cryptocurrency space. The XRP currency has led the charge with an increase of more than a quarter of its total value this week alone. This rise in the XRP price has had a knock-on effect on the rest of the cryptocurrency industry, with Ethereum and Bitcoin also seeing increases. We break down what has caused these shifts in XRP's price, why it has impacted other currencies, and what this means for the coming weeks.
Price of XRP Rises
This time last week, XRP was not front of mind for many cryptocurrency investors.
Now, it has surged 26.22% in a week and is the hottest cryptocurrency right now. This increase came with a rise of 8%, drawing the attention of investors around the world.
With XRP selling at a price of around $0.5 for one token, a lot of trades have been made recently of the market's total trading volume.
The last week has been one of the strongest performances in XRP's history since it was created by US-based technology company, Ripple Labs Inc.
What's Causing the XRP Price Rise?
Market analysts have been vocal this week about the different factors which have caused XRP's big upswing over the past seven days.
While many of the movements in cryptocurrency markets are often complex and attempts to break them down to logic are fine art, below are three of the major contributors to the recent rise in XRP's price.
Promising Developments in Securities Law Dispute
The creators and token issuers of XRP, Ripple Labs Inc., have for some time been embroiled in a dispute with the U.S. Securities Exchange Commission.
In December 2020, a lawsuit was brought by the U.S. Securities Exchange Commission against Ripple Labs Inc., accusing the parent company of violating federal securities laws through the XRP cryptocurrency.
The specific claim was that Ripple Labs Inc. had sold XRP in unregistered securities transactions, raising $1.3 billion in the process.
Ripple Labs Inc. claimed that its selling and trading activity with XRP did not meet the specifications of the Howey Test—a Supreme Court precedent used to decide whether a product is a security or not.
However, following the lawsuit, both CEO and Chairman of Ripple Labs, Brad Garlinghouse and Chris Larsen, stepped down from their roles.
Now, however, Ripple Labs Inc. has filed a motion for a federal judge to dismiss the lawsuit. The motion for summary judgment was submitted to the Southern District of New York and asked the District Judge Analisa Torres to rule based on Ripple Lab Inc.'s accompanying evidence.
Increased Trader Optimism
The news that a prolonged court case may not be occurring has altered investor perspectives toward XRP.
As a result, high trader optimism has been prevalent over the past seven days. Many investors now believe that XRP has a strong bull set up in the cryptocurrency market, and is well positioned for a further breakout, should the U.S. Securities Exchange Commission court case get thrown out.
Trader optimism was further increased when the commissioner of the Commodity Futures Trading Commission, Caroline Pham, visited the Ripple Labs Inc. headquarters recently.
Many speculate that this indicates XRP is soon to be classified as a commodity, which would have a significant positive impact on its market valuation.
High Whale Movement
News about the XRP court case potentially getting dismissed and increased trader optimism has been coupled with several large whale transactions over the past week.
This has had an impact on the cryptocurrency's overall price.
A whale movement is essentially when disproportionately large transactions occur, significant enough to disrupt the price of a cryptocurrency by altering its underlying economic logic.
For more information on how high whale movement impacts the cryptocurrency markets, https://cryptomeister.com/ is a guide to cryptocurrencies in general.
This week has seen several whale transactions in XRP. One transfer of 30 million XRP occurred earlier this week, while before that, 261 million XRP had also been shifted between the wallets of large traders on leading exchanges as well.
XRP Increase Impacts on Other Major Markets
The increase of XRP over the past week has had a flow on effect in other major markets around the world, with both Bitcoin and Ethereum showing positive movement recently as well.
Here's a breakdown of how each cryptocurrency market has fared as a result of the XRP price increase in these last seven days.
Bitcoin
While Bitcoin's increases in the last few days haven't been nearly as significant as those of XRP, the impact of the currency charge on broader cryptocurrency markets has still been felt.
After opening the week low, down below the initial support of $18,500, Bitcoin has climbed this week, reaching as high as $19,682, before hovering just below $19,500.
As of publication, the currency is still maintaining its level above $19,000, a healthy increase.
This growth has likely been led by the increase in XRP, as well as the likelihood of an increase in the federal interest rate.
Ethereum
Cryptocurrency's second largest coin, Ethereum, has also seen healthy growth over the past seven days off the back of XRP's increase.
Ethereum is currently up by a couple of percent, after also beginning the week with a dip in price. Touching slightly below $1,300 on Monday, Ethereum spent significant time above $1,350, before dipping again briefly to fall below $1,250.
Now, a steady rebuilding has been occurring, which has seen Ethereum climb back over the $1,300 mark to $1,350.
While much of this growth will have been as a result of XRP leading the cryptocurrency market, investors are also wary of other factors at play too.
Efforts by policymakers to combat inflation have investors nervous that a recession could be triggered, causing conventional equity markets to decline, and money to move towards cryptocurrency instead.
The growth over the last seven days in XRP and cryptocurrency, in general, is likely to continue for the foreseeable future, given the macroeconomic factors at play.