By description, the Grayscale Bitcoin Trust is a digital currency investment product that every investor can purchase and sell within their brokerage accounts. It became a Securities and Exchange Commission (SEC) reporting account on January 21, 2020.
On that day, it registered its shares with the Commission. It also officially designated the Trust as the first digital currency investment apparatus to gain the status of a reporting company by the SEC.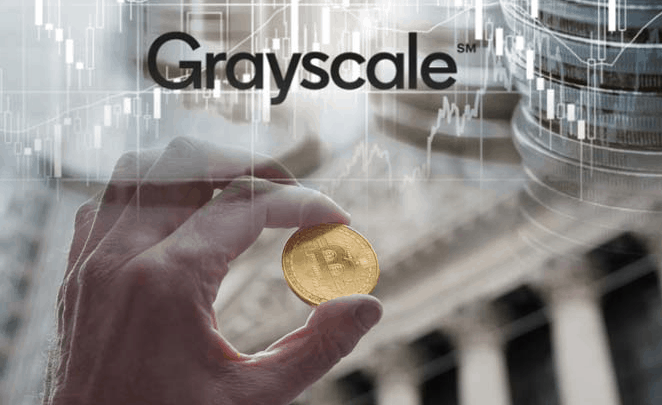 According to the SEC rules, the move enabled accredited investors who acquire shares in the Trust's private placement to get an earlier liquidity chance; as the statutory holding period of a private placement, shares would be cut down from 12 to 6 months.
Overview The Grayscale Investment Trust was launched as The Bitcoin Investment Trust on September 25, 2013. At that time, it operated as a private placement to only the accredited investors. Later, it received FINRA approval for eligible shares to trade publicly.
Thus, it enabled investors to have access to buy and sell public shares of the Trust going by the symbol GBTC.
Investors should note before purchasing shares in Grayscale Bitcoin Trust that it is not a real stock. Stocks are shares in a company while, on the other hand, GBTC shareholders get a part of an open-ended grantor trust.
In that context, Grayscale Investments refers to it as a traditional investment channel with shares titled in the investor's name. Even though the Trust is not an ETF by itself, Grayscale explains that it is designed on popular commodity investment products.
One such product is the SPDR Gold Trust, which is a physically-backed ETF. GBTC is traded publicly on an over-the-counter market, OTCQX. It is traded under the Alternative Reporting Standard for companies that do not have to register with the SEC. Its success is similar to that of Bitcoin since its value is acquired entirely from that crypto.
GBTC had about $2.16 billion in assets under management (AUM) by September 11, 2019. Concurrently, the Trust had 2.4 million shares outstanding. It needs a minimum investment of $50,000 and charges 2% as a yearly fee. That fee accrues daily for the accredited investors who want to subscribe to the Trust as a private placement.
On the flip side, investors can buy as little as a single share of the GBTC public quotation. Grayscale says that its management of the fund is worth more compared to the annual fee. One of its fundamental strong points is its security. Safe crypto storage is always quite challenging. But, the company is confident that Grayscale Bitcoin Trust's assets:
"are safeguarded by a robust security system that uses industry-leading security standards."
Operating as an investment channel that trades over-the-counter, GBTC is accessible for investors to buy and sell similarly to almost all US securities. For instance, GBTC is tradeable via a brokerage firm. Moreover, it is available within the tax-advantaged accounts, including 401 (k)s and IRAs.
 Grayscale Bitcoin Trust Overview
Today, there are several ways to invest in Bitcoin on the stock market. Among the best ways is the Grayscale Bitcoin Trust (GBTC), which is one of such vehicles that enables investors to trade shares in trusts that hold major pools of bitcoin, with every share priced at almost-enough the price of Bitcoin.
As of April 2021, the GBTC represented around $37.2 billion of privately-invested Bitcoin assets. The United States crypto investment company is still one of the biggest buyers of BTC globally, launched the trust in September 2013, trading under ticker GBTC.
The Trust holds over 46% of the 1.4 million bitcoins held by publiclytraded firms, based on Bitcointreasuries.org data. On July 20, 2021, GBTC trades at $47.57, and according to official documents, holds 0.00095 Bitcoin (worth $35.4) per share.
Shortcomings of GBTC
Various individuals and institutions have criticized the Grayscale Investment Trust. Among them is Andrew Left of Citron Research. It did not come as a wonder when Citron tweeted that GBTC is the "most dangerous way to own Bitcoin."

A notable disadvantage of investing in the Grayscale Trust is paying high premiums together with the annual fee. Furthermore, many other factors linked to the general volatility in the crypto market makes the investment platform less attractive. The risk factors associated with investment vehicles that are not needed to register with the SEC are severe.
Since the Trust is the only fund of its kind today, especially for Bitcoin, investors have been subjected to paying high premiums. The shares of GBTC traded at a high of $7.95 in September 2018. That price was almost 20% higher than the Bitcoin value within the Trust that every share represented at the time.
Even though it is still considerably high, the premium is lower than it had been in the past. In the past, GBTC has closed at prices that were more than twice in value of its underlying bitcoins. According to Grayscale, the prices are determined by the market and not by Grayscale itself. Thus, price fluctuations may come as a result of supply and demand.
Every GBTC share represented below 0.0001 bitcoin in October 2018. Thus, it would have taken $10,000 shares to own a bitcoin. But, the value has changed since then. GBTC enjoyed a constant increase in 2017 and peaked at the end of the year when Bitcoin also peaked.
But, the performance fluctuated in 2018 with GBTC losing from around $17.76 in February 2018 to lows of $4 in December 2018. In 2019, GBTC adopted an upward trend peaking at $15.13 on June 28, 2019.
Since then, the price has been fluctuating between $8.5 and $14.5. However, GBTC followed the global markets in the COVID-19 induced crash to bottom at $7.00 on March 20, 2020. Currently, it is trading at $11.44, showing bullish signs as Bitcoin continues to form an upward trend.