Nowadays, a lot of changes are happening in the financial sector. The world is overwhelmed with the events that are happening internationally, but most significant is when it concerns the economy.
Global Covid Pandemic appeared to be one of the driving factors for the economic changes and a lot of mainstream currencies were influenced and devalued by the stopped economy.
It is no wonder that even the Dollar is undergoing stagnation as the economy was stopped for several months already. The fact that we were closed in our homes, we had plenty of time to spend with the computer and read the active and the most discussed topics and one of them was crypto-industry.
It is obvious that a lot more people have information about it than approximately one year ago and it was positioned as the future of money.
The article will review the main differences between the dollar and cryptocurrency and will summarize the main reasons why cryptos are thriving right now when the dollar could not do the same and is undergoing the evaluation process.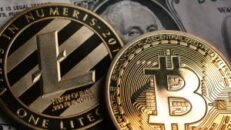 Differences between the dollar and cryptocurrency
It is very interesting to know that what is the main driving factor for digital currency to become so popular in a very short period of time and out shadow the currencies such as the dollar or euro.
Traditional currency
To describe everything from the very beginning, money started to be used after sharing the idea about it. The main purpose of it is to acquire something that has value, and its price is defined by the market itself and for that they are physical, and you can hold it or touch it.
There are lots of different traditional, so-called fiat currencies that originate from one country or group of countries, for example, the Turkish Lira and the dollar and euro, respectively.
One more factor that defines its stability and the fact that it was not replaced by any other sources so far, is that it is controlled by the financial system and reserve banks and is issued by governments.
Even though the traditional currency has been the main way to live and buy something for hundreds of years already, it still has disadvantages that affect the convenience while using it.
They have a great influence on inflation and interest rates, transfers are very slow and bureaucratized and commission fees are very notable. Moreover, in today's reality, if you do not have a bank account, you are very limited in your possibilities and not everyone has access to it, unfortunately.
Cryptocurrencies
It is a little bit surprising that we are comparing something that has been around for only a decade yet, to the currency that has been in use for hundreds of years already.
But this also speaks for itself, that the financial market is undergoing huge changes all around the world and it is very difficult to keep up with that. Cryptocurrencies, unlike fiat currencies, are the ways to exchange value in the form of digital assets.
The Crypto market has managed to gain attention and prove itself as an innovation that is going to stay for a long long time if not forever. Giant companies saw an opportunity to gain on their crypto investments using their power of influence – so we've seen various different industries pushing crypto in their favor.
These are crypto-trading companies, which probably benefit the most from crypto-boom risking the least, now we've seen how Tesla manipulated the market, also many businesses are accepting crypto payments.
Casinos as well try to popularise crypto usage, and ones that have a crypto deposit and withdrawal options are even offering Bitcoin no deposit bonuses to attract more clients, so this way people who may never have anything to do with crypto, become involved so crypto-popularization is a worldwide unstoppable process and more and more ppl will start using this technology as time goes by.
If the fiat currencies have their origination and a lot of countries have different currencies, cryptos are global. Unlike traditional currencies, which are regulated by the governments or central banks, cryptos are controlled by the users and blockchain technology.
They are not influenced by inflation but the only influence they have is from supply and demand. Moreover, they are not issued by the governments, but decentralized mining systems and transactions are made easily, peer to peer without any involvement of a third party.
The only cost you might come across is the software fee and usually, transactions are made so cheaply that it is not even worth mentioning.
Where can you use cryptocurrencies?
A lot of negative opinions regarding cryptocurrencies are caused due to the fact that there is no shared idea about its purpose and what can people do with it if they are not experienced investors and are not looking for long-term profitable investment opportunities.
However, there are very big steps forward in implementing them in order to pay for the goods or services. There are several major retailers, where you can use your cryptocurrencies:
Microsoft
Microsoft was one of the first companies which started accepting bitcoins for its online Xbox store in 2014, but now it is stopped due to the high volatility of the cryptocurrencies, generally. Bill Gates was very fond of innovative currencies, stating that they are way better than accrual currencies.
Home Depot
This is the largest hardware store chain in the US. Goods that you can buy there can help you to build the whole house and pay for it with bitcoins. They are in partnership with Flexa, this is how the payments with BTC can be made.
Starbucks
We are not used to paying for our coffee with BTC, but the Starbucks chain is trying to make this practice normal. They are not accepted directly in stores, but with the help of exchange Bakkt.
Lolli
You can increase your Bitcoin account by purchasing simple things online. This is real when you have the bitcoin cash-back service, named Lolli. When you buy something from this service, which has 500 other merchant partners united under its platform, you are rewarded with BTC.
For that, you need a Lolli browser extension, and then visiting the website of the companies which are in contract with them, you will be given the opportunity of cash-back. Your reward will be kept in your Lolli wallet. When your balance will be equivalent to 15$ or more, you will be able to cash out.
Conclusion
As we have seen, cryptocurrencies have found their use and advantages, when the fiat currencies were undergoing huge impacts from the difficult economic conditions all over the world.
They are pushed forward in many ways and growing to be used for several reasons and are considered as the future of money, but it is too early to talk about them, replacing the dollar or other fiat currencies.
However, it means that inflation or devaluation of the traditional currencies will not be so harmful in the future, as we already have the alternative for them. It is not exaggerated to say that the ongoing situation is the indication of digital coins being implemented in most of the services and will become an important part of our lives.