Ankr is one of these platforms that are set to dominate the Web3 space in the coming years. As the next era of the web continues coming up, many platforms are deploying suitable Web3 platforms to encourage more participation in the nascent sector.
Ankr (ANKR) is described as a Web3 blockchain cloud network that is well-designed to reduce the participatory hiccups for individuals, developers, and enterprises in the blockchain space. Ankr is the first Node-as-a-Service (NaaS) platform for the deployment of blockchain nodes.
The infrastructure for deploying blockchain nodes is made considerably affordable and easy with the ANKR coin. Furthermore, the nodes are distributed swiftly throughout the world. Ankr cloud ecosystem is underpinned by enterprise-grade data centers found around the world, which monetize compute resources using the platform.
A real use case that has a realistic solution is offered by Ankr for the use of idle cloud resources by the node operators from the high-specification data centers to operate blockchain nodes. They have ease of access and deployment achievable in a few clicks. On the other hand, the data center owners monetize their idle resources through the Ankr cloud platform.
Related: TulsaLabs to Launch Bitcoin Mining Operations, Expand Blockchain Nodes
This strategy makes it easy for computing power to be provided closely and affordably to the users with some vital benefits to the end-users.
Ankr Web 3.0: Decentralized Network To Build And Earn Within Web3
Taking all the functionalities of the platform into context, Ankr is described as a blockchain protocol that offers the required mechanisms for the developers viable for the Web3 as it makes the whole process of deploying any node affordable, easy, and quickly distributed worldwide.
The protocol can expand and keep growing as the decentralized finance (DeFi) and Web3 networks continue expanding. It simply helps to efficiently develop and earn in Web3 while letting users use its network to view data instantly and in real-time.
It is crucial to note that Ankr is among the platforms that strive to facilitate the development of Web3. The protocol integrates the Web3 and DeFi functionalities. Ankr is designed to offer users services that focus on assisting the blockchain nodes to host cost-effectively by utilizing shared resources easily and affordably.
Specifically, this platform supports blockchain node deployment by enterprise clients and developers at considerably low costs when compared to the public cloud service providers. Moreover, blockchain applications can be developed and fully tested on the platform.
Ankr's Founders And History
At first, Ankr launched primarily as a Distributed Cloud Computing Network. Its aim then was to use excess capacity from a network of idle machines for cloud computing instead of depending on one cloud computing service provider. Since then, the team has expanded its push to participate, build on, and ensure that the use of blockchains is easy for all.
Chandler Song and Ryan Fang, former college roommates from UC Berkeley, along with a former Amazon.com, Inc computer engineer, Stanley Wu, launched Ankr in 2017. Song served as an intern at Amazon Web Services (AWS), with Wu as his manager.
At night after working hours, Fang, Song, and Wu discussed a paper on Proof of Useful Work. The discussion resulted in the creation of Ankr, where Song became CEO, Wu became CTO, and Fang became COO.
As much as $18.7 million was raised by the Ankr team within six days from their first token sale. A presale that raised $15.9 million was done by the team, and their sale open to the public raised $2.75 million. Up to 3.5 billion of the 10 billion total tokens on offer were distributed in total.
Ankr was developed and designed with a vision of a new internet based on distributed ledger technology (DLT) with decentralized, private, and secure applications, systems, and protocols for users. The main idea is to eliminate the need for centralized authorities and intermediaries, thus giving users and the network participants control and full ownership over their data.
After unveiling the Ankr mainnet in 2019, the Stkr staking protocol was launched by the ANKR developers. Stkr lets users stake Ethereum (ETH) with aETH in return, representing future gains on all deposited staking balances. That is the method used to reward network participants for staking through the Stkr protocol.
Related: Staking Will Turn Ethereum Into a Functional Store of Value
Ankr's Principles Of Work
The Ankr (ANKR) coin is operated according to various principles:
Node Infrastructure
Ankr agrees that not all users are equipped with the technical capacity or resources to launch nodes from scratch or participate in the validation process on a Proof of Stake (PoS) blockchain. Ankr makes the process easy for people and developers over several blockchains including Bifrost, Tron, and Kusama.
Whether you want to launch a full node that stores the chain's entire information or to launch a validator node that stores only the current state of the chain. Apart from addressing the issue of complexity in the creation and setup of a node, Ankr guarantees that the funds staked by users are never penalized for dishonesty or downtime.
Ankr has also attempted to enhance the adoption of Web3 by offering ease of deployment of decentralized applications (dApps) using its application programming interface (API). Developers are provided with access using the Ankr network to many well-known blockchain platforms, like Ethereum, Polygon, and Polkadot without needing to study complex documentation.
The platform's API solutions need to speed up their timelines for implementation, while also offering timely and precise data for dApps.
StakeFi
Ankr also makes the onboarding process simple for people looking to stake tokens on various blockchains and helps in validating transactions. For example, staking 32 ETH is required in becoming a validator for the Ethereum 2.0 blockchain. It also needs technical proficiency in setting up and maintaining an active node.
By using Ankr's StakeFi, as little as 0.5 ETH can be staked by people, which is directly sent to the pools that have the biggest yield. Notably, the Ankr platform is non-custodial. This means that the users can have their assets kept in their wallets without being needed to lock up their resources on a different platform.
In return, a synthetic token on the Ankr platform, aETH, which reflects the value of Ether, with extra rewards is got by the users which they can utilize in the access of decentralized finance (DeFi) protocols and applications.
The other features of Ankr include incentivizing network participants and taking on the role in the governance process of the network. Owning and staking ANKR coins gives users the ability to vote on network upgrades, with every vote proportionally related to the amount of ANKR crypto they stake.
ANKR Token
Ankr (ANKR) coin has its native token. It comes with validating functions and is available on many exchanges including Mandala Exchange, Binance, and CoinTiger.
The providers of cloud computing services are compensated for renting out their underused hardware in ANKR. The token can also be used for payment for some of the products with Application Programming Interface (API) and node deployment services. It also lets users participate in governance and have a voice in this ecosystem's future.
Related: Chopsticks API Gives BCH Application Developers Options During a Contentious Fork
Ankr, just like many other cryptos, is limited to a maximum supply of 10 billion ANKR coins with a circulating supply of 8.16 billion coins.
Why Invest In Ankr Coin?
Ankr token is listed on Coinbase, the biggest crypto exchange in the United States known for many strict rules and regulations. For the ANKR token, the listing on Coinbase seems to be compelling proof of acceptance. It proves the strength of ANKR as a digital token and offers enough credibility to the ANKR token, which makes it more reliable in the cryptocurrency industry.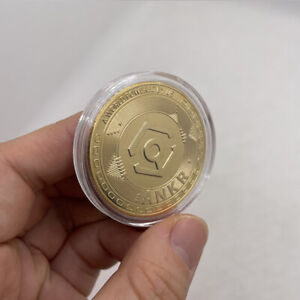 With respect to the future that will come with Web3, various predictions have been made about the ANKR token, and after judging from the general predictions of major ANKR price prediction sites like Capital, Walletinvestors, and DigitalCoin it might be noted that it has a promising prospect.
Risk is always a factor in the crypto market. But, several members of this community think that ANKR is a good investment. The proponents are confident that the coin is expected to benefit massively in the future developments that happen in the crypto, blockchain, and metaverse worlds.
The main strength of the ANKR is a decentralized cloud-based network. At first, normal people couldn't develop a node and operate a crypto node, but ANKR offers leverage for anybody to benefit without having to do any hard work.
The Takeaway
Irrespective of what type of blockchain user you are, there is a possibility that you will be interested in one or more of the available Ankr services. Users stake funds using various blockchains in a suite that manages all funds in a single place. The builders also gain access to the decentralized multi-chain development tools with a chance and ability to expand rapidly to other networks.
Enterprises can get the custom solutions they require to integrate staking products, networks, and more with their platforms. Therefore, Ankr has placed itself among the quickest growing providers of decentralized infrastructure, and it keeps adding more services for the Web3 users and developers.