The top NFT traders have made between 5,221 ETH and 55,291 ETH in profits from investing in Ethereum NFTs to date, which translates to $9.60 million to $101.63 million at the time of publication. While the nonfungible tokens (NFTs) have been a great investment for these traders, not everybody is assured of enjoying the same success.
Apart from being skilled, the top NFT traders seem to have benefited from good timing and luck to achieve the profits and success that they have today.
Specifically, blue chip NFT collections from Yuga Labs, Larva Labs, and Art Blocks represent more than 94.5% of the total profits made across the top 15 NFT traders. NFT leader CryptoPunks alone is believed to account for around 70.6% of top trader profits, while CryptoPunks V1 made an additional 2.0%.
Notably, generative art project Art Blocks made the second highest 12.2% of these top trader profits, followed by Bored Ape Yacht Club (BAYC) at 5.5% and Meebits at around 3.4%. BAYC's close relative collection Mutant Yacht Club (MAYC) generated only 0.7% of top trader profits.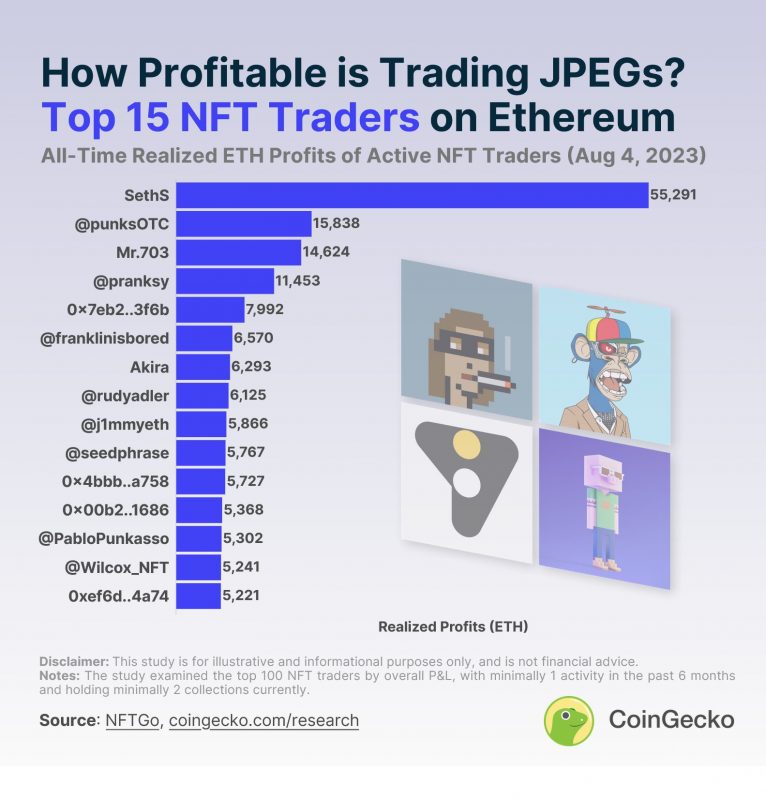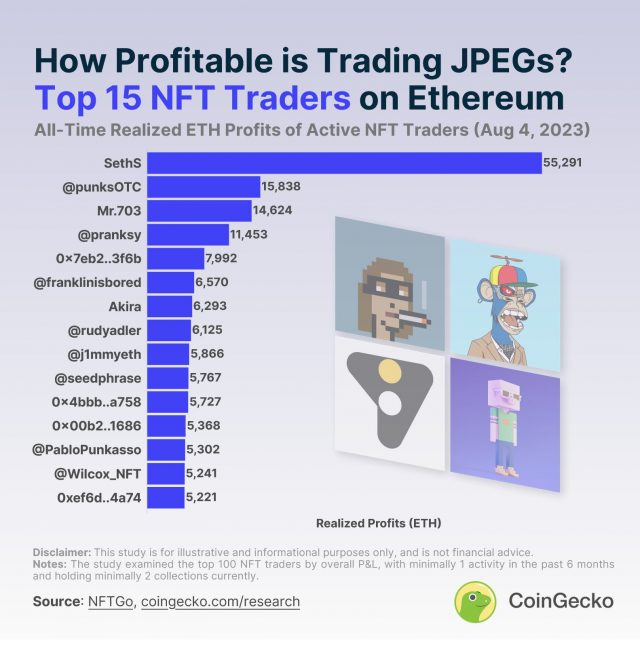 On that note, the top NFT traders appear to have profited from low entry prices for these collections that later exploded in price. This means that NFTs are just a great investment for investors who can manage to discover some of the collections that have the potential to later become blue chips, or for investors who can afford to diversify their investments accordingly.
Related: Treasure NFT launches New Generation NFT Trading
Analysis Of The Top NFT Traders' Profits
The top NFT trader by the acquired profits is the pseudonymous SethS. The trader made 55,291 ETH from their NFT investments, which translates to around $101.63 million at the time of publication. All these profits were made across 9 addresses that have since been consolidated into a single NFT whale address: 0x2238c8b16c36628b8f1f36486675c1e2a30debf1.
The returns on investment for SethS are more than 3 times of the second most profitable trader in the NFT market, Punks OTC, who got profits of 15,838 ETH ($29.11 million). Mr.703 comes in third with profits of 14,624 ETH ($26.88 million).
CryptoPunks Millionaires Top NFT Trader Rankings
Reports indicate that 11 of the top 15 NFT traders made millions from their CryptoPunks investments, ranging from Franklin's 1,782 ETH ($3.28 million) to SethS' 49,216 ETH ($90.46 million). Notably, 8 of the NFT traders reaped over 50% of their profits from CryptoPunks, including the three top NFT traders.
In that context, 0x7eb2..3f6b ranked fifth with 7,992 ETH of the recorded profits, for only flipping CryptoPunk #5822 to Chain CEO Deepak. Notably, CryptoPunk #5822 ranks among the most expensive NFTs that have ever been sold.
On the flip side, 0xef6d..4a74, Jimmy McNelis, Akira and Rudy Adler were the least focused on trading CryptoPunks.
In the meantime, Art Blocks investments managed to generate millions for 5 of the top 15 NFT traders. The most profitable Art Blocks trader is Akira, as they are known by their OpenSea profile. They have recorded 5,984 ETH in profit from the generative art project alone.
Related: An OpenSea Clone that Reach's the Apex of the NFT Trading Industry
The next traders in line making profits are Wealthsimple founder Rudy Adler's 5,320 ETH and 0xef6d..4a74's 4,656 ETH Art Blocks profits. Together with 0x4bbb..a758 and Pablo Punkasso, these are the top 5 NFT traders that may be worth watching to learn about how to invest in NFTs profitably.
Only 3 of the top 13 NFT traders made millions from BAYC investments. Leading NFT collector Jimmy McNelis, or j1mmy, tops the list with 3,030 ETH profits from BAYC. Other Bored Ape millionaires are the highly controversial Franklin (or @franklinisbored) and Pranksy, who gained 2,616 ETH and 2,265 ETH respectively.
Top 15 Highest Profitable NFT Traders On Ethereum
The top Ethereum NFT traders are carefully ranked based on their realized profits, changed to USD with 1 ETH trading at around $1,838 at the time of publication on August 7, 2023:
:
| Ranking | NFT Trader | Realized Profits (USD) |
| --- | --- | --- |
| 1 | SethS | $101,625,079 |
| 2 | Punks OTC (@punksOTC) | $29,109,619 |
| 3 | Mr.703 | $26,878,728 |
| 4 | Pranksy (@pranksy) | $21,050,026 |
| 5 | 0x7eb2..3f6b | $14,689,296 |
| 6 | Franklin (@franklinisbored) | $12,074,741 |
| 7 | Akira | $11,565,744 |
| 8 | Rudy Adler (@rudyadler) | $11,258,357 |
| 9 | Jimmy McNelis (@j1mmyeth) | $10,781,837 |
| 10 | DJ Seedphrase (@seedphrase) | $10,598,956 |
| 11 | 0x4bbb..a758 | $10,526,575 |
| 12 | 0x00b2..1686 | $9,865,722 |
| 13 | Pablo (@PabloPunkasso) | $9,745,940 |
| 14 | Wilcox (@Wilcox_NFT) | $9,632,793 |
| 15 | 0xef6d..4a74 | $9,595,702 |
Methodology
This study carefully examined Ethereum NFT traders' realized profits based on the NFTGo leaderboard, published on August 4, 2023. The NFTGo leaderboard publishes the top 100 addresses by overall profits (estimated unrealized and realized), which have been involved in at least one activity in the last 6 months and own over 2 collections. But, these profits do not account for OTC sales.
Those addresses that appear highly related, identified by NFTGo from receives and sends, were investigated for belonging to one trader, and they were grouped together where relevant. The traders who have no identifiable names or pseudonyms were listed by their primary addresses.
Ultimately, the study is for illustrative and informational purposes only and not any type of financial advice. Investors are advised to do extensive research and be careful when they invest in any crypto or financial asset.