Many people think that the NFT marketplace is a fluke.
We think that the reverse is the case!
When a two-time FIFA Soccer player of the year decides to mint his own NFT collection, it's time to start thinking seriously about cryptocurrencies and their allied technologies.
Ronaldinho, one of the world's greatest Soccer players and an all-time favorite has teamed up with premier NFT marketplace INFLUXO to launch what we think will be an all-time favorite for soccer players the world over.
When we got wind of this, we thought: " Oh well…it can't hurt to interview Ronaldinho…" We then realized that it is these kinds of moves into the cryptocurrency space that will bring about the mass adoption that we crave.
So, ladies and gentlemen, here is what Ronaldinho and INFLUXO have to say about this!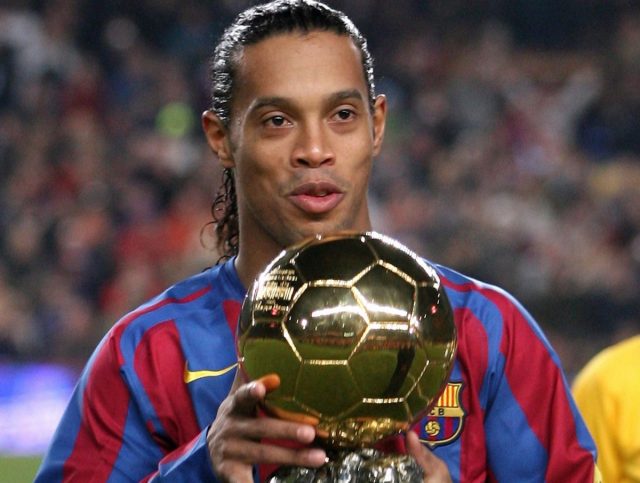 RONALDINHO TWO-TIME FIFA SOCCER PLAYER OF THE YEAR

E-Crypto News:
      Congratulations on your successful Non-Fungible Token (NFT) minting! How does it feel to become a part of the cryptocurrency space?
Ronaldinho: Thank you very much. I feel very happy and excited about the INFLUXO x Ronaldinho NFT collection. It has been a very long and exciting journey to bring this collaboration to life. Now, we're at a point where we are all very happy with how the collaboration process worked out and the final NFT masterpieces. I am excited for all of my fans to see it soon.
E-Crypto News:
What has the experience been like? Please, can you tell us more about your experience with the INFLUXO platform?
 As you can imagine, the crypto world is a completely different environment than e-sports or the soccer world! The INFLUXO team provided me with the support needed to understand the NFT process and to bridge the gap into the cryptosphere.
E-Crypto News:
In what ways can the emergence of non-fungible tokens (NFTs) provide another source of income for athletes?
Non-fungible tokens (NFTs) are indeed a new opportunity for athletes to participate worldwide. I think most importantly, in order to be successful, athletes should consider wisely the partners they choose to work with and the products they plan to develop and launch.

E-Crypto News: 
What have you been up to since your retirement from football?
I have been enjoying life, taking part in a lot of events, launching new businesses and helping grow our companies and Soccer Academies.
E-Crypto News:
Do you have any other activities planned for the cryptocurrency and NFT space this year?
Absolutely. There are several crypto products in the pipeline and we can circle back when we're closer to their release date.
E-Crypto News:
 How did you get interested in cryptocurrency and NFT space?
I guess just like everyone else. Cryptocurrency and NFTs are very much a reality and an integral part of our daily lives.
E-Crypto News:     
How can celebrity involvements aid the mass adoption of cryptocurrencies?
I believe it will come naturally, as celebrities are already getting paid and are beginning to invest in cryptocurrencies, in addition to developing their own projects like my own collaboration with INFLUXO.
E-Crypto News:
How can the emergence non-fungible tokens (NFTs) help solve world problems especially those that are faced by developing countries?
Cryptocurrencies, NFTs, decentralized payment methods etc.. offer equal opportunities, with no boundaries, for people all over the world, helping to decrease inequalities by providing new sources of potential income.
E-Crypto News:
What inspired you for this particular NFT series? What was your muse?
The NFTs, both the sports card collection and the paintings, are true reflections of my soccer career and my personal lifestyle. My collaboration with INFLUXO showcases my true spirit of being a positive and happy person. I couldn't be happier with the outcome.
E-Crypto News:
Are you going to bring other soccer stars into the NFT space? Who and who will be on your list of people you're going to personally invite?
After this launch I will surely invite my close friends and those around to be part of this world. The list is extensive and, for confidentiality reasons, I cannot disclose the names now.

E-Crypto News:
Where do you think the NFT space is going to be in the next decade?
In my opinion, this is just the beginning of NFTs in the crypto world. We are currently witnessing how the NFT space continues to grow and expand with the use of augmented and virtual realities. Where will the NFT space go in the future? I think the future opportunities are limitless.
DANIEL LIU CEO AT INFLUXO
E-Crypto News: 
What is the central concept behind getting superstar athletes to be featured on NFT sets?
 The mainstream is heralding the rise of cryptos and blockchain as the arrival of a new digital age. However, for everyday consumers it is still difficult to understand. At INFLUXO, we wanted to recognize the tokenization trend of all types of assets on the blockchain while creating a synergy between sports, digital arts, crypto and the fans. It is our honor to work with Ronaldinho and offer an experience that enhances the fan experience off-the-field in the crypto space. We believe that the boundary between the universe and the metaverse will gradually be blurred.
E-Crypto News:
Please can you tell us more about INFLUXO's NFT marketplace?
We wanted to build our own marketplace to differentiate from all the other marketplaces already out there. The INFLUXO marketplace is unquestionably unique because the minted NFTs represent not only digital collectibles endorsed by athletes and celebrities while connecting fans to real-world experiences. The INFLUXO x Ronaldinho collection showcases our intent to not only provide high-level digital art but also the in-person experiences and tangible collection items that will be available when purchasing the NFTs. With all that in mind, we created an integrated marketplace to provide a seamless NFT purchasing experience with robust payment rails and easy-to-read UI. The INFLUXO marketplace technology comes from BigOne, a renowned global cryptocurrency exchange that provides a platform for trading various cryptocurrencies with zero security risk. The asset safety of our NFT collectors is our first priority.
E-Crypto News:     
How did you get involved with cryptocurrencies and their underlying technologies?
Like many, I became involved in the crypto world through Bitcoin. Yes, it aims to be the store of value of currency. However, it is also a successful example and roadmap of how we can grow NFTs and digital collectibles.
E-Crypto News:
Please can you tell us more about the bidding process for this particular NFT set?
INFLUXO X Ronaldinho Masterpieces are originally created by Camaleão, a world-famous artist for Ronaldinho. Each bidder must show proof of funds and have enough money locked in their wallet at the start of the auction in order to place a bid. Bidders must place a minimum increment bid of 10,000 USDT. At the last hour of the auction closing period, there will be an overtime period, which requires a bid to only occur when the increment price is 10% of the current price. The final and highest bidder wins the auction. Their money will be settled and all other bidders' locked money will be returned after the auction ends.
    E-Crypto News: 
What is INFLUXO doing to aid the mass adoption of cryptocurrencies and their underlying technologies?
INFLUXO serves as a door between the metaverse and the universe, connecting the mainstream to crypto. In the end, we live in one world.
E-Crypto News: 
Where do you see INFLUXO in the next decade?
In the next decade, I see INFLUXO becoming the Hollywood of the metaverse, connecting sports, artists and musicians.
E-Crypto News:
What other activities are you involved in this summer?
Anyone watching the Tokyo Olympics right now?
E-Crypto News:
What are your thoughts on the regulation of cryptocurrencies and their allied technologies?
It is a legit step for crypto to become mainstream. Part of INFLUXO's business model and the NFT model is the licensing business. With proper regulation, the technologies will be adopted quicker and reach a broader audience.
E-Crypto News:     
Do you have any secrets you want to tell us? Care to spill the beans?
Siri says: "I am an open book."
E-Crypto News: 
If you had three wishes and a Genie that could make them come true, what would they be for the cryptocurrency and NFT space?
With the launch of INFLUXO and Ronaldinho as our first partner, I should not be too greedy now : )