Hey readers,  today we shall be talking about porn.  As corny as it sounds,  cryptocurrencies one of the major utility use-case scenarios is in and around the porn industry.
We all know the problems that this often controversial ecosystem faces. They range from payment problems to the safety and security of users to seamless content delivery and copyright issues.
All these problems have been handled easily with the PORNROCKET project.
We were intrigued about it and decided to reach out to the PORNROCKET team (who have decided to remain anonymous for the time being) and they wanted to talk to us as well. Here is what they had to say.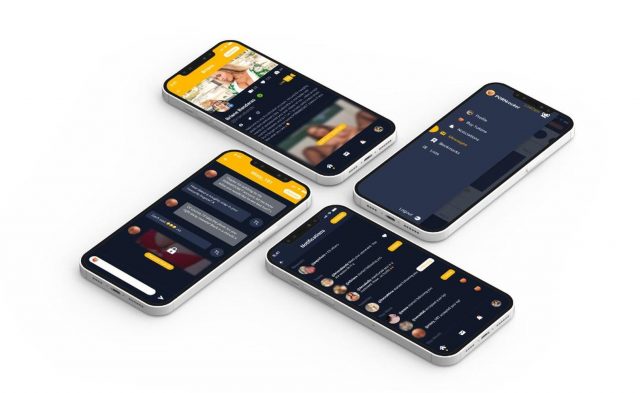 E-Crypto News:
Congratulations on the successful launch of your project! What's next for PORNROCKET?
Whilst launching just over three weeks ago, we have made some very big movements already. With an agreement in place to acquire intimate.io in the coming weeks and the onboarding of new strategic advisors, we have some huge plans for growth.

Our application is currently in development, with live testing taking place with 150 users over the weekend just passed. We aim to accelerate the launch of the application and expedite the platform to market, and be listed on new exchanges to attract more users.
E-Crypto News:
Please, can you tell us about the PORNROCKET project?
Combining the likes of Pornhub and OnlyFans onto a secure blockchain, PornRocket provides effective copyright protection for content creators, addresses privacy concerns of users, and abolishes hefty fees for sharing content. Users pay in the native $PORNROCKET token, which has already gained over 55,000 holders and reached an all time high market cap of just over $109M.

What are the benefits of decentralized content development for both content producers and clients?

Whilst platforms like OnlyFans and Pornhub are huge leaders in the adult industry, creators are charged a hefty fee, ranging from 20% to 40%, meaning they're unable to retain a large proportion of their income.

"To support content creators, PornRocket has no fees attached, allowing them to take back full control of their assets and influence. This is already attracting stars from other online platforms, who are keen to make the switch.Rather than cash, the platform accepts payments in its native currency, allowing consumers to explore privately, with full anonymity.
E-Crypto News:
What has been the impact of influencer mentions on your token price?
Working with some of the industry's biggest names has definitely helped us create hype and attract more holders, which in turn has increased the price of the token. We have a dedicated marketing team with great connections! We've barely even touched the surface when it comes to our social influencer endeavours.
E-Crypto News:
Please, can you tell us more about the tokenomics of the PORNROCKET project?
            We carried out a fair launch, where 1000 Trillion (1 Quadrillion) $PORNROCKET tokens were launched.

Immediately after launch, we completed an initial burn of 500 Trillion $PORNROCKET tokens, 50% of the total supply.

5% of every transaction (Buy/Sell/Transfer) is split fairly between all the holders, respective of the weight they hold, allowing everyone to earn passively.

Alongside this, 5% of every transaction is automatically directed to the relevant liquidity pool, dependant on which platform is being used.
E-Crypto News:
How can the PORNROCKET project enable the mass adoption of cryptocurrencies?
While the narrative is that mainstream adoption is 'just around the corner', 12 years after Cryptocurrency as we know it was introduced, it really is still a niche.

In reality, if people can use the existing payment and banking systems despite being expensive, inefficient, having poor privacy and being plagued with fraud then they will. There is an initial barrier to entry to crypto and users have to have a real reason to want to use it. Adult content is a pretty good reason 🙂
E-Crypto News:
How does the PORNROCKET project generate value with its zero transaction fee model?
Our model is zero fees for creators. We will have additional revenue streams through premium client subscriptions and also take a fee to facilitate crypto exchanges through our partners.

There is also a PornRocket marketing wallet, which we have yet to utilise which can continue to fund the project in the medium term.
E-Crypto News:
Do you think PORNROCKET can overtake OnlyFans?
With no fees for content creators and full anonymity for users, PORNROCKET allows the world to explore at ease. We've already had keen interest from some of OnlyFans's biggest stars, who are keen to join us, which is a great sign.
E-Crypto News:
How has the PORNROCKET project been able to draw an audience from other centralized platforms?
Creators and users are extremely excited about the benefits of our blockchain platform. Content creators are joining us because their content is protected with NFTs and we charge no fees, whilst users have not yet been offered to join an application where they can explore their desires freely, without leaving a paper trail.
E-Crypto News:
Do you have any plans to move into other industries apart from the adult industry?
At the moment, no. We are focusing on revolutionising the adult industry, in a bid to make it safer for those who post, view, and share content.
E-Crypto News:
What are your thoughts on the regulation of the global cryptocurrency space?
 This is a constantly evolving space and one that we are investing considerable energies into. In our acquisition of intimate.io, we are leveraging the work they've done, establishing the relevant entities and structuring them accordingly.
E-Crypto News:
How can people become members of the PORNROCKET platform?
It will be a web-based application, meaning users can access the platform directly from our website. .
E-Crypto News:
How can content creators join the PORNROCKET platform?
Content creators can visit our website or drop us an email. We're always looking for exciting new content creators to join our team and aim to make everyone feel welcome.
E-Crypto News:
How can people buy the $PORNROCKET token? On which exchanges are the tokens listed?
You can currently buy PornRocket on CoinMarketCap, CoinGhekko, HotBit, LBank, and directly from our website via Pancake Swap. We are also in talks with a number of large exchange sites and hope to add more to the existing list.
E-Crypto News:
What other industries do you think will be disrupted because of cryptocurrencies?
As cryptocurrencies become popularized around the world, it is likely many industries will take advantage of the benefits and allow consumers to pay with cryptocurrency. Whilst the automotive industry was the first to initiate the movement, we expect retail and property markets to join the movement in the years to come.
E-Crypto News:
Where do you see the PORNROCKET project in the next decade?
In the next ten years, we see this to be the world's number one platform for adult content sharing.
E-Crypto News:
Do you have any secrets you want to tell us? Care to spill the beans?
Whilst we're working on lots of exciting things, we're currently in the process of a rebrand and creating lots of merchandise, which will be available to buy online.
E-Crypto News:
If you had three wishes and a genie that could make them come true what would they be for the PORNROCKET project?
One of our main goals is to make PornRocket the number one adult content sharing platform in the world

We would also love to become a global sensation, revolutionising the adult industry through blockchain technology and cryptocurrency

Finally, we want our platform to help make the adult industry a safer and fairer place for content creators and users.