With the rise of privacy concerns, Permission-based advertising is quickly becoming the model that people are increasingly looking forward to.
The emergence of distributed ledger technologies and their allied cryptocurrency counterparts have made this emergence possible.
Blockchain-based advertising platform Permission.io recently partnered with Google and got featured on the Google Cloud Marketplace.
We reached out to Charles Silver, Founder, and CEO of Permission.io to find out more about this.
Here is what he had to say.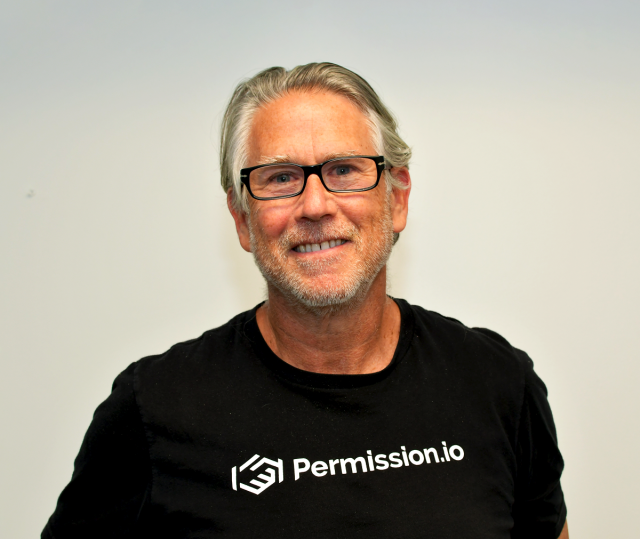 Charles Silver, Founder and CEO of Permission.io
E-Crypto News:
Congratulations on your recent partnership with Google! What's next for Permission.io?

This is only the beginning.

Permission.io has a slew of products in the pipeline in coming months that will benefit both the advertisers and consumers including mobile apps and more.

All of our upcoming products will facilitate the issuance of ASK for the sharing and collection of consumer data.
E-Crypto News:
What are the implications and consequences of this partnership?

The implication of this partnership is that Permission.io is one of the few crypto projects approved to run a blockchain node in their google cloud infrastructure.

To be approved is significant because Google's approval process of technology stacks and other offerings into the google cloud, has not traditionally been crypto friendly.
E-Crypto News:
What are the implications of having a validator node on Google Cloud?

The Permission.io validator node essentially validates the network, solving the proof-of-work puzzle and therefore maintaining the network's integrity.

Users will be able to run the validator node on a Google Cloud server, which will enable them to participate in the consensus mechanism and earn ASK for running the node.

This opportunity will be available for approved Permission.io partners only.
E-Crypto News:
As the world shifts towards a privacy-oriented internet,  what are the benefits for users who choose to participate in the permission.io ecosystem?
Today, we're seeing more and more "big tech" implementing mass privacy changes in an attempt to maintain consumer relationships and further empower individuals to control how and where their data is being shared and as a result of this, there's an opportunity for brands and advertisers to create new ways of engaging with consumers and collecting their data that is mutually beneficial – that's where Permission.io comes in.

We see a huge opportunity in this shift and see permission marketing as the way forward.

E-Crypto News:
What are the recent developments in government regulations that have helped the Permission ecosystem so far?
The California Consumer Privacy Act (CCPA) is a law that hinges on obtaining genuine consumer consent.

As it was the first state law of its kind, many other states (such as Washington, Nebraska, Florida, and New York, among others) followed suit and introduced their own laws based on the CCPA.

Unequivocal consent is perhaps the linchpin to the permission ecosystem – one cannot exist without the other. Giving true consent and giving permission can, in some cases, be interchangeable.

Projects that focus on getting permission in the form of this true consent are likely to thrive.

E-Crypto News:
How has 2021 been for advertising, privacy, and Permission.io so far?
2021 has been a year of many developments for Permission, and many more to come.
In April, we launched our Google Chrome Extension, which allows users to earn ASK  for selectively sharing their data and viewing ads as they browse the web.
Overall, we are seeing a large shift in the privacy space which is directly impacting the advertising sector.
As consumers continue to become more aware and conscious of how their data has been exploited over the years for profit, regulations worldwide are rapidly changing to enable a digital world where both users and advertisers can benefit accordingly.
Permission.io is offering a model that drives value for both parties, allowing users to be compensated for the sharing of their data and helping advertisers drive ROI and loyalty through a permission-based model.
E-Crypto News:
How critical do you think the ASK token will be to the future of privacy and advertising in the future? Please, can you explain further to us?
ASK is a simple-to-use digital reward that is earned by engaging with relevant ads and can be used on Permission.io, or bought, sold, traded on major cryptocurrency exchanges.

ASK will become the currency of permission and be crucial to the digital advertising ecosystem moving forward.

As we all know, the advertising landscape is changing rapidly as privacy regulations and concerns continue to be top of mind for consumers and regulators.

Blockchain technology is one of the best mechanisms for issuing digital rewards (in the form of cryptocurrency).

And, the ability to issue a desirable reward is essential for those who want to succeed in the next era of digital advertising, which will be permission-based.

Brands and developers must ASK for permission to interact with consumers in exchange for their data, and they need to be prepared to reward them for sharing that data – this is the equitable and right thing to do.

Crypto is the most desirable digital reward because it's liquid and global.

However, today, most other cryptocurrencies must be bought or traded -ASK is different because it can be earned (and is currently being earned by hundreds of thousands of users) via the Permission platform in exchange for an individual's most valuable asset- their data.

E-Crypto News:
How is Permission.io's infrastructure designed to help brands adapt to the problems that exist in digital advertising?
We have been working on behalf of users toward a more transparent internet for years, and one where businesses still improve their margins by studying the behaviors and tastes of their customers.
Our platform, Permission.io, offers the infrastructure and tools to make it possible for businesses, app developers, and advertisers to transparently ask and obtain Permission for the sharing of user data and reward their audiences with ASK.
E-Crypto News:
How does the existence of such infrastructure help Permission.io to become the industry leader in a Permission-based world?
Advertisers are currently looking for new ways to attract and retain their audiences, whilst continuing to drive ROI and collect valuable data.

Our ecosystem is doing just this, and in the coming months we have a slew of new products and applications which will further enable the issuance of ASK rewards for advertisers in exchange for user data.

Our user base continues to grow on a day-to-day basis only furthering our mission that asking permission is the way ahead for brands.
E-Crypto News:
What security measures have been taken to ensure the safety of the users within the ecosystem?
The Permission.io platform operates at the highest security with 2MFA, secure blockchain wallets and KYC. KYC is one of the most important keys to reducing suspicious activity and fighting against bad actors on crypto platforms.
E-Crypto News:
Please, can you explain to us the difference between a validator node and a full node?

The Permission Validator node allows users to run a node that enables them to participate in the consensus mechanism and earn ASK for running the node.

The Permission Full Node will allow developers to deploy Dapps using ASK into the Permission blockchain.
E-Crypto News:
How do you think brands, companies, institutions, and individuals within the digital advertising industry adapt to the new Permission-based trends that are emerging?

Today, we're seeing more and more "big tech" implementing mass privacy changes in an attempt to maintain consumer relationships and further empower individuals to control how and where their data is being shared.

Apple has been leading the way with the recent iOS 14.5 privacy update which now requires apps to get permission from users before tracking their data across other apps or websites.

Since the implementation of the new privacy settings, users have been opting out of sharing their data – Apple saw a 96% opt-out rate, which can be expected as these consumers are not being incentivized to opt-in and share this data, which is leading brands and developers to seek alternative ways to collect data from their audiences.

This is only the beginning and we will continue to see the permission-based model moving forward, especially with the upcoming delay of Google's third party cookies and brands are looking for new ways to interact and engage their target audiences.
E-Crypto News:
Where do you see the Permission-based advertising industry in the next ten years?
We see the majority of internet interactions between brands and consumers moving to a Permission-based model. The value exchange this drives for both parties is crucial and inevitable.
E-Crypto News:
How have cryptocurrencies and their underlying technologies changed the way digital advertising is practiced all over the world?
Blockchain is enabling the transaction of value to happen between two or more parties, quickly, transparently, immutable and securely.

In the digital advertising space, advertisers are now able to directly interact with end users to reward them for their engagement with their advertisements.

Cryptocurrency platforms with KYC, like Permission, enables  advertisers to efficiently offer rewards for engaging and sharing first-party data, building loyal, opt-in audiences in a compliant way, while ensuring they are interacting with real humans.
E-Crypto News:
What tools exist within the permission.io ecosystem to enable tracking and data analytics?
Google extension? Anything else?
E-Crypto News:
What exactly do you think will change as Permission-based advertising will take center stage?

The most important factor about permission-based advertising is the trust and loyalty that's built between the brand/advertiser and the consumer.

This trust will greatly improve ROI for brands as consumers are opting in to the sharing of their data as opposed to the models that have been driving the interruption model that has been driving the internet and digital advertising system for years.