The Ethereum price has been on a roller coaster since its inception in 2015. The crypto was founded by eight people, with one of them being 27-year-old Vitalik Buterin. Apart from being used as crypto, it lets developers build applications and run smart contracts on its blockchain.
Investors need to know that cryptos are not a guaranteed way of making money and they may lose all the investment that they put in. Thus, never invest more than you can afford to lose. Furthermore, it is advisable to do thorough background checks to ensure that you invest in something that you understand.
Ethereum, just like Bitcoin (BTC) has been volatile and its value sometimes crashes at little to no notice. Since there is no defined regulation for crypto firms, you might have no protection when things go wrong or whenever the Ethereum price drops massively.
Ethereum Price 2021 History
The price of Ethereum in dollars has kept increasing since April 2021. At some point, the price surged above the $4,000 mark before a marketwide correction pushed it back below $2,500. Just like bitcoin, Ethereum has been surging in 2021 but for different reasons.
Ethereum made the headlines when a digital art piece sold as the world's most expensive NFT for more than 38,000 ETH worth around $69.3 million at the time. Bitcoin's price growth was partly fueled by the initial public offering (IPO) of Coinbase, the biggest crypto trader in the United States.
On the other hand, the rally on Ethereum came from technological developments that resulted in massive excitement among the traders. First, the 'Berlin update' rolled out on the Ethereum network sometime in April 2021. This update was designed to pave the way for minimized ETH gas prices (reduced transaction fees).
Then, the arrival of Uniswap V3 in May 2021 further optimized trading which also impacted the Ethereum price positively. Ethereum's London hard fork that was implemented in July had become a highly anticipated event among the investors. the hard fork came with the much anticipated EIP 1559 that was rolled out on the Ropsten testnet on June 24.
Several other proposal upgrades have been done on the platform which has resulted in a positive impact on Ethereum price. Experts say that these upgrades will help the platform transmit to the highly anticipated proof-of-stake (PoS) consensus. Moreover, it will come with a 'scarcity feature' that will reduce the number of ETH tokens that are currently in circulation.
Ethereum 2.0 Neutral Infrastructure For Financial Future
Ethereum 2.0 is described as an unbiased platform whose design and mechanism may resolve some of society's challenges. Currently, the world seems to be existing in an undefined era of social, political, and economic turmoil dominated by a persistent pandemic.
As the decentralized finance (DeFi) network powers billions of dollars of value enabling thousands of industries to grow, a lot of instability is affecting the world. But, the systems, protocols, and incentives that Ethereum creates seemingly appear to bea less susceptible to censorship, government overreach, and any form of misinformation.
Ethereum 2.0's has a growing number of beneficial features and functionalities that make it perfectly positioned to function prfectly in the choppy waters as a neutral platform. With such a massive use case, investors seem to be responding and investing in the project, in turn, pushing the Ethereum price higher.
Individuals, enterprises, and even governments believe that the Eth2 platform will continue to operate even when an individual or state-level attacks happen. This becomes a solid foundation where economic and financial infrastructure is created. Ethereum 2.0 is designed to avert censorship, empower self-sovereignty, support governance, and its underlying token to operate as a reliable form of money for the decentralized economy.
Some time ago, Buterin posted a convincing post suggesting credible neutrality which he described as a basic effort to remain fair. Expert developers believe that the post should be a guiding principle in protocol design:
"Note that it is not just neutrality that is required here, it is credible neutrality. That is, it is not just enough for a mechanism to not be designed to favor specific people or outcomes over others; it's also crucially important for a mechanism to be able to convince a large and diverse group of people that the mechanism at least makes that basic effort to be fair."
He continued to state:
"Mechanisms such as blockchains, political systems, and social media are designed to facilitate cooperation across large, and diverse, groups of people. For a mechanism to be able to serve as this kind of common substrate, everyone participating must be able to see that the mechanism is fair, and everyone participating must be able to see that everyone else can see that the mechanism is fair, because everyone participating wants to be sure that everyone else will not abandon the mechanism the next day."
The economies around the world seem to unfairly favor the rich and powerful. To avoid such a fate in the world and guarantee neutrality, Ethereum 2.0 comes in. Such a massive use case makes the future bright for the Ethereum price prediction analyses.
Eth2 To Power Decentralized Economy
The current world is faced with massive asset inflation and 'irresponsible money printing' and experts advise investors to decentralize their investment portfolios. On its part, the Federal Reserve said repeatedly that:
"There is an infinite amount of cash at the Federal Reserve."
The Fed is printing digitally at will which made many question the long-term viability of the US dollar as a haven currency. Ether (ETH) is designed to incentivize participation on the Ethereum blockchain via mining rewards. It is also believed to be the ideal base asset for the decentralized economy that thrives on the Ethereum network. These features and functionalities also seem to be underpinning the Ethereum price and pushing it higher.
Eth2's inflation rate is expected to remain less than 1%, becoming one of the lowest inflation rates of all existing protocols and considerably lower than the dollar. EIP-1559 is designed to make ETH scarce which will make the cryptocurrency more valuable, as the use of the Ethereum 2.0 platform increases.
Users, enterprises, governments, and other participants are confident working with Eth2 because its base unit issuance is used mainly for security. The entire monetary policy is also known and public, which increases demand for the crypto.
Ethereum May Become A Store Of Value
Ethereum price predictions become quite interesting when reputable sources state that it might become a major store of value in the future. On July 6, 2021, Goldman Sachs said in a note to clients that the platform has the highest "real use potential" adding that ETH may become the most dominant digital store of value.
Goldman predicted that Ether's market cap may exceed Bitcoin in the coming years, according to a Business Insider report. The bank pointed to smart contracts as the biggest driving force that will push Ethereum to the next level.
"[Ether] currently looks like the cryptocurrency with the highest real use potential as Ethereum, the platform on which it is the native digital currency, is the most popular development platform for smart contract applications."
Smart contracts are software that supports automated execution of digital contracts and powers the decentralized applications (DApps) together with the Defi boom.
Although Bitcoin's first mover benefit offers it a stronger brand, it lacks some use cases that Ether presents, and its transaction speeds are much lower. Hence, it is yet to offer the same functionality levels delivered by Ether.
The Ethereum blockchain is younger than Bitcoin but has managed to grow more rapidly. While Bitcoin increased by 261% in 2020, ETH gained 856% within the same time. Although Goldman analysts insist that gold is a superior store of value as a 'defensive inflation hedge', they termed Ether as a 'risk-on inflation hedge.'
With such use cases already functional and many others in the pipeline, the Ethereum price prediction for 2025 and beyond appear positive. Goldman Sachs' Investment Strategy Group analysts seemed to have changed their mind after terming crypto as not an 'investable' asset class previously.
The Celcius Network founder and CEO told Kitco News on July 5 that Ether has surpassed Bitcoins with regards to the holdings among the platform's users. He believes that Ether will surpass bitcoin in 2022 and 2023. Such positive comments from global leaders also push the Ethereum price higher.
Ethereum's Future And The DeFi Sector
Price developments on Ethereum may be challenging to project sometimes, but they cannot be seen without the decentralized finance world. The nascent sector used Ethereum's technology to eliminate intermediaries between parties involved in financial transactions.
One instance features the crypto wallets like Coinbase Wallet, which has increased in popularity in recent years. Moneylender Dharma, Maker, smart contractor Uniswap, and market protocol Compound are the other examples that are powered by the Ethereum blockchain.
Analysts and experts believe that the future developments in the Ethereum world are linked to the DeFi sector. Ethereum, being an open-source software platform for the development of blockchain applications seems to be growing in leaps and bounds with each passing day.
Ethereum hosts and facilitates DeFi. Thus, if DeFi performs well, Ethereum will also thrive. All these features, functionalities, and use cases seem to be pushing the price of Ethereum higher.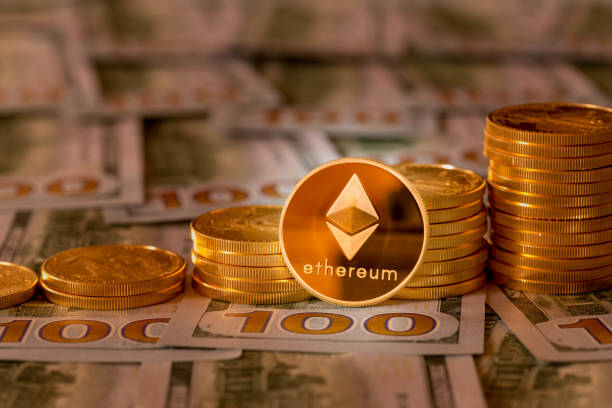 NFTs Powered Ethereum Growth In 2021
Nonfungible tokens (NFTs) have become the most famous application of Ethereum. Between 2018 and 2020, the NFTs grew by almost ten-fold as documented in the global NFTs market cap records. The digital blockchain assets work as a unique code that is connected to a digital file.
NFTs allow the distinguishing of the original files from potential copies. The application has become prominent in crypto art. However, sports, gaming, and collectibles make up the other portions of NFT sales.
Ether will manage to surpass Bitcoin when it manages to decouple entirely from the flagship cryptocurrency. At the time of publication, Ether is trading above $3,700 in a super bull cycle with market data and news indicating that it might push higher in the coming weeks.
Based on responses from a panel of 42 crypto experts acquired by comparison site Finder, Ethereum may surge to $4,596 by the end of 2021. They said that it could then surpass $10,000 later on to peak at $17,810 by 2025 and $71,763 by 2030.