NFT holiday gifts are proving to be the best gifts for this holiday season as more people shift to the virtual world. Nonfungible tokens are mainly described as vouchers of validity for digital assets, whether art, music, or everything else.
These vouchers have surged in popularity this year, barely several years after they were created in 2017. Various marketplaces like Open Sea, Rarible, and Nifty Gateway can provide many ideas for NFT holiday gifts, like an animated rainbow cat illustration for 0.6 ETH and a GIF of dancing Taco Bell tacos going for 4 Ethereum. One user said:
"It's a unique digital 1-1 item that only you can own, and that can represent so many different things. So it comes down to: What does the recipient of the gift like?"
Subject to the availability and desirability of a given item, the NFTs can also gain value. In the case of NBA Top Shot, for instance, it lets users buy key moments in basketball history that you can gift to your NBA enthusiast friends.
Related:Dapper Labs Set To Hit The Mainstream With NBA Top Shot NFT's
Christie's, a legendary auction, is offering original works of art to be acquired as NFTs and different bands like Kings of Leon are publishing their albums in nonfungible tokens.
The original collectibles can cost from just one dollar to multimillions. Picking the ideal NFT holiday gifts is now always an easy task. Even the normal gifts are challenging to find when many countries are experiencing lots of supply-chain challenges.
There are a few people who want to get into the NFT space but do not know where to start. You can consider some platforms that have put together a gift guide that offers great ideas on how to get digital collectibles for your loved ones. Instead of unwrapping presents, some of the people will be opening up a wallet.
This Christmas's unexpected gifts might be NFT holiday gifts. Experts in the nascent world of NFT say that they might distribute digital gifts to family and friends, who may not know what to do with the presents.
Related: Buy Presents or a Christmas Trip Using Gift Cards Purchased With Crypto
One user by the name of Abraham Aradillas said that he had never heard of an NFT until around six months ago. He heard about these digital collectibles after they exploded onto the mainstream and were parodied by SNL. Today, the 23-year-old Dallas truck driver said that he will buy Platy Punks for his friends this Christmas. He thinks that they will be confused and excited at the same time.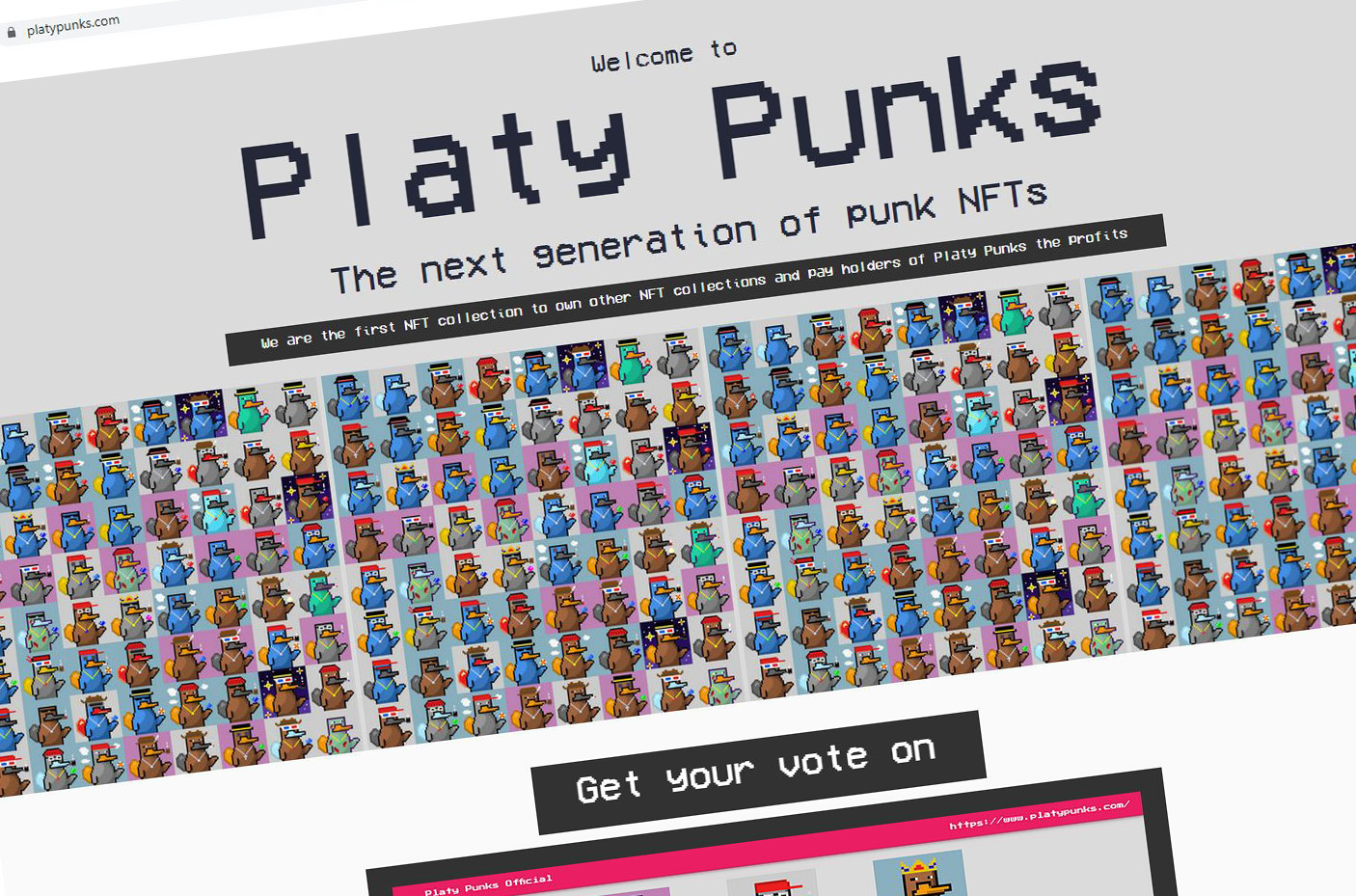 Aradillas said:
"When I told my friends I bought an NFT, they laughed at me. They're like 'You bought a picture of a platypus.' So I think they'll have the same reaction."
As the prices of cryptos keep surging led by Bitcoin, the nonfungible tokens have also been lifted extensively in the mania. They have appealed to the interest of people that began trading and managing their investment portfolios amid the pandemic, and those who managed to get a firm grip on crypto.
Some of the NFT holiday gifts givers say that they want their friends and relatives to learn about nonfungible tokens or that the gift token they give will be a great investment in the long term. Operating like some sort of a lottery scratch-off, such digital collectible gifts may pay off eventually. In other cases, they will be some type of art or souvenirs.
Wallet And Keys
For the recipients, the NFT holiday gifts can feel more like a chore. In case they are new to cryptocurrency, they need to learn terms like 'keys' and 'wallets' and the meaning of NFTs. Jessica Walker is a 28-year-old who creates a variety of educational content for CoinMarketCap. She said that educating her friends and family is part of her motivation to give them the tokens as gifts for Christmas this year. She commented:
"To understand the new technology, you have to be introduced to it on a personal level."
She has a budget of one Ethereum, which is currently worth around $4,000. Her father and brother are football fans. Thus, she is looking for some of the products available on Tom Brady's NFT platform Autograph. For her mother, who is a major news follower, she plans to get an NFT from a line created by the Associated Press.
Her mom has a Coinbase account. Hence, she will accept and appreciate the gift. In the case of the brother, Walker said:
"My brother will look at me slightly disappointed that I have not bought him food or alcohol."
36-year-old Paula Sanguino, a dental hygienist of Raleigh, North Carolina, said that she was excited when a friend gave her an NFT. She also got a web address paulas.eth from the friend. She said that the domain name also operates as a nonfungible token and a method of sending and receiving various cryptos. Sanguino remembered saying:
"'Thank you! Is this a domain? What do I do with this? Can I sell it later?' I was very confused by it when he shared it with me."
She took a few weeks to understand the concept of why digital collectibles are worth as much money as they are worth.
OnChain Monkey
Some people are using NFT holiday gifts as a memorial to friends who lost their lives recently. Montreal resident Nicolas Hebert is a 30-year-old commercial manager who is working in the Canadian cannabis sector, and two friends are giving a friend's nephew and niece, who are under 12 years, NFTs in honor of him. Herbert stated:
"We know this is something he would have done this year."
The kids are set to get an OnChain Monkey that costs $40 during the minting process but is now worth $2,000 to $2,500. The children will also get an NFT known as 2 Ballerz that cost $200 each to mint. For now, there is no current marketplace for Ballerz.
Instead of buying NFT holiday gifts, some people are creating them. One angel investor, Chris Eberle, helped his 13-yer-old son design an NFT for the family. The son wants to be an animator. Recipients will learn about their non-fungible token gifts traditionally, via a picture on a card. Eberle said:
"There's more of a payoff when you open a card with a cool picture."
Eberle launched his investment firm, Defiant Capital, after working as director of content and marketing globalization at the video streaming platform, Netflix. Some people say that they would not want any NFT gifts due to the energy used to create crypto. Jules, a 16-year-old from Maryland, said:
"I wouldn't know what to do with it, to be honest. What do you do with it? I think I would just hold onto it. I think that would be the least harmful thing I would do. It really holds no value to me."
NFT Holiday Gifts That Give Back
The Christmas holidays are fast approaching and being the season of giving, you can give family and friends some gifts that can gain value in the long run. One such gift is Gems of Resistance. This NFT project is shining a spotlight on the benefits of social activists.
Created by Fre.ra.ra, the nonfungible token is available for purchase on December 17, 2021, through the NFT platform for creators, Voice. Notably, all gems created under Gems of Resistance will be launched as a special series featuring the gems themselves and a customized and special Christmas message.
The seven gemstones in this category, just like the artists, represent different migrational backgrounds that include Haiti (gold), Surinam (tourmaline), Colombia (emerald), Nigeria (garnet), Palestine (ruby), Tanzania (spodumene), and Brazil (spinel).
Some of the proceeds from these gemstones will be donated to Mama Cash. Mama Cash is an organization that looks for resources from institutions and individuals, offering grants to self-led, feminist organizations. The organization also helps in creating partnerships and networks required to defend and advance women's, intersex people, girls', and Trans' human rights worldwide.
These seven NFT holiday gifts can be acquired from December 17 on Voice.
Digital Frames
For anyone who has several digital collectibles that they wish to put on display, a digital frame is an ideal option. Each frame costs 0.018 ETH ($79) and above.
Rotate the Tokenframe™ 90° and the artwork displayed on it will automatically switch orientation, just like your smartphone.

Adjust the artwork's size and digital border via the Tokenframe™ App. pic.twitter.com/wXuSeM4CRl

— Tokenframe (@TokenframeNFT) June 22, 2021
There are two digital frame ideas:
Infinite Objects
The frames enable users to upload one digital video file, NFT, and edit it with the website's built-in tool. The Infinite Objects then print and frame the file, and ship it to the investor. You may have to be a bit creative to find your loved one's NFTs to upload, or you can get them a gift card and then let them handle it. These frames cost at least 0.018 ETH ($79).
Netgear Meural Smart Wi-Fi Frame
The 15.6″ HD display enables the users to upload photos and crypto art. The frame comes with an application that enables users to set it up easily, create art 'playlists,' and a lot more. For the people that are new to NFTs who might not have a big collection to display, they can include Meural's art membership that consists of over 30,000 images that can be displayed in the frame. These frames are ideal NFT holiday gifts.
The Netgear Meural Smart Wi-Fi Frame costs 0.06 ETH ($299.95), while art membership is another 0.002 ETH ($8.95) per month, or 0.015 ETH ($69.95) annually.
Snow Crash
With Facebook's parent firm rebranding to Meta, it is the ideal time for anyone who wants to understand the crypto sector to read Neal Stephenson's celebrated 1992 sci-fi novel titled 'Snow Crash.' In that story, people jump into a virtual space known as the Metaverse.
The original of the term #Metaverse.

"In the lingo, this imaginary place is known as the Metaverse. Hiro spends a lot of time in the Metaverse. It beats the shit out of the U-Stor-It."

Neal Stephenson, Snow Crash @nealstephenson pic.twitter.com/Ma4AHa5BYV

— Double D (@double_d_xXx) November 21, 2021
Metaverse is a term that was invented by the author in this book where they are represented by different avatars. This story follows a hacker and pizza delivery guy in reality, Hiro Protagonist, and an experienced samurai in the Metaverse who finds himself delivering a digital virus that is known as Snow Crash. Snow Crash is also believed to cause brain damage in real life.
Related: Latest and Biggest Metaverse GameFi- Spirit Land – debuts on Binance NFT
In case you are interested to get another book that highlights the digital future, William Gibson's 1984 novel Neuromancer is a great option. It is a great and popular piece of literature in the cyberpunk genre. Both of these interesting and futuristic novels are available through paperback and e-book and they cost 0.001 – 0.003 ETH ($4.99 – $14.99). Hence, they can be great holiday gifts for family and friends during this holiday season.
These are some of the NFT holiday gifts that you can give to people during this festive season. However, it is advisable to review and determine what your recipients may want before gifting them with these digital collectibles.