In what seems like a twist of fate, NFT Book Miner publishing has finally come to the NFT space!
For a while, many people have thought that maybe the NFT space was meant for visual art alone. That has changed however with the minting of "The Lost Direction"; the first in a series of novels by Tim Boucher.
Naturally, this got us excited and we decided to talk to Tim.
Here is what he had to say.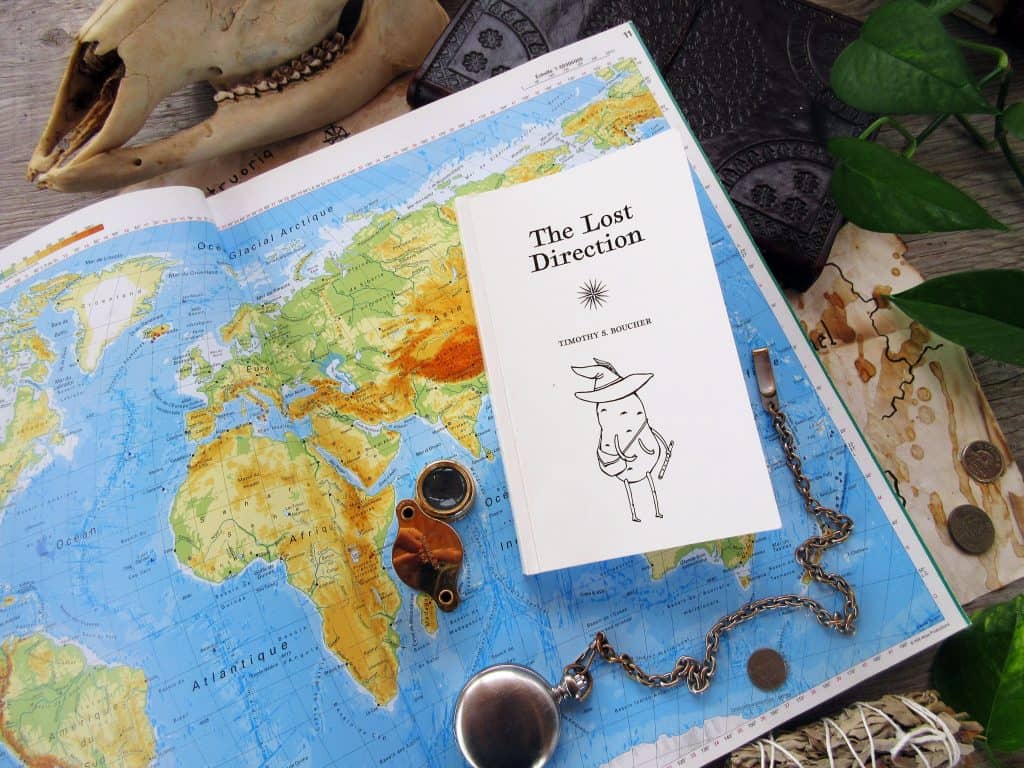 Tim Boucher, Blockchain Publisher and Author "The Lost Direction"
E-Crypto News:
Congratulations on the minting of "The Lost Direction" as an NFT. What's next for you?
Thanks for your interest. People can buy the NFT, or the print or ebook at Lost Books. I plan to continue work on the next book in the Lost Books of Quatria series, tentatively titled, "The Octave of Time." It's about a third of the way done. I'm also working on a number of new cryptoart NFTs which take place in the Quatria metaverse.

I'd like to publish some of these related digital art pieces & Quatria-themed sketchbooks as print & NFT books. I'm going to experiment with hybridizing the two forms, so like using QR codes to embed NFTs into physical books, so that you could buy a character, an object, a place, or a scene in a book, for example, or use them as scannable gateways to related VR content. Things like that.

I've been experimenting with a variety of off the shelf digital production tools to try and figure out what would be a workable tech stack for an MVP workflow as a creator in this kind of hybrid media space:

E-Crypto News:
Most people have taken the NFT space to be the exclusive preserve of graphic artists only. How does it feel to be one of the first artists of other art forms to have broken this jinx?
It's really exciting to be involved in NFT books at the very beginning of this field, because it is still wide open, and everyone is welcome. I want to encourage other authors, both big & small to join in these experiments, and help shape the technology in a positive direction that can benefit both readers and authors.
E-Crypto News:
What were the various challenges you faced when minting this NFT? How did you overcome them?
Most NFT platforms are not yet well-developed in their support for all the most common book formats, such as EPUB, MOBI, and PDF. I had to get creative by hosting the book files on a site called Gumroad, geared towards conventional fiat sales of digital files. The buyers of the NFT itself, hosted on Rarible, receives an unlockable download code to get the books for free from Gumroad.

I wanted to offer the buyers of the original 100 NFT editions also the option to get a free printed book if they choose. This is a bit tricky since, for now, they have to contact me with their address. In the future, I'd like to automate that fulfillment process for NFT buyers who also want the printed version.
E-Crypto News:
What are your plans for the lost series?
The Lost Books of Quatria series will continue to explore the vast metaverse of Quatria and its many facets. It's more of a hypertext than a single story, though it all takes place in or around the same metaverse. As a result, there isn't one single narrative thread, but more like a tapestry of tales woven together which together convey the greater story.

As an indie blockchain publisher, Lost Books will continue experimenting with various combinations and hybrids of conventional print books, ebooks, NFTs, digital art, and even 3D, AR, and VR environments and experiences, and perhaps AI characters down the road.

The books are jam-packed with lore and world-building, so that as the technological offering grows, there are many data points to extract from in developing new material. An AI could, for example, ingest the entire corpus and be trained to develop new lore that still fits within the canon.

Because of its dense attention to such detailed lore and backstory, the book has spawned a new genre called "lorecore." We will continue to develop the work in new and innovative directions both in terms of story-telling and technology.
E-Crypto News:
Please can you tell us more about the lost series? Can you give us background information about it?
The Lost Books of Quatria series reveal the lost histories of an ancient land called Quatria, which once existed on what we call Antarctica.

At that time, of course, Antarctica was actually a lush tropical island, closer to the equator, before the Earth Changes. This was many millions of years ago, before the Ice Ages.

As prehistoric seafarers, Quatrian culture is thought to have also had outposts all around the globe, which of course was very different topographically, due to differences in sea level between then and now.

More on that can be found here:

I became aware of this amazing culture and its forgotten history via the works of Edward Allen Oxford, who claimed to have mysteriously visited it during World War I.

More about Oxford can be found here:
E-Crypto News:
What advice do you have for writers who want to dip their toes in the NFT space?
Start now. There is a substantial learning curve in becoming familiar with crypto and web3, but don't be intimidated. You don't need to learn the entire world of crypto to achieve your project objectives.

I think there is a potentially big early adopter advantage for authors and publishing companies here who are nimble enough to experiment, iterate and improve rapidly on their offerings.

Don't wait for the technology to be perfect to get started. Also, it's important to realize that these technologies are improving rapidly, almost daily. Ethereum will soon be Proof of Stake, and alternatives like Polygon/Matic, Tezos, and Cardano are all still on the rise. So we haven't seen anything yet.
E-Crypto News:
What are your thoughts on the explosion of the NFT space?
It's not a fad. It's a new paradigm of digital ownership, and it's not going to go away. And, as I like to say, it's not a bubble, it's a bubble bath.

Yes, there are going to be many small bubbles that get burst, and experiments that fail. Through it all, there will also be many chances for creators to succeed.
E-Crypto News:
What are your thoughts on the explosion of the DeFi space?
I'm less knowledgeable about DeFi, but the part that interests me would be the marriage of DeFi elements and NFTs, with technology like Charged Particles, or with projects like $MEME and Wilder World, which is a soon-to-launch NFT-based metaverse with DeFi elements baked in.
E-Crypto News:
Do you think NFTs will finally bring about the mass adoption of cryptocurrencies and their allied technologies?
I think yes, but it is going to take some time, as crypto is still confusing for the majority of ordinary end users. Crypto companies really need to focus on improving UX and customer support probably more than anything else right now.
E-Crypto News:
How did you get started with cryptocurrencies and their allied technologies?
I went from working for conventional web platforms to working with blockchain protocols in May of last year. So I've had the luxury of being able to "learn and earn" at the same time for my job.
E-Crypto News:
Where do you see the NFT space in the next decade?
I'm sure the shape of the technology will change, and it will become a lot easier for regular users to become involved.

But like I said, it's a new paradigm of digital ownership, and I don't think it's going to go away. I think proper implementation of distributed, persistent, and resilient storage systems will certainly play a huge part in success of the NFT space.

A company like Filebase or similar that could easily help end users store redundant backups of NFT assets across multiple chains (like FIL, Storj, Sia, Arweave, etc) is something that's going to become very important.
E-Crypto News:
Apart from books and art, what other uses do you think NFTs have?
Ownership of digital spaces will be a big one, especially as we see the rise of many different virtual & augmented metaverse overlapping our own, and high profile sales in this space like Krista Kim's Mars House.

We're already seeing this with projects like Cryptovoxels, Decentraland, Superworld, etc. Then of course ownership of virtual objects and experiences within those spaces will be a major part of the backbone of the NFT economy.

Not to mention tokenized social media. The question is more like what use won't NFTs have?
E-Crypto News:
What other technology projects are you involved in?
I work for a blockchain consultancy that helps companies with content, policy, and related issues.
E-Crypto News:
Do you have any price projections for Bitcoin in 2021? 
I don't have any price projections, but my hunch lately has been that it's conceivable ETH could overtake BTC, if not in 2021, maybe the year after. But who knows!
E-Crypto News:
How do you think cryptocurrencies and their allied technologies solve the problems of humanity?
Having worked on content & policy problems for many years, I'm not sure technologies "solve" humanity's problems.

They might solve specific ones within certain circumstances, but they just as often have negative or unintended consequences, some of which we don't see until much later.

Humanity's problems will never be fully solved, and we'll never have perfect knowledge. So the best thing is to always proceed consciously and carefully, and do our best to manage foreseeable problems, and design and implement in such a way that it's easy for us to change and improve later if we need to.

Fortunately that attitude can also help us innovate, and keep us open to changing things all around, casting aside solutions that are no longer working, and trying new stuff.
E-Crypto News:
Please, can you tell us about your creative process?
I think my process is just to always be creating, though the thing I'm working on might change. It has to do with keeping up a momentum in order to keep the wheels turning and the creative juices flowing. It's different for each person how they achieve that state, I'm sure.
E-Crypto News:
Do you have any secrets you want to tell us? Do you care to spill the beans?
Sorry, no.
E-Crypto News:
If you had three wishes and a genie that could make them come true, what would they be for the NFT space?
Total transparency, low/no cost transaction fees, easy interoperability between chains

Stronger commitment to customer support from centralized platforms who are earning a lot from platform fees, and often failing to adequately serve their customers

Give artists, authors, and all kinds of creators fully decentralized open-source tools to sell NFTs, so that they are in full control over features, UI, smart contracts, chain transactions, etc.: like a "WordPress for NFTs" (or a Shopify for NFTs)