Music NFTs seem to be the newest trend in the blockchain space. Music is gradually becoming a key feature in the Metaverse. However, will challenges hamper adoption? The metaverse and Web3 are rapidly becoming some of the most notable trends in 2022. Recent data discovered that the metaverse industry currently has a market capitalization of more than $26 billion. While impressive, these new capabilities are also getting added to virtual worlds to create highly immersive experiences.
For instance, the metaverse communities that accommodate creatives are beginning to unfold, letting users customize their interactive experiences. Although it is still an emerging concept, the integration of music into the nascent space seems to be one of the defining features of the social metaverse environments.
Music As NFTs
For example, music has come into the NFTs world. Music in the form of NFTs is beginning to get used in several virtual ecosystems to provide social experiences for fans and artists.
To put everything into perspective, Fluf World – a metaverse ecosystem featuring mainly 3D-avatar rabbits – heavily relies on different forms of music to come up with user experiences. The co-founder of Fluf World, Brooke Howard-Smith, said that the metaverse was launched in August 2021 as a platform for artists, creators, developers, and musicians to integrate using NFTs.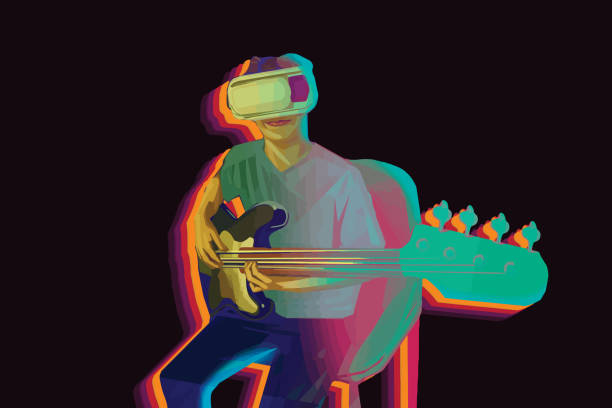 Howard-Smith stated that there is a "scenes and sounds" feature that lets community members integrate various backgrounds and soundtracks with their avatar NFTs:
"Users can add a background behind their avatar that serves as a different location, many of which we are building in our part of the Metaverse. A user's 3D-animated rabbit can also move to different music soundtracks that a user chooses to incorporate."
Related: Stefan Heinrich & Akiva Bamberger of mayk.it Explain Music NFTs and More 
Although this concept might sound complex, Fluf World is designed to utilize various multimedia nonfungible tokens to enable users to customize their Metaverse experiences. Howard-Smith further stated:
"This week Fluf World is launching phase 1 of their 'Burrows,' a metaverse space within Fluf World where soon, avatars will be able to walk around and hear other Avatar's music when their 'proximity feature' is turned on. You can also see a visual representation of their music called a Nimbus floating near their avatar when you approach them."
Concurrently, several benefits for fans and artists also come up from this model. For instance, "Gino The Ghost" said that he is now a metaverse music executive for Fluf World. "Gino The Ghost" is a Grammy award-winning producer and multiplatform songwriter.
Gino stated that he was originally attracted to the project due to its integration and incorporation of music. He mentioned that Audio NFTs give musicians a new way to package their music as a crypto asset. He also stated that sound clips living on a blockchain help in solving several issues for the musicians:
"The sobering reality is that music labels are making more money today than ever before through streaming platforms but producers and songwriters are making considerably less. For instance, 100 million streams only generate $7,000 dollars if you own about 30% of a label and most individuals earn much less. Royalties are also paid slowly and you need to audit publishers to see if income is accurate."
With all these challenges coming up, Gino believes that music nonfungible tokens let artists generate instant income. The income is controlled directly by an artist without the involvement of any intermediaries.
For the fans, Gino stated that those who own music NFTs are not just investing in their favorite artists, they can also use the soundtracks to create their remixes. Creative artists and content creators can consume music and do various things with soundtracks. In turn, users can also sell their distinct music NFTs to generate some revenue.
Notably, music NFTs can come also in form of digital wearables. Wearable music NFTs, for instance, was recently launched on The Dematerialised, an experimental marketplace for digital fashion. This collection called "Defend the Metaverse" was developed by Teflon Sega, a producer, and singer who alleges to have been born in the Metaverse.
The various nonfungible tokens that are available come in form of sunglasses, t-shirts, and shoulder plates. They also feature a 15-second sound clip from Teflon Sega's music video, "In The Middle."
Sega said that he is convinced that the relationship between fashion and music has always been quite close. The two creative cultures intertwine extensively and play off of each other in music videos. Thus, it seems quite natural to release the props and outfits from music videos into the world of wearable NFTs, according to Sega.
He added that in 2022, he believes people will get introduced to new features that support self-expression within metaverse environments.
"Whether it be music, fashion, entertainment or storytelling, all forms will have no limitation aside from one's own creative boundaries."
Apart from music NFTs, decentralized audio files are also getting used to personalize metaverse environments. For instance, Audius is a notable music streaming platform built on the Solana blockchain that is currently partnering with multiple metaverse platforms.
CEO and co-founder of Audius, Roneil Rumburg, said that anybody can pull content from the Audius platform since it is entirely decentralized. Developers and fans are operating the service for the benefit of everybody. Hence, anybody can readily build using the platform.
Related: Recording Artist Guild (RAG) Selects BEASY to Empower and Enable Musicians for the Metaverse
Rumburg also said that Audius music files were originally applied in gaming metaverses but recently, this platform has been linked with the real estate NFT project "Ethereum Towers" together with Solana-powered "Portals Metaverse" to offer streaming music services.
According to Rumburg, Portals Metaverse lets users play their choice of music within their room inside the metaverse via the Audius API. Furthermore, the community has already developed an Audius lounge for various concerts.
Rumburg also said that while Audius offers a catalog of decentralized audio files integrated with metadata, some creative artists and developers have built wrapped NFTs around the available Audius files.
"We are just a decentralized repository of content with clearly defined rights so third-party developers can pull from the platform's catalog without any issues."
In that context, Rumburg said that the key benefit of Audius in the context of the Metaverse is that the developers can readily pull content without being sued by third parties.
Metaverse Music NFTs: Is It A Trend Or Here To Stay?
Although this concept is still new in the market, experts and analysts are convinced that music for metaverse environments will continue to gain traction. Chief operations officer and co-founder of the Sandbox, Sebastien Borget, think that music will be used more often. He commented:
"It's defining a new format of entertainment beyond music clips. It's more social and immersive."
Sticking to the trend, the Sandbox recently confirmed a partnership with Warner Music Group to develop a concert venue and a musical theme park within its platform.
Several famous musicians are also getting more involved with nonfungible tokens. American songwriter John Legend recently said that he would be involved in launching an NFT music platform that will let artists tokenize and sell their work.
Furthermore, Snoop Dogg, an American rapper and songwriter, recently said that he is a Fluf World holder by tweeting out his customized "Snoop Dogg Party Bear" NFT. His NFT features music produced by Gino The Ghost.
Related: Snoop Dogg Sells 45M in NFTs in 6 Days…Crazy
While it is known that music is making a significant impact within the virtual worlds, challenges still remain and these could hamper the adoption rate. Rumburg also mentioned that other platforms are trying to do what they are doing as Audius. However, some of them are facing lots of criticism for using APIs from platforms like Spotify from which they pull music.
In recent months, the HitPiece NFT platform was criticized by musicians since it sold music NFTs without permission from the artists. Moreover, selling and buying nonfungibles are expensive because of high gas fees and minting costs that may affect the growth and diversity of communities that thrive on self-expression.
Howard-Smith knows that this challenge exists and insists that he does not want any hiccups to affect the entry to exist within Fluf World:
"We have a plan that will ensure in the next two years anyone will be able to come into Fluf World and create. I think that the biggest challenge now is creating an even playing field as we continue to build new technologies and layer together information. Any artist can join the Fluf community for free with or without an avatar, and many are already making money creating music with Fluf's existing owners."
It is critical to note that the sector develops ecosystems that are as highly inclusive as possible, letting new artists, those with small fan bases, and successful musicians and artists join easily.
Web 3.0 And The Metaverse
The metaverse and Web 3.0 are both among the trending technologies since they have been discussed a lot in recent years. With music NFTs coming onto the scene, it seems these technologies have a lot of growth potential and will be here in the long term.
Related: PIXELYNX Presents Metaverse & Web3 Day at Intl Music Summit Ibiza
Music NFTs offer utility to nascent technologies, which helps accelerate the rate of adoption. Web 3.0 is the next iteration of the Internet that comprises a network that offers a distributed, decentralized, and global control of information, enabling users and machines to interact effectively with data. On the other hand, the metaverse is described as an immersive, 3D virtual world where the users can interact with others instantaneously.
Metaverse is an integration of "meta" and "universe." It represents an integrated set of virtual reality worlds. Web 3.0 and the metaverse work together since they feature the decentralization concept that provides optimal user satisfaction. These features and functionalities are helping power music NFTs within the metaverse.