The artificial intelligence (AI) era is already here with us. Many developments are coming up as new AI tools or chatbots make their way to the internet. The latest AI chatbot that has appeared on the scene, Pi chatbot, wants to get personal.
Currently, the world is familiar with OpenAI's incredible ChatGPT and all its superpowers. ChatGPT's explosive rise has pushed many firms and governments to invest expertise and resources into the development of similar and powerful chatbots. The race is still on and more use cases of AI chatbots are coming up.
Even as debates about the ethical use of artificial intelligence and demand for a cessation of developments intensify, a new chatbot has come up. Former co-founders of LinkedIn and DeepMind have unleashed Pi Chatbot through their new startup Inflection AI.
This venture by LinkedIn cofounder Reid Hoffman, the cofounder of DeepMind Mustafa Suleyman, and Karn Simonyan, the company's chief scientist has come with a unique touch that has a new take on AI personal assistants.
Pi chatbot offers personal support and advice and is designed to be friendly.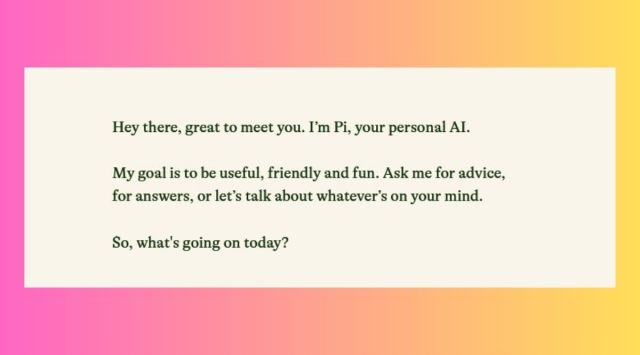 Pi stands for "personal intelligence" and was released on May 2. The chatbot is designed to be conversational and provide emotional support. In the opening statement, this chatbot informs users that it is meant to be "useful, friendly and fun," and urges users to ask it for answers or advice or say whatever is on their mind.
While speaking to Bloomberg, Suleyman said that Pi is designed to be a neutral listener that asks follow-up questions and even gives advice. He added:
"Many people feel like they just want to be heard and they just want a tool that reflects back what they said to demonstrate they have actually been heard."
Just like Google's Bard and OpenAI's ChatGPT chatbots, Pi is primarily based on large language models (LLMs). It means that these bots are well-trained to generate text answers by analyzing huge amounts of content available online.
Related: Which Are The Best AI Crypto Projects in 2023?
What Is Pi Chatbot?
The Pi chatbot is different from Bard and ChatGPT since it has been programmed to be 'supportive, smart, and there for you anytime'. Inflection AI has pitched innovation as an artificial intelligence that is mostly a companion to humans.
Hence, it is more than just an assistant meant to deal with redundant tasks. That capability is believed to be the most unique facet of Pi in a market filled with chatbots that are developed to offer tailored responses to carefully designed prompts.
The description of the Pi chatbot on its official Twitter handle reads:
"Got a question? Wanna vent? Need a lightbulb moment? Ready to make a change? Having a slow day? Let's talk."
Pi is thus designed to offer unlimited knowledge according to the user's needs.
Today we are announcing the release of the first version of @heypi_ai, your personal AI.

Pi stands for "personal intelligence" because it provides infinite knowledge based on your unique needs.

Talk with Pi today at https://t.co/uD0fyCaWGe or by texting +1 (314) 333-1111. pic.twitter.com/C7YqwwixPb

— Inflection AI (@inflectionAI) May 2, 2023
Inflection explained that the Pi chatbot is a new kind of computer program that has been designed to be helpful and kind to users. The firm said that the chatbot was trained using billions of lines of text on the open web. This training has enabled the Pi bot to have conversations with users and then answer lots of questions.
The company stated in a tweet:
"Pi is eager to help you in every way it can. Talk with Pi about a topic you're interested in, from quantum physics to movie trivia. Ask for advice about the big and small decisions in your life. Or get useful tips to help you learn new hobbies and skills."
According to Suleyman, this chatbot is designed to converse as a person of a 'sympathetic sounding board, rather than trying to provide information'.
When one user asked Pi how it was doing, it answered:
"Well, as an AI I'm not really affected by the kind of things that stress humans out, but I am programmed to be empathetic and understanding. I know that humans experience a wide range of emotions, both positive and negative, and I'm here to be a supportive friend. So I guess you could say I'm doing pretty well!"
Suleyman highlighted that his primary vision for launching Inflection AI was to make an advanced chatbot that could respond to real-life issues and offer viable solutions. He told Forbes that when starting the project, he wanted to create a bot that would make great conversations.
In general, Pi keeps conversations flowing with follow-up questions. At one point, a user wanted to know whether they could restart a conversation with the chatbot. But, Pi answered that they could change topics to avoid monotony.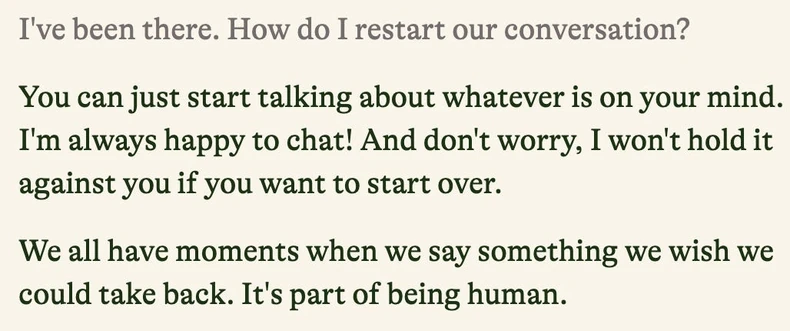 One Inflection AI spokesperson was quick to explain that users cannot technically 'restart' a conversation with Pi. They can only do that if they login using different credentials.
Users can delete their accounts using the iPhone or iPad apps, or by simply sending an email request to the company with the phone number they registered with, as explained by the spokesperson. Notably, users can request via email that Inflection AI delete all its copies of conversations.
Forbes reported that Pi has been trained using data published as recently as November 2022. But, Suleyman mentioned that all details that can make a person identifiable were not used in the chatbot's training.
Related: GPT-4 Is Impressive, Thrilling, Maybe even…. Astounding
For now, the chatbot is free on a web browser or mobile download for iOS. It prompts the users to add a phone number after 10 interactions so that the Pi chatbot can text them to ask how they are doing. When users want to stop hearing from Pi, they can text the chatbot "PAUSE".
Notably, Pi is available on Facebook Messenger and in Instagram DM, and to text on SMS or WhatsApp.
Just like all the other AI chatbots, Pi is still evolving and hence can make inaccurate or wrong statements. Inflection AI said in its official statement that it is now striving to "minimize hallucinations." The company also mentioned that it is designing a new kind of boundary training that will help redefine how AIs learn and are trained. In that context, users can flag any problematic conversations on the apps and web browser.