Video games, cars, and blockchain technology are integrating to become a single metaverse matchup. All that was not possible until recently with advancements in these technologies. One company that specializes in the design of futuristic generations of electric vehicles, Independent Electric Vehicle (INDIEV), unleashed a new component in their introductory vehicle, the INDI One, at CES earlier this month.
The INDI One vehicle supports a new form of mobile blockchain. In every car, INDIEV aims to design the unit to enable it to function as a blockchain node. Thus, each INDI One sold is a node added to a chain expected to grow and evolve with more users in the long term.
Related: Boston Fed Announces Plans To Design a Blockchain 'Supervisory Node'
Andre Hudson, INDIEV Head of Design, explained to us how the new electric vehicles will operate and where he sees the company heading in the near- and long-term.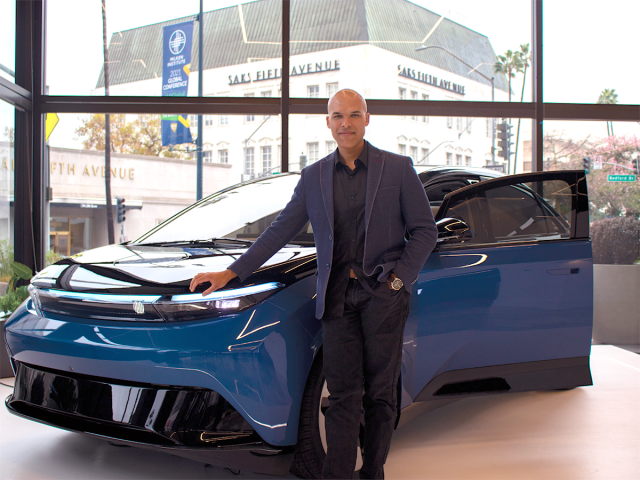 About Andre Hudson
Andre Hudson is an experienced design leader who has a proven history of design leadership and vision. He has managed to lead the development of highly successful concepts and vehicles in the current motor marketplace.
Hudson brings in a strong sense of design and art awareness, aesthetic acuteness, and team leadership. He is professionally trained in Surface Modeling, Alias Studio Tools, Program Management, Sketching, and Automotive Design.
E-Crypto News: What inspires you to manufacture the INDI Electric Vehicles?
At INDIEV, we're all about empowering drivers with the "You Do You" mentality. Through thoughtful design and technology, we aim to expand the horizons of how your electric vehicle can enhance your life and support your goals while on the move. 

 We developed our flagship vehicle, the INDI One, because we saw a disconnect in the software experience when consumers transition from using their computers and phones to getting into their cars. That's why the INDI One is the first electric vehicle equipped with a Vehicle Integrated Computer (VIC), a supercomputer capable of gaming, content creation, blockchain technology, and so much more. We saw an opportunity to bridge this gap and elevate what your vehicle can enable you to do with the INDI ONe. We see cars as more than just a mode of transportation, but as a device that can support and enhance your life.
E-Crypto News: Which are the game engine technologies that will be supported by your ecosystem?

The onboard Vehicle Integrated Computer is simply a PC running Windows operating system. Any program capable of operating in a Windows environment will be able to run in the vehicle. This means the all of the game engines running on PC now will be supported by our ecosystem.
 E-Crypto News: Which cryptocurrency transactions will your blockchain support?

In the Vehicle Integrated Computer, we intend to deploy a vehicle app platform where developers can create software to enhance the vehicle experience. Our blockchain would certainly support transactions on this platform. Forward thinking, one could envision pulling up to a parking lot and selling Wifi Signal to an otherwise signal free zone. Using services that are already currently deployed in real world environments, while powered by the INDI One's 5g signal and power source. We can't wait to explore this space, one step at a time.
E-Crypto News: What content can creatives develop on your platform?

From conversions as simple as making vehicle versions of already common apps to unique entry music when one sits in the driver seat. The are no real limitations to this space. What we can't wait for is the crowd imagineering to help us explore this space. We hope to enable this open environment by making all features of the vehicle controllable by a ECU and not related to safety uses to be able to be controlled by the VIC. This means more tools for the sandbox, and we hope our end users will enjoy that aspect of being able to customize their vehicle to their own preference.
 E-Crypto News: Can the vehicles be used for mining cryptocurrencies?

Anything a computer with connectivity can do, our vehicle can do. We certainly will issue our own token and blockchain to complement our vision of the vehicle, but the vehicle owner can option to do what they want with the technology in the vehicle. #YouDoYou.
E-Crypto News: What are the challenges that you have encountered when integrating blockchain with electric vehicles?

Distributed ledgers requires active node participation. We feel that it is quite necessary for our initial production batch to have quantities reserved for global regions to ensure active node participation at all hours of the day.

E-Crypto News: What is the driving range for your electric vehicles?
The INDI One has a 300 mile range and 410 horsepower.
E-Crypto News: How long will it take to charge these vehicles?
Around 45 minutes to an 80% capacity currently, but we may be able to improve on that number as it is dependent on the charging station itself.
E-Crypto News: What kind of batteries do you use and will they need replacement in the long term?
The INDI One is equipped with a modularized 95KW battery. (Need additional input on replacement.)
E-Crypto News: Are all your products and processes environmentally friendly?
INDIEV was developed to be conscious of the impact on future generations. Our supplier network provides recyclable materials with shorter production times, resulting in less energy and a lower carbon footprint.
E-Crypto News: How do you plan to resolve the impacts of severe weather (cold and extremely hot weather) on the range of your vehicles?
No issues in extreme heat as the battery is not affected, however for severe cold regions, we do have technology which will head the battery cradle on start up to get the best performance.
E-Crypto News: Can I manage my INDI vehicle remotely?
We have our own vision, and we hope others join us in this pursuit. Security should be paramount to this endeavor, and we will take careful steps on our way.
E-Crypto News: Which EV makers are you partnering with for the installation of charging stations?
We are still in the process of setting the plans for this aspect, so more information will be released at a later date.