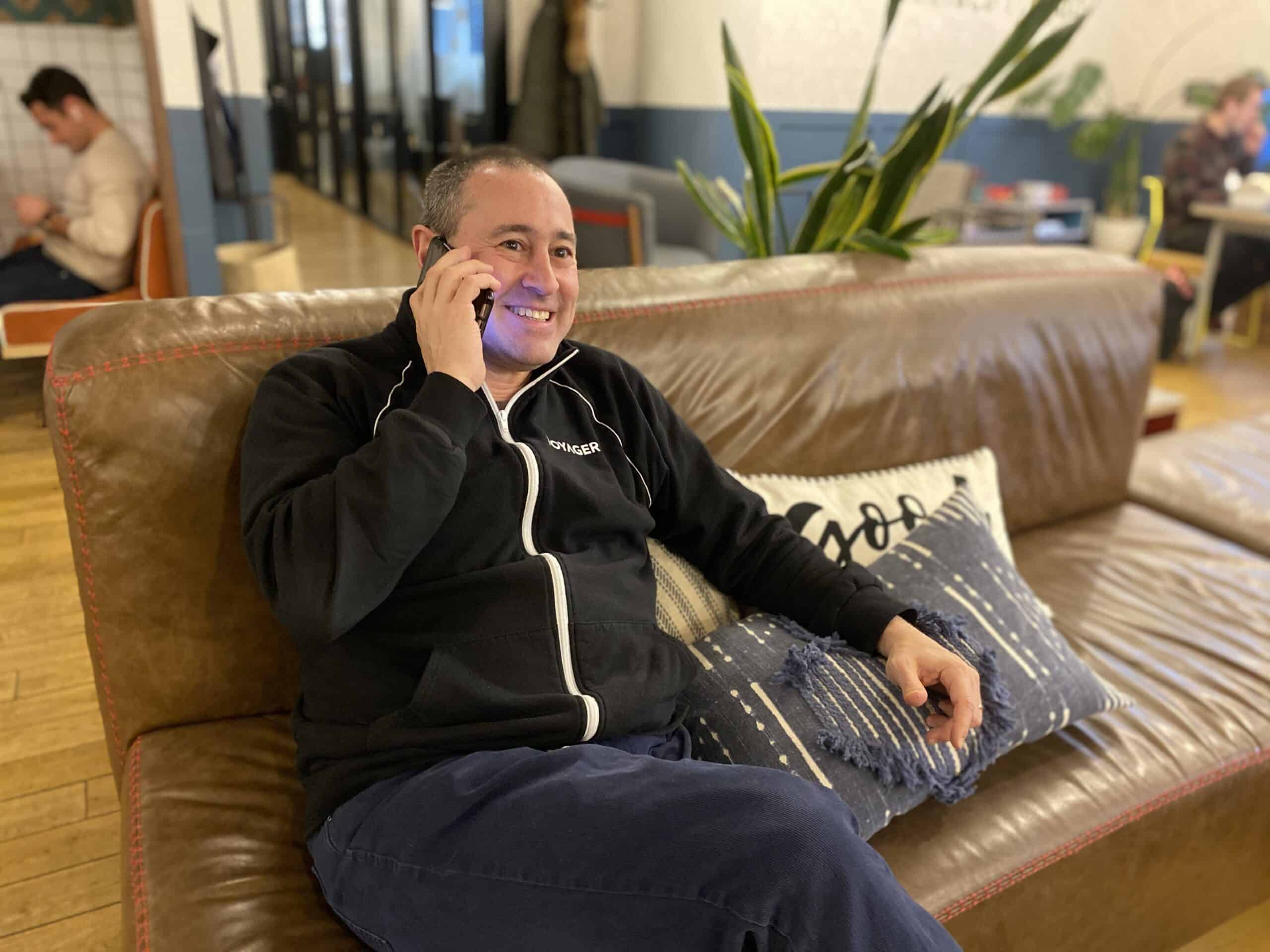 It had been a while since our editorial desk had reached out to Steve Ehrlich.
Since our last interview, Steve has placed Voyager Digital on an upward trajectory.
For those who don't know, Steve Ehrlich is the CEO of Voyager Digital.
Voyager Digital is a leading North American Crypto-asset broker that offers its services to both institutional and retail clientele.
Voyager recently listed the Avalanche (AVAX) token on its platform. It is a big deal because that was the first time that AVAX became available in America.
So, when we caught up with Mr. Ehrlich, he spoke about the AVAX listing and a few other things which are critical to the progress of the cryptospace as a whole.
When asked about the benefits of the AVAX listing, Steve was direct.
He said that "from our perspective, we think Avalanche is a groundbreaking smart contract platform that's really built for financial and decentralized applications. It's going to help usher in a new era of finance".
He was also optimistic about Avalanche. Steve said, "We're excited to have it and support its growth. There [are] a lot of things we could work [on] together and really grow with Avalanche".
Avalanche is stirring things up in the cryptospace with their financial "Internet of Things" concept. So much so that Voyager Digital's listing will open the token up to North American financial flows.
There will also be a positive net effect on Voyager Digital's image and status.
It also means that Voyager Digital has now taken its place among the heavyweights in crypto.
Steve Ehrlich was Bullish about Bitcoin Prices
Steve also weighed in on the recent Bitcoin price explosion. Bitcoin prices seem to have permanently crossed the $20,000 2017 price ceiling.
Steve indicated that things are different now. He said, " You know I think the market looks completely different today from what it looked like in 2017. We all remember 2017″.
2017 was essentially a bubble with so many projects coming into the cryptospace and solving few or no problems at all.
It led to many people thinking that cryptocurrencies are just a fad that will finish soon.
He continued, " I think what you're seeing today is the expansion of companies like Microstrategy, Mass Mutual Big hedge funds, Stanley Drucken Miller. All these people [are] coming into Bitcoin".
Steve also referred to the institutional inflows currently occurring into the Bitcoin market. He said, " there's a lot of support from institutions. They support crypto, blockchain, and Bitcoin. I don't think we will see a crash like [in] 2017 at all".
Ehrlich also spoke about the volatile nature of cryptocurrencies he said, " every asset has its ups and downs. I think in this case, it (Bitcoin prices) probably might retreat, but there's a lot more support than there was in 2017. So, I'd expect to see prices increase again. Our price expectation is 5x or 6x by this time next year".
It puts Ehrlich's optimal Bitcoin price between $100,000 and $120,000.
The institutional interest, which was something that he touched on briefly, will largely drive these prices. He said, " I think it [institutional inflows] is great. Adoption needs multiple parties to make it work. We have retail adoption. We're getting more mainstream retail adoption".
"And now with the institutions coming and growing I think that it is really good for the industry. It shows a long-term ability of Bitcoin to really be of significance and I think it is already but right now I think it is 1/18th of the market capitalization of Gold".
He continued, "I'd expect it to close that gap significantly because of the institutional inflows coming in".
Steve also alluded to the fact that persons of high net-worth are considering investments in Bitcoin. He said, "We're seeing a lot of high net-worth individuals move their assets from Gold to Digital Gold in the form of Bitcoin. So, we think that gap will close over the next few years".
Steve also revealed a new trend. He indicated that people now consider Bitcoin to be a form of digital gold. He said " I definitely believe at this point in time that Bitcoin looks and acts more like digital gold and a store of value than a true payment processing mechanism. I think that time will come.
Maybe it comes through bitcoin. maybe it comes through one of the stablecoins like USDC that we support".
The Cryptocurrency Regulatory Environment will have Issues
He hinted at many problems that beset Bitcoin and cryptocurrency adoption. He said "there is a little ways to go on that. There are a lot of hindrances especially on the US side especially about using Bitcoin as a payment mechanism and I think tax is one of those things (hindrances).
Every time you spend Bitcoin and you gain on it. It makes it (the transaction) a taxable transaction by the IRS. So, that causes aggravation and [is] is unsettling for a lot of people".
When it comes to the US regulatory environment, we all know how mixed signals have been sent by different US Government agencies. Steve said " I think the US regulatory environment is developing".
He continued "I think we have seen some things in the last week" in reference to recent US SEC actions within the cryptospace.
He continued " I think overall, the regulators are taking a very measured approach in how they oversee cryptocurrencies".
Steve also alluded to the fact that the US Government has made some progress in understanding what the cryptocurrency industry is all about. He said, "I think every day there's progress".
He pointed out that more government officials have taken interest in the crypto space. He said " I know that there are a lot of government officials congressmen, senators etcetera that spend a lot of time trying to learn [about] cryptocurrencies".
Ehrlich also indicated that members of the cryptospace have to play their part in encouraging adoption.
Steve said, "It's incumbent on all of us in the industry to help push that forward as well".
Cryptocurrency Adoption Helps Emerging Economies
When it comes to adoption by developing countries, Steve said, "I think that there's a lot of adoption to be had in those emerging countries because of how unstable their local currencies are".
He said I think it's an important aspect (balancing the local currency with the currency of the future)".
Voyager Digital will do Well in 2021
Talking about Voyager's performance in the last calendar year, Steve was happy. He said " We've had a really successful year. 2020 was a year of adoption. A year of us growing our customer accounts, a year of us growing our assets. We're excited about what has happened.
Our stock price has gone up quite a bit. Our token price has gone up quite a bit as we bring more and more utility to the token.
We expect to bring a lot more [utility] in 2021. 2020 was a really successful year for us but I think 2021 is going to be better. We have a lot of things planned our business is growing".
He further indicated that in a recent announcement Voyager had grown customer accounts from 5 million to 165 million.
Speaking about Voyager Digital's future in 2021, Steve was optimistic. He said " I know what we are going to accomplish in 2021.
We have set it out and we have been vocal about this. We will bring our services and products to Canada. We will bring our services and products to Europe. We will bring a debit card to the market.
We're thinking of adding margin accounts and stock trading to our applications".
Mr. Ehrlich also indicated that " we have a game plan. Our gameplan is written for 2021″.
As for the Altcoins Steve said "I don't get in the habit of prognosticating or picking any coins. I have my portfolio that I hold but I do think that there's a lot of projects that we can see in the marketplace.
We don't like to comment on [Altcoins]. We take a very balanced approach and just want to bring as many opportunities to retail [and institutional] traders".
He stressed the role that Altcoins play in the cryptospace. Ehrlich said "I think Altcoins are an important aspect of the overall crypto environment because there are some really great projects that are being done.
I think that there are opportunities for traders who do some homework and some research to make those choices on their Altcoins".
Steve also spoke briefly about Voyager Digital's Key Performance Indicators (KPIs) for 2021. He said that "the biggest thing that drives our business are our customers and the assets that our customers hold. Those are our two biggest KPIs".
As for his predictions concerning the general cryptospace for 2021 Steve said that
"I just see more adoption. More institutional adoption. More retail adoption. I think these things are going to accelerate. I think the price of Bitcoin is going to expand.
I think the price of the Altcoins is going to expand. I think 2021 is the real breakout year for cryptocurrencies".
The Cryptospace Needs Further Adoption
Steve also indicated that further adoption is needed to open up the cryptospace. He said "I think it comes back to adoption and getting people comfortable [with cryptocurrencies].
Companies like Voyager are trying to make this more open and not have it as a closed niche. That's why we execute trades across 12 [different] liquidity venues. Exchanges tend to be closed loop.
We're trying to make this an open loop environment for consumers".
Companies like Voyager Digital are always looking for novel ways of satisfying their customers. They make things easy and yet secure for both retail and institutional clients.
Steve has from all indications put Voyager Digital on the pathway to being one of the premier cryptocurrency brokerage firms in the world.
2021 will be an exciting year for cryptocurrencies and from the looks of it, Steve and Voyager Digital will be ahead of things when it comes to all things crypto.