Gaming using blockchain tokens is not a new concept. What's new in the crypto-space however is the fact that a major mainstream gaming company has launched its token.  Atari, one of the world's most popular gaming companies, has launched its token (ATRI).
The token gained public attention recently when Bitcoin.com recently announced the public token sale.  E-Crypto News caught up with Fred Chesnais, Atari's CEO, to talk about that and other stuff.
Here is what he had to say: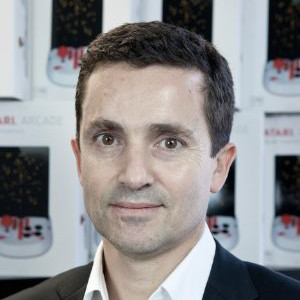 E-Crypto News:
1. Congratulations on your public sale! What are your intended goals concerning the sale?
The goal is to create a token of reference for the videogame and interactive entertainment industry that is available to as many users and platforms as possible.
E-Crypto News:
2. How do you think the listing of a Token by a Video Game giant will affect blockchain gaming?
We believe our long history and success in the gaming industry has provided us with unique insights into the hurdles of mass adoption as well as opportunities to make games more crypto-friendly; and we're looking to leverage that to extend the reach of Atari Token to as many games and platforms as possible.
E-Crypto News:
3. Do you have any plans to run an independent blockchain or distributed ledger in the future? Please give us the reasons for your answer.
Not yet, this is too early for us. We keep this idea as part of our roadmap, but we have not made any formal division yet.
E-Crypto News:
4. In your opinion, do you think that gaming will bring on the mass adoption of cryptocurrencies? Please give us the reasons for your answer.
Gaming is one of the most viable use cases for blockchain and we're often seeing trends of gamers being early adopters of technology, so we definitely see Atari token as a way to bring gamers into the world of blockchain as a way of mass adoption.
E-Crypto News:
5. What are your thoughts on cryptocurrency regulation?
My thoughts are simple: there will always be regulations. Our goal is 1/ to stay compliant; 2/ to try to anticipate upcoming regulations. Do I have my own thoughts on what type of regulations I would like? Yes, of course! But that is another story 🙂
E-Crypto News:
6. In which direction do you think the relationship between blockchain and gaming is going?
When you have a worldwide connected population growing from 4 billion to 8 billion, you will see more and more integration and worldwide adoption, therefore more and more opportunities to grow a business.
E-Crypto News:
7. What opportunities exist for developers within the Atari ecosystem?
There are multiple opportunities, from token integration and use of the Atari brand and games (under license) to develop new games and new experience. Developers can contact us at token@atari.com!
E-Crypto News:
8. Are there any other plans to list the token in other exchanges? Please give us your rationale behind your answer.
That is part of the plan. We cannot comment on specific conversations, but we will make an announcement if/when we have another deal.
E-Crypto News:
9. Where do you see the crypto space in ten years?
You may not know this, but I personally spend a lot of time in Africa, working on mobile gaming, mobile money, e-money. The blockchain/crypto space is here to stay, and I believe the next wave of 4 billion inhabitants of this planet that are going to get access to a solid internet connection will embrace blockchain and crypto because this will be the only way for them to earn a living.
E-Crypto News:
10. If you had three wishes and a genie that could make them come true what would your wishes for the crypto space be?
The highest possible level of security; More people having access to a better internet connection and better equipment, because this is a MUST if you want to earn a living; a personal ID that is recognized everywhere.