There seems to be a revolving door between Giftcards and Cryptocurrencies. So much so that premium Giftcard retail platform E-Gifter recently entered into a partnership with Coinflip. Coinflip is one of the world's largest Bitcoin ATM chains.
E-Crypto News caught up with Daniel Polotsky, Co-Founder, and CEO of Coinflip to talk about this. Here is what he had to say.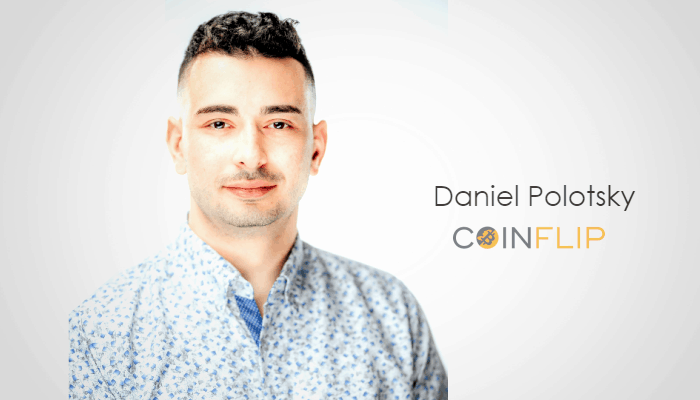 Daniel Polotsky, Co-Founder/CEO Coinflip
E-Crypto News:
Congratulations on your new partnership!  What benefits do members of the cryptospace gain from it?
People will be able to buy gift cards with different cryptocurrencies at over 250 various merchants. The ultimate goal of bitcoin is to become a mainstream currency, and our partnership with eGifter means that our customer base can use bitcoin as such.

They can buy gift cards from different merchants to use at those merchants through an indirect bitcoin transaction. This will help people see bitcoin as more than just an investment vehicle; they can now use it to purchase something.

We also believe that as merchants see more uses of gift cards bought with bitcoin, they will also consider using bitcoin more directly. 
E-Crypto News:
2. The giftcards ecosystem is growing in similar ways as the cryptospace.  In your opinion, what impact will both industries have on consumer commerce?
Gift cards and bitcoin can both be utilized by the cash economy as a way for them to transact with merchants online. We believe that bitcoin is a lot more versatile and can replace a gift card's function if more merchants were to accept bitcoin directly.
E-Crypto News:
3. Are there any regulatory hoops that you had to pass through to get approval for the partnership between Coinflip and E-Gifter?
CoinFlip is just an affiliate with eGifter, and eGifter handles all transactions and backend of the gift card purchases, making it very easy to integrate.
E-Crypto News:
4. Still speaking about regulation, what steps can regulatory bodies take to enhance regulation of both industries?
Although there are similarities between gift card and crypto regulations, there are even more differences. CoinFlip believes that KYC/AML is very important. We are always ensuring that our policies are up to date with regulations and respect our customers' rights. We try to make our ATMs as inclusive as possible.
E-Crypto News:
5. How do you think this partnership will increase cryptocurrency adoption?
This will help people see bitcoin as more than just an investment vehicle; they can now use it for something. We also believe that as merchants see more use of gift cards purchased with bitcoin, they will also consider accepting bitcoin more directly too.
E-Crypto News:
6. What steps have you taken to prevent fraudulent transactions on the Coinflip platform when buying giftcards?
Since this partnership is so new, we have not seen any of these transactions yet. However, if we see a trend of this, we will address it as necessary.
E-Crypto News:
7. Will purchases of giftcards be limited to your ATM locations only or will they be available online? In what ways do you think that you can spread the enthusiasm of giftcard purchases using cryptocurrencies within the cryptospace?
The gift cards will initially only be available online at giftcards.coinflip.tech; however, we are looking into adding it to our ATMs in the future. With the addition of a CoinFlip ATM, mom-and-pop shops will gain foot traffic from both people who want to buy bitcoin and people who wish to purchase gift cards. This will be an excellent option for anyone in the cryptosphere to spend their cryptocurrencies conveniently.
E-Crypto News:
8. How do you intend to stay ahead of the competition? Any takers?
CoinFlip ATMs have the lowest fee guaranteed program and 24/7 customer support through phone, text, or email. CoinFlip's fees are 6.99%, almost half as low as the industry standard, and we match and beat any competitor that claims to offer less.
E-Crypto News:
9. Are there any other models that you are considering regarding this partnership? Care to spill the beans?
We hope to add gift cards to our ATMs soon, meaning that over 1000 restaurants, gas stations, and mom-and-pop stores will gain extra foot traffic from people looking to buy gift cards. 
E-Crypto News:
10. Say you had a crystal ball, what do you see happening in the world of consumer commerce and crypto currencies. Please be as elaborate as possible!
The crypto space is currently going through a DeFi craze, but I think the bigger picture in the next few months might be the amount of huge Fortune 500 companies buying bitcoin as a safe haven asset against inflation. The prime example is MicroStrategy's purchase of $425 million in bitcoin; however, there will likely be more, including ones that are currently buying it that have not disclosed it publicly.