DChained focuses on education and insights into cryptocurrencies and their underlying technologies, it has always been at the forefront of their adoption.
Now that cryptocurrencies have gone mainstream and become a part of pop-culture, accurate knowledge about the cryptospace and the opportunities that exist within it are critical.
E-Crypto News reached out to Edmund McCormack about this and other issues. Edmund has been one of the heavyweights of crypto.
He is also the founder and CEO of DChained, a cryptocurrency education, and analysis site that offers some of the greatest educational tools available.
Here is what he had to say.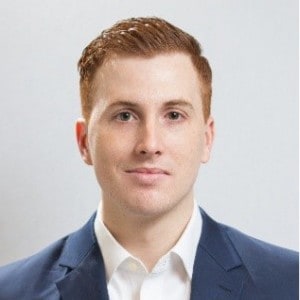 E-Crypto News:
How did you get involved with cryptocurrencies and their underlying technologies?
I have been involved in cryptocurrency and blockchain since 2012. The initial draw was the technology and how it can address glaring issues with the current internet model: 1) censorship by governments (i.e. the internet experience of someone in China is much different than you and I; 2) relentless data breaches of governments & corporations by hackers; and 3) lack of consumer data protection & privacy.

The latter became tangible for me in late 2015 when I was working at Apple and I saw Tim Cook appear on Charlie Rose to publicly speak about Apple's rapidly-growing stance on user privacy.

Personally, it meant that my days were numbered at Apple as they moved to distance themselves from the advertising world; however, I also realized that the current internet model – where companies & governments store your data on their servers would need to be disrupted.

Not only does blockchain offer a solution to this issue, but it also creates a foundation that could help propel advancements in Web3 and Artificial Intelligence.
E-Crypto News:
2. What do you think are the core drivers of growth for Cryptocurrency prices at the moment?
There are a few key drivers to the current growth in crypto prices, including: 1) appreciation post-Bitcoin halving, 2) institutional investors, and 3) decentralized finance (DeFi).

Aside from the post-halving price surge, which we've seen in previous cycles, it will be interesting to see whether institutional investors shift their focus from accumulating Bitcoin and Ethereum (typically viewed as "safer," initial investments in crypto) to DeFi. With DeFi approaching $25B in TVL, it may be inevitable that institutional investors expand their investing strategy in the crypto market.

At the same, it's worth watching if DeFi projects shift greater focus on Polkadot which offers solutions to Ethereum's scalability and high gas fee issues. 
E-Crypto News:
3. Which cryptocurrency token has the greatest potential to upstage Bitcoin?
Ethereum. The upcoming launch of CME Ethereum futures will draw in more institutional investors, while ETH staking continues to grow as ETH2 evolves, which could lead Ethereum to new heights in 2021. 
E-Crypto News:
4. Do you think that there will be profitable opportunities like we have had in the past decade for new Altcoins?
In short, yes. However, growth in price and value will be driven by utility and potential for disruption. High returns could arrive by selecting technologies and projects built on existing blockchains, instead of trying to identify the next "Ethereum killer."
E-Crypto News:
5. Do you have any price predictions for cryptocurrencies in 2021? Please, tell us about it!
I would not be surprised if we saw Ethereum eclipse $10,000 by the end of 2021. Ethereum has a few driving forces that could find its demand far outstrip available supply, including: 1) increasing participation in staking (ETH locked up), 2) continued growth of DeFi, and 3) EIP-1559, where gas fees are used to burn supply. With institutional investors already exposed to Ethereum, a steadily declining supply could draw in more "smart money." 
E-Crypto News:
6. What exactly do you guys do at DChained?
Dchained is an education platform that is structured to guide people, regardless of experience, along an easy-to-understand pathway that offers them all of the information and tools required to learn and succeed in investing in cryptocurrencies. 
E-Crypto News:
7. How exactly does education about investments affect cryptocurrency adoption? Do you think one problem with Cryptocurrency adoption is a lack of education? Please tell us the reasons for your answer.
Warren Buffett explains that risk comes from not knowing what you're doing. The same philosophy relates to crypto-investing.

Experienced crypto investors witnessed this first-hand when newcomers – including family & friends of mine – came into the market at the height of the last bull run in 2017.

Many threw caution to the wind and gambled on investments that they didn't understand from a technical or financial standpoint.

The result was devastating for these individuals and fueled public skepticism by the financial institutions and well-known investors.

In the last year, interest in cryptocurrency has been at an all time high – as frequent news reports have followed Bitcoin's impressive gains.

Despite that, most people don't know how to invest in crypto, or even what it is, thus creating massive missed opportunities for retirement income and investment diversification. 

A simple Google search for "Crypto Investing 101" returns a wide range of education options, from articles in major media outlets and guides on cryptocurrency websites, in addition to many so-called "experts" waxing prophetic on YouTube channels.

Merely wading through these choices is not only time consuming, but also reveals major flaws in content; oftentimes the content is either  incomplete, written at a complex level, or even delivered from questionable sources.

This lack of education and varying educational resources is perhaps  a reason why 62% of US adults own stock, but a 2020 survey revealed that only 15% own cryptocurrency, despite financial advisors insisting that crypto should be part of every properly diversified investment portfolio.

And therein lies not only a huge opportunity for the cryptocurrency sector itself, but also for an organization that could make crypto investing understandable and actionable for the general public. 
E-Crypto News:
8. How can people who are interested in getting to know more about cryptocurrencies and their technologies get involved with the industry?
There are three ways newcomers can get involved in the industry: 1) by developing a basic understanding of the foundations of crypto and how to get started through online courses and materials (DChained has a video course dedicated to this), 2) through adoption of crypto-based offerings from trusted financial institutions and services (i.e. PayPal, Bitcoin Rewards credit cards, Bitcoin ETFs, etc), and 3) by building awareness of income-generating opportunities on platforms that are easy-to-use platforms such as Coinbase and Gemini in the US.
E-Crypto News:
9. Do you think that blockchain and other distributed ledger technologies (DLTs) will replace centralized systems? Please tell us the reasons for your answer.
I do believe that blockchain and other DLTs will replace centralized systems over time. From a security and privacy standpoint, there is too much risk with storing sensitive information on centralized systems.

Whether it's increased consumer privacy from Europe and the newly Democrat-led Senate OR continued reports of hackers infiltrating government agencies, we will see greater shifts in the private and public sector to seek the security and privacy afforded by blockchain. 
E-Crypto News:
10. What are your thoughts on cryptocurrency regulation? Do you think the US is catching up in this regard?
It has been an exciting year for favorable crypto regulation, and the future is looking optimistic with key individuals who will fulfill top positions in the Biden administration. Gary Gensler, who will now lead the SEC, has many crypto investors excited.

With growing interest in Bitcoin ETFs and US Central Bank Digital Currency, Gensler will have direct influence on regulations that could fuel crypto's adoption in the mainstream over the next 4 years. 
E-Crypto News:
11. If you had three wishes and a Genie that could make them come true what will they be for the cryptospace?
The three wishes are:
To know which small cap projects will 1000x+ in the next 12 months and when will it happen

To change taxation laws that can inhibit adoption and usage of cryptocurrency, ranging from day-to-day purchases to staking 

To know, once and for all, what is going on with Tether
E-Crypto News:
12. Where do you think the cryptospace will be in ten years?
There are two areas in today's society that could be impacted the most in 10 years: cash and law. In regards to cash, we are already experiencing a seismic shift in the number of people who are opting for mobile and cashless payments given precautionary measures taken with COVID-19.

These payment options have been popular with Gen Z and Millennials for quite some time, and I do not foresee this trend reversing. With that said, it would be surprising to not see digital legal tender to match our increasingly digital lives in the US. 

In terms of law, it will be interesting to see how local and federal jurisdictions address and uphold contractual obligations or asset valuations established by smart contracts or blockchains.

There are already steps being taken to help financial institutions abide by compliance requirements, such as KYC and AML; however, it becomes more complicated as international jurisdictions and property rights are brought into question.