DappRadar a leader in the decentralized finance (DeFi) space has reached a point of maturity.
It has reached the point where it has come into its own within and outside the cryptocurrency space.
It, therefore, comes as no surprise though as the decentralization of finance has been long expected but, there existed before now no mechanism for its expression.
So, when leading DeFi app store DappRadar released its recent Dapp report on ShibaSwap, we were intrigued to find out more and reached out to them on the contents of the report and more.
DappRadar Co-Founder Dragos Dunica was kind enough to chat with us on the various issues we had on our minds.
Here is what he had to say.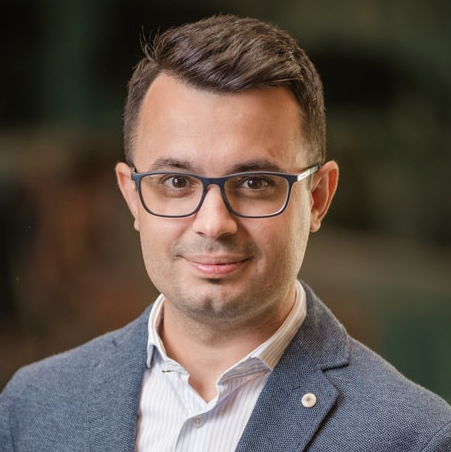 E-Crypto News:

What is the single most important problem that faces the decentralized finance (DeFi) industry today? What are probable solutions to this problem?
Pinpointing just one is difficult, but there are three issues that come to mind.

A lack of user-friendliness in terms of the UX design of DeFi platforms has sometimes hindered mass adoption.

This is because all of these products were created by the DeFi community for the DeFi community, who already have the know-how to navigate the space.

However, as the DeFi community welcomes new members, this is gradually changing – we're educating these newcomers and making products more accessible.

The uncertain regulatory environment is also a problem — until regulation catches up, self-regulation will be key.

With so much wealth being generated in crypto over the last couple of years, regulators need to find solutions that will guarantee safety without killing the goose that lays the golden egg.

Trust levels are also not as high as in traditional banking institutions. Due to this, some of the first questions people ask when entering DeFi are "is it safe? Will I lose my money?"

However, this trust issue could be solved to a large extent through hands-on training to walk newbies through the complexities of setting up a blockchain wallet and using token swaps.
E-Crypto News:
Can you tell us the reasons behind your focus on Shibaswap in your latest report?
Despite Shiba Inu having started out as a humble experiment in decentralisation and democratic community governance, and once being thought of as "just another dog meme coin", ShibaSwap has risen to become one of the top Decentralised Exchanges.

Its current Total value Locked (TVL) represents almost 2% of the Ethereum DeFi space — which is no mean feat in such a competitive market — and it has a number of appealing features that are attracting users.

Aside from its promising financial outlook, ShibaSwap's community and social aspects look impressive. It has achieved very solid reach across social media channels, with a larger Twitter following than other DeFi apps like Uniswap and Sushiswap, and it has a team that has been very quick to fix any issues in terms of security.

As such it warranted a deeper analysis and deserved to be treated as a serious product, now that it has moved past its meme coin status.

Additionally, the meme coin sector is truly fascinating to observe, as waves of young investors pile into projects based on nothing more than speculation and the ability to leverage a community to drive price.

E-Crypto News:
What are the unique features of the Shibaswap ecosystem that make it different?
One unique feature of ShibaSwap is that it relies on three different tokens (SHIB, LEASH, and BONE).

The tokens are well-designed and complement one another.
E-Crypto News:
As we enter summer, what are your predictions for the decentralized finance (DeFi) ecosystem?
The data speaks for itself — DeFi is on a serious upwards trend, so unless some cataclysmic event occurs, it will maintain this trend over the coming months.

We've pushed through the hype stage now, so the fact that trading volumes keep on growing exponentially is a good sign. That said, and as with any industry that matures, growth will eventually stabilise in terms of pace.

The multi-chain paradigm is one we have theorised based on the rise of alternative platforms such as Binance Smart Chain and the Polygon Network, which have attracted huge user numbers into DeFi with low fees and fast transactions.

Now Ethereum fees have normalized, and with the EIP1559 update it will be fascinating to see whether investors return to Ethereum DeFi dapps or continue showing loyalty to the alternatives that thus far have been doing a fantastic job.

Another vertical to watch is the merging of DeFi and gaming — Game-Fi. The gamification of complex financial services has proved an excellent way to onboard the masses, with dapps like CryptoBlades attracting over 650,000 active wallets in the last 30 days.

Arguably this has become far more possible with the introduction of fast and cheap networks like BSC and Polygon, where small, necessary game transactions don't cost much.

One very strong case for this is Axie Infinity switching its operations to its custom Ronin sidechain and now seeing all-time highest success in users, value and growth.

Axie is a play-to-earn title that is really setting a high bar for its competitors.

E-Crypto News:
As new smart-contract compatible blockchains and allied solutions come into play, what are your thoughts on the growth of the DeFi space?
These developments signal that there is more competition in the space, which will inevitably benefit customers seeking the best deals, highest returns on their investment and the lowest fees.

Moreover, it's about who can sustain the competition, continue to attract users and value, and come out fighting.

E-Crypto News:
Do you think we are likely to see an "Ethereum killer" within and around the cryptocurrency space? Please, can you tell us the reasons for your answer?
The idea of an Ethereum killer has long since existed but in reality, it is far more likely that complementary services (such as the Polygon sidechain) will simply reduce the burden on the Ethereum network allowing it to focus on its core services.

Ethereum can be thought of as the umbrella company that provided the space with a usable smart contract platform. As the first mover, it's inevitable that it will need to be updated and complimented.

As more and more competition comes online in the crypto space, Ethereum will no doubt lose some users but will retain many of its early adopters and arguably those users that want to transact high-value trades.

Moreover, the future of mass adoption doesn't rely on users being loyal to any one platform or network but instead being able to use the services provided without massive technical restrictions.

In a nutshell, in the future nobody will care what network a dapp runs on — it will be judged on its UX, speed, safety, and fees.
                                                                                          E-Crypto News:
How did you get involved with cryptocurrencies and their allied technologies?
I have long enjoyed gaming and exploring crypto in my spare time, as has my fellow co-founder Skirmantas — those were shared interests that led to us meeting online a few years ago.

When CryptoKitties came into the spotlight in 2017, we saw that it offered the very real benefit owning the assets you earn while gaming.

This ability for anyone to monetise their gaming assets through NFTs signalled a revolution that challenged traditional gaming monopolies.

With DappRadar,  we set out to create a platform gives the community the tools and data to empower themselves in this way.
E-Crypto News:
How has decentralized finance (DeFi) grown over the years?
DeFi has seen explosive growth over the past year in particular: since May 2020, the TVL of DeFi platforms has grown from under $1 billion to $88 billion at its peak in May this year.

This can be attributed to the incredible levels of innovation that have occurred within the DeFi space.

New products and token models have been pushed out thick and fast, with the quality of many of these innovations being such that the future of the sector looks highly promising.

Mainstream platforms such as Crypto.com and Coinbase are helping onboard users by providing slick UX to the crypto space at a time when people are most interested.

Furthermore, they're educating people on topics such as staking and passive income creation through holding cryptocurrencies, arguably an area of great interest to those that don't want to deal with huge volatility.

The DeFi industry, once reserved for developers and those with a deep understanding of finance, has been opened out to almost anyone with a smartphone and a bank account.

This evolution has invited traditional investors and more ordinary people into the crypto space, where they are trying out services like stablecoin staking, where they can earn up to 10% on their savings in a safe manner.

It has grown to be inclusive of most people and it has further to go.
E-Crypto News:
What do you think is the role of generation Z in the growth and evolution of the DeFi space?
Generation Z is at the forefront of the DeFi space, and the cryptocurrency space more broadly.

For this digitally savvy generation, who have grown up at a time of rapid technological advancement in everything from social media to smartphones, the appeal of decentralized and innovative new currencies is not hard to see.

Research by the student website UNiDAYS even shows that around one in four students are invested in crypto.

That Gen-Z are the driving force behind crypto is also exemplified by my fellow co-founder, Skirmantas Januškas, who is 24.

Skirmantas became involved in the crypto and dapps space in 2017, and quickly came to love the friendliness, constant innovation, and democratic values of the community, such that he went on to found DappRadar in 2018.
                                                                                           E-Crypto News:
What kinds of functionalities should we expect to see within and outside the DeFi space in the next few years?
There are several key developments to watch out for.

Firstly, complete wallet management and analytics are on their way. Users are keen to control their destiny and financial outcome, and crypto investing offers a way to do so.

It has removed middlemen from the equation and therefore removed fees associated, putting more money back in the pockets of the investor.

More compatibility between chains will be a very significant development.

We are seeing popular exchanges add functionality to allow users to switch between BSC, Matic and Ethereum networks, but with a growing number of chains and dapps, it will be important for dapps to be inclusive and most of all provide a slick UX for users to easily glide through the networks.

 A rise in AI-powered trading tools is expected, with the power to crunch large data sets and build predictive models for trading. We are already seeing this occur, just not on a massive scale yet.

Social trading will grow, of the sort that is currently seen on platforms such as eToro.

Successful traders will leverage their knowledge and feed it out to less educated investors for a direct reward and possible ongoing fees from the people they assist.
E-Crypto News:
Please, can you tell us more about the role that organizations such as DappRadar play in ensuring a safer DeFi space?
DappRadar gives people the data and insights to safely navigate the crypto space, warns of any scams we identify and generally aims to educate the public via our content.

Being able to identify a scam is a difficult task, as sometimes a project isn't a scam, but simply a bad investment opportunity.

However, DappRadar is doing its utmost to provide users with up-to-date and honest data, while guiding and educating them on their journey.
E-Crypto News:
What kinds of DeFi projects provide utility into the next generation that have been listed on DappRadar?
At DappRadar, we have distinguished a couple of crucial trends in the blockchain space: the multi-chain paradigm and play-to-earn gaming, which are tied in with DeFi.

The first generation of DeFi allowed users to swap tokens on one blockchain. Now, thanks to bridges, you can swap one token across different blockchains.

This process will only become better, faster, cheaper and easier. On top of that, play-to-earn gaming shows that DeFi doesn't need to be limited to liquidity providing, lending and token swapping.

Blockchain games with a built-in token economy are basically becoming a bit like gamified DeFi platforms, combined with an NFT marketplace.

Gaming, DeFi, and NFTs are blending, and that will bring all kinds of interesting mechanics to the market.
E-Crypto News:
Where do you see the DeFI space in the next decade?
I see it going from being a cutting-edge innovation to an ordinary part of everyday life, in a similar journey taken by technologies such as, for example, the internet.
E-Crypto News:
What uses other than social do you think memecoins can have in the wider cryptocurrency space?
Memecoins aren't serious investment opportunities until they are. These are volatile assets that are only as strong as their community and their developers.

After the successful bullrun for DOGE, other projects have risen. SHIB is the best example, but there are dozens that have also gained prominence.

Community is key: when a community starts offering services tied into a token, then there's place for adoption and wider use in the crypto space.
E-Crypto News:
How has social awareness created engagement within the DeFi space? How do you think social awareness can foster the mass adoption of cryptocurrencies?
DeFi is all about social awareness and democratizing finance.

It was spurred by the realization on the part of its creators that a centralized system is not the way to equal opportunities.

 Decentralized services, in general, allow users to participate and be a stakeholder in a platform.

Those who invest in a token will align as a community in making their assets grow in value.

This can be done through promotion, but also by creating additional services. Social awareness is part of that entire process.

In addition, we've seen the negativity surrounding NFTs and their impact on the environment.

This teaches us that there's also a bigger picture we need to look at — people need to learn about the tech, the implications and how to use it in an ethical manner.
E-Crypto News:
What are your thoughts on the life-size influence of individuals on cryptocurrency prices?
Crypto is bigger than any individual — it's very much about communities.

Some wealthy individuals can move the market, but the market can also move against them.

The more people move into crypto, the more resilient the market becomes against noise from outside.

Even though crypto trading remains a volatile market, there seems to be a better understanding of decentralization and its fundamentals.

Influencers playing the market should be careful, as the market can also play them.
E-Crypto News:
What metrics do you use to define DeFi project viability? How can you expand on these metrics?
There are a number of different metrics that we use to define DeFi projects.

Firstly, there are financial metrics, both in terms of traditional metrics (such as amount raised through funding rounds) and blockchain metrics (such as Total Value Locked and Unique Active Wallets).

The levels of engagement and number of followers across social media platforms are also an important metric when it comes to evaluating DeFi projects, as well as the security score from independent auditors such as Certik.

At DappRadar we are continuously on the lookout for new ways to evaluate DeFi projects.

New protocols and new types of users will bring new ways to measure success, either driven by many connected wallets, the number of transactions, TVL or other metrics.
E-Crypto News:
Using Shibaswap as an example, what kinds of things must project developers do to improve the chances of adoption of their projects?
There are a couple of things that stand out as being important: user experience, education and novelty.

Developers need to realize that a mass audience isn't as educated about crypto as they are.

Education, marketing and repeating messages are therefore very important on the road towards adoption. However, from the product perspective, developers should also realize they need to add novelty.

Without innovation, nobody will stand out.

Sure, not every experiment will work, but as soon as you have a base product, you need to launch some balloons and discover what works.

ShibaSwap used a very unorthodox and original approach to launching their product and building their community.

They launched their token on Ethereum late last year, a fair launch that meant that their token had hardly any value at all.

However, as the community grew, the token gained value and even made headlines.

As a result ShibaSwap already had a SHIB token community before their product launch. I would not necessarily want to prescribe that other developers must use the exact same approach.

However, what is certainly true is that trying something new can pay off very well. Community-building is very important, and is key on the road towards mass adoption.
E-Crypto News:
Do you have any secrets to tell us? Care to spill the beans?
Over the last few months, we've introduced quite a few features that allow our users to instantly and seamlessly react to the data we provide them with, including the token swap function and our portfolio tracker tool.

In addition we've launched a fiat on-ramp, providing an easy way to start trading tokens. While I won't spill the beans on what's to come, it will be in this same vein.

And of course — even more data and even deeper analyses.
E-Crypto News:
If you had three wishes and a Genie that could make them come true, what would they be for DappRadar and the DeFi space?
We don't need a genie here, just to keep doing what we're doing.

DeFi is all about individual ownership, and that includes ownership and responsibility over what we're building and how we're building it.

Relying on a genie to help us out would be like relying on some centralised all-powerful entity, and that's exactly the opposite of what we're about.

We'll keep building, expanding our services and introducing people to the world of decentralized finance.