Bitcoin hit $12,000 before a flash crash, Ethereum rose to $420 and Ripple rallied to $0.32
Bitcoin hits $12,108
At the beginning of July, Bitcoin was stuck in a rut; unable to crack resistance at $9,400. However, the top cryptocurrency rose sharply towards the end of the month, spiking more than 17% in a week to break above $11,000.
The price then rose to $12,108, with bulls losing their grip shy of a push to historical quarterly high of $13,600, last reached at the same time in 2017. The bears pushed BTC/USD 13% lower on Sunday, down from highs of $12,108 to lows of $10,600.
Overall, Bitcoin rallied 24% in July and closed the month 57% up year-to-date.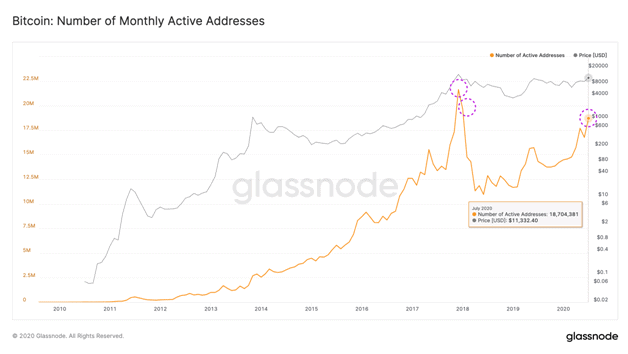 Ethereum price spiked 50% to hit $420
Ethereum was also a big story this past week. On its fifth anniversary, Ether jumped from lows of $280 to reach a two-year high around $420.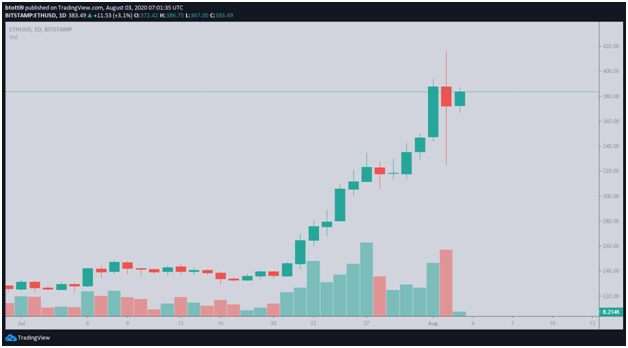 The move marked an upward spike of 50% in a week. The second-largest cryptocurrency could also see more upsides given the frenzy around decentralized finance, although a pullback could materialise before another surge to new highs.
According to Unfolded, 22.2% of miner revenue came from transaction fees in July. Up to 72% of Ethereum wallets were in profit on Friday; which has now increased to 76% as current prices have hit around $385.
XRP price nearly 40% up
Ripple's XRP reclaimed its status as the third-largest cryptocurrency by market cap via a spectacular run over the past seven days. XRP market cap now stands at $13.4 billion. XRP/USD value has gone up by 40.8% over the past seven days, jumping from a low of $0.21 to $0.32.
At the same time, wallets holding more than one million XRP rose to 846 (up by 3.7%) on Saturday. While Ripple's price shows no signs of slowing down with a 3.3% upside on the day, seven whales have since sold off their positions.

XRP consolidating above its previous resistance area around $0.28, so finding support above $0.30 in the short term will lay the foundation for a test of $0.35, its year-to-date high.