The sweet spot for PC gaming, 1440p high refresh monitors are the most popular category on the market and still growing. This can be explained because in the last year prices for 1440p/144Hz monitors have come down considerably and today you can buy some excellent value options between $250 and $350. We found it really hard to choose between two excellent monitors in this category, so we'll present both and leave the final decision to you.
Starting with the higher priced item, the ViewSonic VX2758-2KP-MHD has a terrible name, but it's such a great value choice. For $320 it offers a 27-inch 1440p 144Hz IPS panel. We get many benefits from the IPS tech, including great color performance with excellent factory calibration, decent contrast and brightness, wide viewing angles, a nice flat panel, and superb uniformity.
On top of that, there's the obligatory high refresh rate for gaming with adaptive sync regardless of your GPU, but we also get great response time performance for a relatively low motion blur experience. The panel used isn't as fast as the latest nano IPS panels used in premium monitors like the LG 27GL850, but the mid-range experience we get from this ViewSonic monitor is still good for gaming.
At 144Hz using optimal overdrive modes, we're seeing a ~4.4ms average response time with a small amount of overshoot. Performance isn't as good at lower refresh rates, where it falls back to the pack a bit, but we still get great response time compliance for a true 144Hz experience, and no dark level smearing. Input lag is also outstanding. The VX2758-2KP-MHD is not perfect, as it lacks height adjustability, backlight strobing and the top-end performance of the best IPS displays, but right now there's no better monitor for around $300.
On the more affordable side, once again we turn to AOC to recommend either the AOC CQ27G1 or AOC CQ27G2, depending on what is available in your region and at what price, with the CQ27G2 being the better of the two monitors. Right now, only the CQ27G1 is available in the US, but for just $250 it's a great buy.
The CQ27 series are 1440p 144Hz curved VA panels with a 27-inch size, so there are a couple of downsides compared to the more expensive Viewsonic IPS option. Curved panels come down to personal preference, and personally I don't like them for 16:9 displays, and uniformity can be questionable. VA also tends to be a slower technology than IPS and especially with 1440p monitors, tends to suffer from dark level smearing. At the same time, you get 2-3x the contrast ratio of IPS monitors, making these VAs ideal for those that game in dark environments.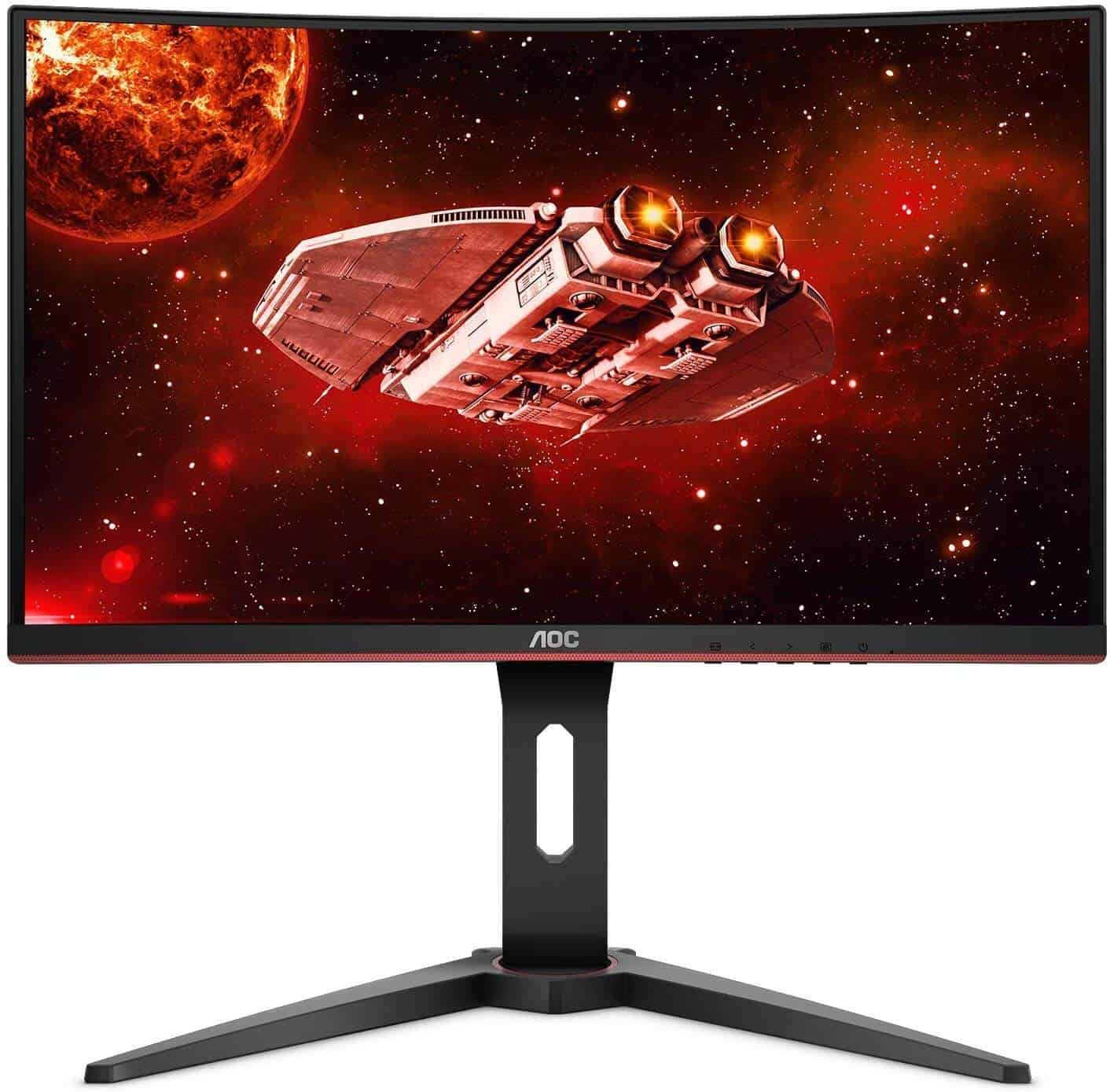 Generally speaking the AOC CQ27G2 doesn't perform as well as the ViewSonic VX2758-2KP-MHD, but response times aren't terrible and we still get a borderline true 144Hz experience. While performance figures may not excite speed demons that demand the best response times, it's far from a bad panel at just $250. We also get a height adjustable stand, acceptable color performance, great contrast and low input lag, with overall brightness being one of this monitor's weaker points.
Both the AOC CQ27G series and the ViewSonic VX2758-2KP-MHD deliver fitting performance at their price points. As for other options, if you desperately want IPS and 1440p at $250, your best bet is the Pixio PX275h, although you'll be limited to just a 95Hz refresh rate. It's a good monitor at a great price, but most gamers will be better served with the higher refresh of the AOC.
The LG 27GL83A is also worth exploring as a faster upgrade to the ViewSonic VX2758-2KP-MHD if you can afford it. It's priced around $380, which is a good price for what it delivers, but starts to feel less "budget" and more "mid-range". If you want a larger monitor, there are no amazing options in this price range, with one of the better performers being the LG 32GK650F. It relies on a flat VA panel though generally we'd recommend sacrificing a bit of size to go with the ViewSonic IPS instead due to its better performance.
If you are interested in an affordable 1440p 144Hz IPS gaming monitor, simply buy the ViewSonic VX2758-2KP-MHD, if you can find one. This is a popular budget monitor that is often out of stock, but at $320 offers unbeaten value.
Naturally, the VX2758 doesn't offer the same performance as our best IPS monitor choice, the LG 27GL850. It uses a cheaper panel, so it ends up providing more mid-range to entry-level performance. But it's still quite good, with best case response times of around 4ms and an average throughout the adaptive sync range of 7ms. That's typical of a mid-tier IPS panel and quite similar to some more expensive options out there, like the Gigabyte Aorus AD27QD and the Asus VG27AQ. You're just getting this performance for less.
The VX2758-2KP-MHD, despite its terrible name, offers a true 144Hz experience with low input lag, decent brightness and contrast, excellent viewing angles and well above average factory calibration. It also has much less dark level smearing than cheap VA panels, and is a flat panel, which is ideal considering this is just 27-inch.
As a budget gaming monitor, performance will be behind flagship IPS displays, no wide gamut support, and the stand is more limited, lacking height adjustability. But that's about it. If you can deal with those concerns, there is no better monitor on the market for $320.
Other monitors to consider in this segment include the LG 27GL83A, though that's a bit more expensive than the ViewSonic. The Pixio PX7 Prime offers a 165 Hz refresh rate which may tempt some buyers, but performance is mostly the same as the Viewsonic.
For less money, the Pixio PX275h is a cheap IPS monitor that sacrifices a 144Hz refresh rate for just 95Hz to hit its $260 price point. It's a good monitor that performs well, has excellent viewing angles, and packs 95% DCI-P3 gamut coverage.