Bitcoin ETF applications have been causing a stir in the crypto market recently. On that note, the race to list the first spot-traded Bitcoin (BTC) exchange-traded fund (ETF) in the United States has seen the entry of major financial firms such as VanEck and BlackRock.
While the U.S. Securities and Exchange Commission (SEC) first accepted a Bitcoin-connected Futures ETF in October 2021, the latest filings are for spot Bitcoin ETFs. After Grayscale's recent legal victory against the SEC's evaluation of its spot Bitcoin ETF proposal, most users are now confident that the approval of the investment funds is highly likely.
Interestingly, the largest financial institutions in the United States are carrying Bitcoin's messages and they are not even aware of it. Modern-day marketing is not limited to snappy slogans and catchy ads. It is about the way the entire concept is presented, the narrative that is woven, and the influence that it mostly puts on decision-making.
Currently, Bitcoin (BTC) has grown to become more than just "magic internet money" or lines of code – it is constantly reshaping the way people think about finance across the world.
Initially, it might not seem like that is the case but the recent hype around bitcoin spot market exchange-traded fund (ETF) applications by the heavyweight financial operators such as Fidelity Investments, BlackRock, and VanEck exceeds the usual noise. It is considered a major marketing move that is slowly rewriting the entire Bitcoin narrative.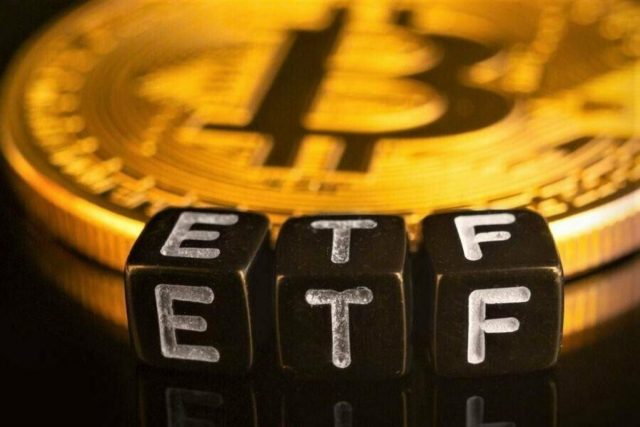 Remarkably, the CEO of BlackRock, Larry Fink, changed his severe stance on Bitcoin several years ago. Recently, he acknowledged that Bitcoin is on a path to fuel a revolution in finance.
With such a change of heart, analysts believe that the latest Bitcoin ETF hype is a major positive for the cryptocurrency, irrespective of whether the applications are approved or rejected.
Related: Bitcoin Prices Hit an All-Time High After ProShares ETF Launch
Bitcoin's Billion-Dollar Supporters
When normal users hear about 'Bitcoin ETF,' it may not trigger lightbulb moments in their minds. But in a room filled with financial experts, the phrase has lots of weight. The reason behind this is that linking it to exchange-traded funds is a mild indication that Bitcoin is slowly moving into spaces occupied by traditional finance.
With every ETF application, the leadership of huge financial institutions is agreeing to do "word-of-mouth" marketing for Bitcoin. The canvassing stretches beyond conferences and interviews, and press releases, spreading beyond the public eye to private and highly influential circles.
This specific news cycle is important since it provides Bitcoin with lots of credibility, enhancing its legitimacy as an asset class even for experienced financiers. After several years of disregard and denial, Bitcoin now seems to be gaining attention from the biggest powerhouses in the financial space.
Notably, even the U.S. Securities and Exchange Commission (SEC) seems to have noted the developments and is now treating Bitcoin as a "special" class of digital asset. Just a few years ago, Bitcoin was an obscured outlier. But now, it finds itself aligned greatly with one of the most celebrated investment vehicles, and Wall Street cannot ignore or banish it any longer.
Oiling The Momentum Wheels
There is power in trends, the type that Google Search volumes and on-chain data show. In a digital space where trending topics dictate dinner table debates, data analysts always have their fingers on the pulse of what is intriguing society's curiosity at any given time.
As financial giants get more involved in the market, they have automatically become marketing partners for Bitcoin. Interestingly, BlackRock alone controls over $8.5 trillion in assets under management (AUM). There are lots of resources to boost publicity around their bid to get approval for a Bitcoin spot ETF.
"Bitcoin is more than just a niche curiosity, it's real money"
The impact on the market is almost instant: a major mood shift is intensifying on the momentum of conversations in mainstream media channels linking ETFs with Bitcoin. Interestingly, statistics check out too with Bitcoin's price rising to a 13-month high in a few weeks after BlackRock filed its ETF application.
Why does all this matter? The price of Bitcoin is a lot more than just numbers on a Screen. It is mainly determined by a complex choreography of demand, supply, and market sentiment. Furthermore, it seems to be on the verge of breaking into a trillion-dollar space and it rightfully deserves to be at the core of a global conversation. The more debates and highlights that revolve around ETF applications, the more Bitcoin gains the status of a household name.
All Press Is Good Press
As the old saying goes, "All press is good press." In the subject of Bitcoin ETF applications, the statement holds. All publications irrespective of their size always look for stories that get people talking everywhere. But, let us consider the bigger picture.
The global economy is going through a rough patch currently. In that context, fiat currencies are buckling in the wake of inflation, while Bitcoin stands strong in the wake of this economic storm.
Currently, with finance giants like Larry Fink commenting about Bitcoin on a global scale, the masses seem to be finally tuning in. Moments after BlackRock filed its Bitcoin ETF application, the CEO has this to say:
"Instead of investing in gold as a hedge against inflation, a hedge against the onerous problems of any one country, or the devaluation of your currency whatever country you're in — let's be clear, bitcoin is an international asset, it's not based on any one currency and so it can represent an asset that people can play as an alternative."
This now means that Bitcoin is a universal commodity and a massive medium of exchange that is capable of supporting the largest financial instruments in the world. That is undoubtedly a highly welcomed marketing pitch.
Related: Grayscale Investments Further Commitment to Bitcoin ETF
The narrative of Bitcoin as a hedge against economic uncertainties is slowly gaining strength once more. It is starting to dawn on the biggest market makers globally and, in turn, they are now turning to EFTs as their preferred gateways for joining the crypto industry.
Shifting Regulatory Dynamics
Some of the critics refer to Europe and Canada's uncertain response to Bitcoin ETFs. However, it is easy to imagine that everything would turn out differently with an Adequately Regulated spot market Bitcoin ETF in the US.
On that note, the SEC is cracking down strongly on cryptos. However, any careful observer will have seen a common thread by now. Authorities have majorly focused their wrath on altcoins for most of the time. While stablecoins have already faced lots of scrutiny, Bitcoin seems to be the most probable digital asset that will get approval and get integrated into regulated systems.
So far, there is a massive roster of financial behemoths with treasuries valued at hundreds of billions of dollars awaiting a Bitcoin ETF application approval. The extensive allure of the US market cannot be ignored, and the likely involvement of heavyweight operators increases the influence.
This represents another significant narrative shift, Bitcoin is not simply digital gold, it is an equal operator in the global financial sector. As regulation quickly develops in the US, the narrative might play an integral role in tipping the levels of public and institutional sentiment to favor Bitcoin as a feasible medium of exchange.
The news and discussions around Bitcoin ETF applications are not only about the expansion of financial regulations to incorporate cryptocurrency; it is a strategic marketing move that helps transform the Bitcoin narrative. It reminds the entire world that Bitcoin is a lot more than just a niche curiosity, it is categorized as real 'money' as far as this definition goes.