Since 2014, 8i has been creating technologies that push the boundaries of everything possible to empower the future of human connection. The team believes in a world where everyone connects in real-time.
This 8i technology enables everyone to get good seats to their favorite performance, college lectures, and even training experiences. At 8i, they believe in democratizing access for all. The company has already shown off its technology for rapidly rendering volumetric videos for real-time hologram images.
The Venice, California-based firm makes various tools that capture, transform, and stream holograms using 3D or volumetric video. 8i's technologies are designed to represent fundamental advancements in volumetric videos that power the future of communication in 3D. In this platform, real people and not avatars are broadcast live into immersive digital environments instantaneously.
In the past, rendering volumetric videos would take days, and in some cases weeks, to process a worthy asset. Nonetheless, 8i's advancement in computer vision and machine learning ensures that the previously tedious process can be completed within milliseconds. Hence, it enables people to get broadcast live in 3D.
Real-time holograms have managed to unlock a new method of content consumption. They enable participants to select their ideal viewpoint, zoom in and out. Interestingly, the technology also lets participants walk around the speaker, performer, or presenter, subject to the way they want to interact. One can access content through augmented reality (AR), browser, or virtual reality (VR).
The result of advancement in this technology is a profound shift for many use cases for immersive experiences which the metaverses are believed to thrive upon. 8i says that its technology can be used for sports and entertainment, events and presentations, training and education, e-commerce, and a lot more.
Related: Metaverse Offices Might Be The Future Of The Business World
Hayes Mackaman, CEO of 8i, said in a statement:
"Holograms are no longer the stuff of science fiction. Real-time holograms empower an entirely new range of experiences for consumers that will foster deeper communication and connection, put you in the front row of a concert or sporting event, eliminate barriers of entry and democratize open access to education, training, information, and resources — and ultimately level the playing field between the haves and have-nots."
The company creates and delivers interactive content directly to the consumers. Hayes added:
"Consumers will be able to experience, interact with and replay content in a totally new, immersive way from any angle or perspective, ushering in a new era in the way society communicates, learns, works, and plays. Across all industries, there are multiple opportunities and use cases for real-time holograms to enhance our daily lives."
Company Overview
8i is striving relentlessly to change the way humans interact. Through the revolutionary and state-of-the-art volumetric capture technology and consumer media platform, they are just the creation and distribution of immersive 3D content for augmented reality, virtual reality, and the web.
Currently, the company's volumetric solution is in high demand for the richer content and communication experience that was created via real human representation in 3D. The team features industry leaders in digital distribution, computer vision, and media.
The CEO Hayes Mackaman has been working for more than ten years in the digital communications industry and has an extensive understanding of the way volumetric video can be applied to use cases as varied as medicine, entertainment, and training.
Simon Vestian, 8i's CTO, is an expert in 3D reconstruction, computer vision, and performance capture. His expertise and experience enable him to lead the 8i engineering team diligently. Elliott Mizroch is a project manager at the forefront of the immersive technology sector, creating award-winning educational experiences and working hand-in-hand with clients that range from the automotive industry to the military.
How The 8i Real-Time Holograms Work
There is a lot of technical challenges and features that determine what qualifies as a hologram. In the case of 8i's technology, it records volumetric videos from multiple computer vision cameras within milliseconds. This technology integrates the footage from many camera angles in real-time into one 3D asset.
After that integration, 8i leverages proprietary machine learning algorithms, which compress the 3D footage into a streamable size. Finally, it distributes the footage to any device as a WebAR experience on smartphones or tablets powered by the 8th Wall. The footage can also be transmitted as a WebXR experience via a virtual reality (VR) headset or any compatible web browser.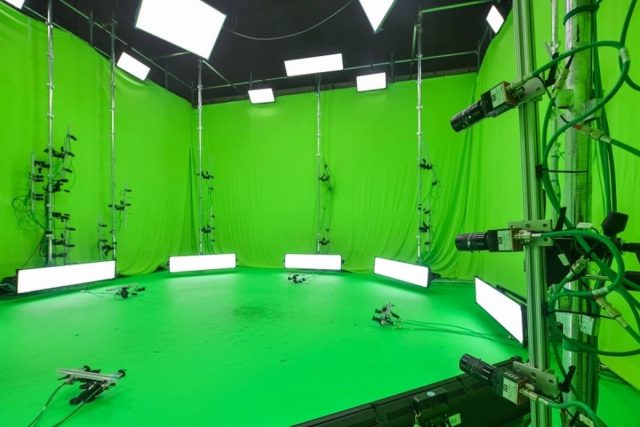 There are many use cases and applications for real-time holograms as technology advances and after the COVID-19 pandemic hit. Some of the notable use cases include live sports and entertainment events streamed in 3D, immersive presentations and keynotes, personal fitness, immersive training, and education experiences, live 3D concerts and performances, live and immersive shopping, and much more.
Related: Here's what the future of classrooms looks like
The participants and viewers see a performer broadcast live within an immersive VR scene by wearing their head-mounted display (HMD). They can also watch the performance through any web browser from all angles, or enjoy and experience the performer in their physical space via AR on their mobile devices including tablets and smartphones.
8i was launched in 2014. Its clients include the U.S. Army, Google, Softbank, Walmart, and Verizon. The investors include RRE, LG Tech Ventures, One Ventures, Verizon, Founder's Fund, and Hearst.
Four-Dimensional Tactical Combat Casualty Care
8i is continuously creating Augmented Reality (AR) and Virtual Reality (VR) training experiences that prove the effectiveness of immersive training that is directed at Tactical Combat Casualty Care (TCCC) in enhancing response time, retention, and rapid decision making under intensive pressure.
The company has already created an immersive VR training simulation for TCCC installed with "Crawl, Walk, Run," scenarios and a volumetric AR training scenario. That project was funded entirely via MTEC's Multi-Topic Request for Project Proposals (Solicitation #17-08-MultiTopic) which is sponsored by the United States Army Medical Research & Development Command (USAMRDC).
Military medical personnel needs to learn new skills continuously and retain existing skillsets that can rapidly differ subject to the operational environment. These continuous changes are seen to represent major educational challenges for the learners.
Hence, the military is currently seeking the integration of advanced simulations into their medical training regimens. These advanced simulations developed by 8i help in boosting training speeds and enhancing the reacquisition and retention of surgical skills. Through such training, there are minimal training sessions in live injured patients who need treatment quickly and medical errors in the field are reduced.
The VR and AR training experiences provided by 8i leverage the power that comes with volumetric video transmission to offer an 'actual' training experience that is similar to real-world classroom training. These experiences also feature some interactive battlefield training scenarios that are mainly used for testing retention under pressure.
Volumetric videos support recording of real TCCC training that may be played back always on any immersive media device like VR and AR headsets. That feature helps in increasing the replicability of training courses and limiting the need for live instructors.
Related: Microsoft's HoloLens 2 will be able to run the Firefox browser natively
Instantaneous volumetric video recording supports live remote medical diagnosis and treatment using full 3D. According to the 8i team, this development will help in deeper communication and learning experiences with unlimited viewpoints provided for all subject matters. The company has developed the 3D models for the interactive segment of the virtual reality experience including environment, tools, and patient models.
Their volumetric videos enable the recording and streaming of real TCCC training that can be played back whenever required. This feature increases the replicability of training courses. The "Crawl, Walk, Run," scenarios consist of a recorded class that comes with a volumetric instructor who offers hands-on training.
The instructor walks the users through the training steps and offers a battlefield assessment where the users put the skills that they have learned to test. Moreover, 8i has created a volumetric AR training session and is now exploring live volumetric capture for VR and AR. The new capture comes with live playback and communication from the volumetric capture stage.
Here is an example training scenario of the application of a tourniquet to the lower limb. 8i also wants to develop an analytics backend to analyze the results of students who use the simulation, complete with a functional and active instructor dashboard. The team also wants to develop a multiplayer experience to enable many players to train concurrently and interact with one another.
8i's biggest plan is to create a holographic communications unit using various shipping containers and some low orbit satellites to develop easily distributed volumetric/3D communication stations for instant medical diagnosis and communication.
In that context, 8i is preparing to create an augmented reality volumetric video for various interactive battlefield training scenarios to enhance retention, response time, and quick decision-making under pressure for military medical personnel.
The Benefits Of Real-Time Holograms
Connection has become one of the most common basic needs for the human race. 8i wants to connect the entire world through advanced technologies and real-time holograms. The previous forms of connection have been effective to pass the message as required. However, they lacked the sense of connection that is present when people meet face-to-face.
As we head into a digital age, most of the value of face-to-face communication has been replaced by avatars which in some cases has resulted in a major loss of expression. Communication expands beyond vocabulary and words. Body language, facial expressions, empathy, and energy are meant to be heard, seen, and felt.
Analysts, therefore, say that the next best thing to being in the same room as somebody is real-time holograms. In that context, 8i has managed to create a "photo-realistic hologram that fits seamlessly" into various surroundings within seconds. They enable people to be in many places at once.
Real-time holograms offer an intensive sense of social connectivity that exists whenever people are sharing the same space. It surpasses looking at someone on a screen. In the case of Mixed Reality (MR), it is described as an engine of empathy that enables users to enter new environments that elicit a highly visceral and powerful experience.
Related: Mixed Reality 2019: Why the year ahead will be huge for enterprise AR/VR
Instead of watching a moving documentary on-screen passively, users can be teleported to the location where they see, hear, sense, and explore full 360 views of the environment and its people. With these 8i real-time holograms, your defenses will lower, enabling you to forget yourself and your problems. They enable you to be there in the moment and the heart of the action.
Besides, the technology lets you trade viewpoints, something that face-to-face interaction fails to provide. The real-time holograms introduce empathy within technology and make it virtually possible to "put yourself in someone else's shoes". These real-time holograms are not an 'idea' of the future since 8i has made it possible to teleport real humans into various immersive digital environments within seconds.