Non-fungible tokens (NFTs) are blockchain-based cryptographic assets with unique identifying codes and metadata that set them apart. They are non-tradeable or non-exchangeable on an equivalent basis to cryptocurrencies. They are the exact opposite of fungible tokens like cryptocurrencies. Cryptos are similar and can be utilized as a means of exchange for economic transactions.  
They can be trading cards, artworks, music, and media, virtual fashion, tweets, websites, images, games, or stories created on social media. 
NFTs have soared in recent times as non-fungible trading has gained popularity. Since the market is growing, listing your NFT and waiting for sales isn't enough. Your best option is to work with one of the many reputable NFT marketing agencies to make your new product successful.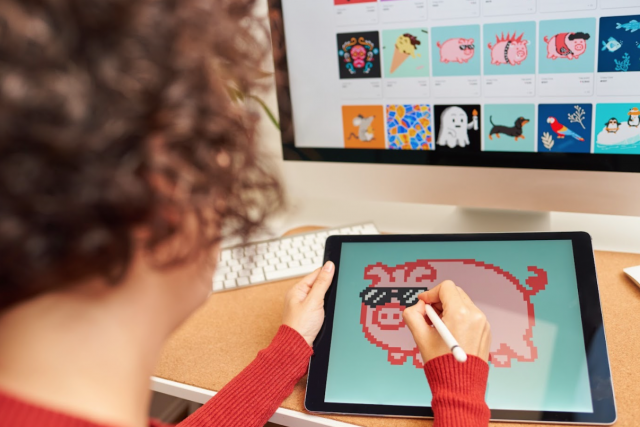 NFT Marketing Explained
Digital marketing helps your brand stand out in a crowded digital world. A strategic plan must also keep up with innovations and shifting situations. It is at this point that NFT marketing comes into play.  
NFT marketing is a noteworthy strategy to increase your NFT's exposure and popularity to prospective buyer groups. It also includes wide publicity when advertising your future art event. 
Since many people still aren't aware of what NFT is, NFT marketing can be utilized to educate these people, the intended audience, about your product and the technology. As a result, a good NFT marketing strategy won't only raise awareness of your project but will also attract a global audience ready to support innovative technology. 
Significantly, an NFT marketing agency may help you target NFT fans and sell them your project, resulting in greater earnings. If you want a premium price for your NFT, you'll need a marketing campaign executed by a specialist agency. But how do you choose the best marketing there is? Read the factors below: 
An agency's experience shows how well it has performed in the past. Some services specialize in one area of advertising or one business sector. Advertisers knowledgeable about the NFT industry will know how to market your brand. You can check online reviews and feedback from previous clients to better understand and know the experience of the agency you're considering. But that's not all.  
Every business is unique, and so is every digital marketing agency. So, while looking for a marketing partner for your NFT business, niche specialization is a critical aspect to consider. The agency's NFT industry experience matters when choosing. Their experience allows them to understand your needs and the clients'. It helps you deliver your message without having to repeat yourself. Along with industry knowledge and tried-and-tested strategies, it should emphasize your NFT content information. The NFT agency will ensure that your content is authentic, compelling, educational, and relevant.
The NFTs industry is subject to strict compliance with standards and regulations. To ensure the survival of your NFT brand, you must adhere to these standards in all aspects, including marketing. 
With this, you need to locate an NFT marketing agency that understands the shifting NFT marketplace and adheres to compliance standards. 
Specialized NFT marketers should know the steps to take and the dos and don'ts of NFT marketing. In this way, you can prevent legal problems that could slow down your business operations. 
You can build brand trust by addressing community questions through an NFT group. Community building is a difficult task that requires the assistance of an NFT marketing agency. A marketer of this type may assist you in identifying the appropriate audience, developing a vision, and expanding your group through numerous means. 
The era of rating agencies and businesses only based on their number of experts or building size is not here anymore. A larger crew doesn't inherently imply that work will be completed more efficiently or to a higher quality standard. 
Instead of size, examine the NFT marketing agency's competence, style, and quality. Do they have strong communication so that experts can work together smoothly? Do they understand your objectives and show dedication? 
Sometimes the folks you talk to aren't doing the job. So, check who you'll be collaborating with. Large marketing organizations may also assign your assignments to junior or less experienced personnel. You sure don't want that. 
Hiring an NFT marketing agency is a relationship commitment. Your brand and the agency will be working with each other to grow your business and brand. Can you imagine working with the agency staff? Is communication clear and open? Get to know the agency founders and other individuals before you commit. Trust your instincts and move on if something's not right. 
The cost of NFT digital marketing agencies differs based on the work required. Therefore, rates vary between providers. Find an agency that respects market standards and can work within your budget. Choose an agency that prioritizes all clients, regardless of brand size. Because as they say, even a small fish in a big pond merits attention. 
When hiring an NFT marketing firm, you should inquire about their services and what they can do to help you achieve your goals within your specific budget. You can also look it up online or ask your business friends and coworkers for a reference. 
     Professionalism And Credibility 
The NFT marketing agency you choose should be professional. Choose one that can provide you with the most reliable service for every dollar you'll spend releasing your NFT into the market. 
The NFT marketing agency's credibility, honesty, and image should also be considered. Most of their credibility comes from their past performance. You can obtain client information via their history and the company's data. 
Conclusion 
NFT marketing isn't hard, but it's unique. You must study the blockchain ecosystem's rules when entering the game. To generate sales and buzz for your NFT project, you need a solid NFT marketing strategy with goals, channels, and community. Remember that success requires constant monitoring and adjusting of your marketing plan. 
If you think you can do it yourself, that's fantastic – go ahead. 
Otherwise, hire an NFT marketing agency for better results. But do make sure to do your research and choose the best one.