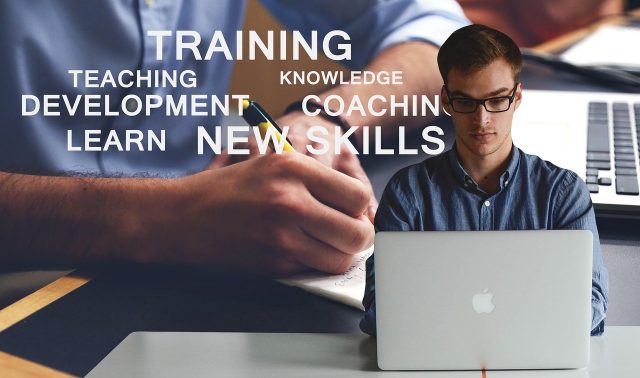 Fine-tuning your skills to match a job's latest trends and demands is one way to describe 'Upskilling'. Simply put, upskilling is to learn new skills to enhance your skill set to stay up-to-date with the needs of your current job and to future-proof your next one.
Future-proofing is an interesting terminology used extensively for organizations looking to evolve. As an employee too, today's world demands new skills to be learned to stay relevant to our jobs.
Since the days of the pandemic are etched, every calculation regarding the future trajectory usually stems from its consequences. One such consequence is that the lowest of the lows we saw during the pandemic is about to change.
We could only achieve such an uptick in fortunes if organizations, governments, and individuals could learn new skills. Either they upskill or reskill, i.e., learn new skills from scratch to meet the demands of our new future.
Although many people see the need for upskilling, whether, at an organizational or individual level, most don't know where to start. According to experts, however, thinking about this predicament is the key, and a curious mind will automatically look to upskill. For instance, software engineers tend to always remain up to pace with the latest development frameworks.
This is a very common example of reskilling/upskilling and Automation services in the IT industry, like Docker Hub and other AI-based websites are driving this need to upskill. Looking to learn about automation and its ways as the safest bet for anyone to reskill or upskill.
Why the Need for Upskilling?
Now that we have established that the new world needs upskilling, we look towards its need:
1. Rebounding Economy:
As hinted above, the COVID-19 pandemic struck everywhere with brute force but now is the time for recovery. According to the WEF, the World Economic Forum, upskilling will play a major part in this post-COVID recovery. It is estimated to add 5.3 million employment opportunities by the year 2030.
It is an opportune time to embrace the culture of upskilling for organizations and individuals alike, as automation will create many new job roles for new skill sets.
2. The Digital Age:
We live in a somewhat modern age defined by the latest tech gadgets and accessories; however, the real shift towards the digital age came after COVID-19 struck. With the world reeling from its effects, adopting the digital age became a necessity.
From education to administration, COVID-19 forced every single discipline to digitize in some form or another. Digitalization creates many new opportunities for people with these 'new' skills. Skills obtained via upskilling will help modernize our world even further.
In the industrial world, upskilling is no longer a choice for individuals, as many older jobs are sure to go obsolete. According to one report, as high as 20 million jobs will go obsolete in the manufacturing sector, replaced by robots.
The fear of losing jobs to automation is well found as one survey found 40% of participants saying in favor of this statement. The need for upskilling is real as organizations, individuals, and governments need to pull up their socks and devise a mechanism to train and reskill this vast population.
3. Skills Gap:
The ramifications of the digital age are not just experienced in the employment sector. It also affects the skillsets required for such jobs in the future. More and more jobs now require skills unheard of a decade ago. Similarly, many skills in demand a decade ago were phased out by the current age of digitalization.
This disruption in the supply and demand of skills creates a skills gap that can only be filled if there is coordination between industry and legislative bodies. Governments and organizations need to enable a culture of upskilling, where employees are trained to get new skills. Governments can fund the underprivileged on this journey, as upskilling and reskilling costs can be quite high.
What Does the Future Hold?
While upskilling is an important tool to take control of your future, many people still need to learn how to accomplish upskilling. Executives at leading firms think that a curious mind is the key to achieving upskilling.
To be the best version of yourself and arming yourself with all the relevant arsenal you can get is the truest form of upskilling. Executives thus reiterate that an individual needs to dive into what they think would suit them and learn.
Job engagement is already low, as evidenced by a recent Gallup survey showing only one-third of employees feel engaged at their workplaces. Combining this with the impending doom of obsolete skills, organizations and individuals can hit the bull's eye.
These days if your employer is offering training about new software or skill, you mustn't skip it on account of boredom as you could add a valuable skill to your rapport.