Dreamster brings the imaginary wonderland into reality in the form of Metaverse "Dreamster WORLD." The world, full of fortunes and excitements in the form of NFTs. With the advancement of technology and blockchain's magnificence,
Dreamster architects a virtual world in the decentralized network powered by full of NFTs." DSTER "token will be a key to immerse you in the virtual world with mesmerizing visuals and simulations through AR & VR to drench yourself in the flood of treasures.
The assets and the commodities in the virtual world will be in the form of NFTs that possess a decisive value in the real world. Recently we caught up with the Dreamster Team to talk about how their build out is coming along and what they have planned for the future. Here is what they had to say.
1. Dreamster is quite a large operation, How many people work at the company?
Currently at Dreamster we have a staff of 10 internal employees but that number is expected to change rather quickly after we conduct our first official private round of the Dreamster(Dster) token sale. Our private and public token sale will be limited to accredited investors and those who live in crypto-friendly jurisdictions. Airdrops of the Dreamster(Dster) token will be given to early email subscribers and individuals
2 How does Dreamster plan to unfold the Metaverse/NFT/CryptoExchange solutions to transform Enterprises?
At Dreamster we are opening our platforms in jurisdictions where we can be compliant with governments that have clear rules and regulations and are crypto friendly. We have implemented a global strategic marketing plan to give creators complete control and ownership of their content with the Decentralized marketplace, the marketplace also gives the creator the opportunity to select between the most cost effective blockchain to mint their work on such as (Binance Smart Chain, Polygon Matic, Ethereum, and Solana). We have also partnered with Moonpay to give users ease of access to purchase NFTs on the marketplace with a credit or debit card.
Creators/users will also be able to take advantage of our first step into the Metaverse with our human like avatar creator. Users will then be able to mint the newly created avatar on the Dreamster marketplace to confirm ownership and use the avatar in other metaverses, and web 3 gaming platforms.
Investors and traders will be able to leverage the crypto exchange which will be desktop and app version to seamlessly trade, buy, and sell crypto on a highly secured exchange where all assets are covered by insurance. Investors/traders will also have the option to stake and lock tokens on the crypto exchange.
We have also created the decentralized wallet for our users to safely store, send and receive cryptocurrencies, the Dreamster(Dster) token, and in the future storing NFTs. The decentralized wallet has strong security features like two-factor authentication, fingerprint recognition, and password protection.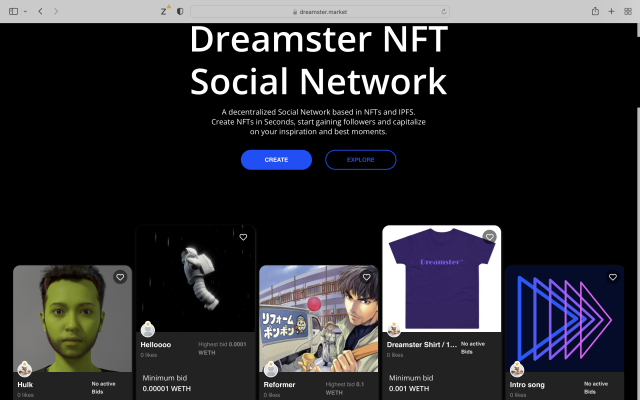 3. Does Dreamster do all of its security for its different companies inhouse?
Not at the moment. Currently we have a few different companies that specialize in high level security for the services we offer. We will have a two third party auditing companies for the security and we have one company who will monitor all operations that we will release the name during the launch. In the future, we will have our own in- house security team.
4. Your NFT Avatars are reasonably new to the Metaverse space, how did you get the idea?
We came up with the idea because we wanted to be able to allow individuals to have the opportunity to create and be who they want to be. Part of the definition of being a Dreamster
is "one who creates his/her own reality with complete awareness," so why not give creators and users the opportunity to create their own human like reality Avatar. We combined the power of unreal engine, the blockchain, and Web 3.0 to make this possible.
5. Has Dreamster been approached by regulators and is the Metaverse ready for regulation?
We have not been approached by regulators at the moment, but if we are approached, we are willing to work with regulators and provide strategic guidance to build proper rules. Currently, the Metaverse is still in its infancy but without policy and regulation there is no way we can have mass adoption, so in short yes the whole Crypto industry is ready for regulation.
6. Is Dreamster and other Metaverse solutions ready to responsibly reframe the human-centered experience through virtual reality?
Yes, we are ready for individuals to be able to freely express themselves in a virtual world. There are quite a few companies building great solutions for the metaverse using Augmented Reality, Virtual Reality, Machine learning, and Artificial intelligence. We are building out our infrastructure to be able to interoperate with other metaverse solutions in a safe and ethical manner.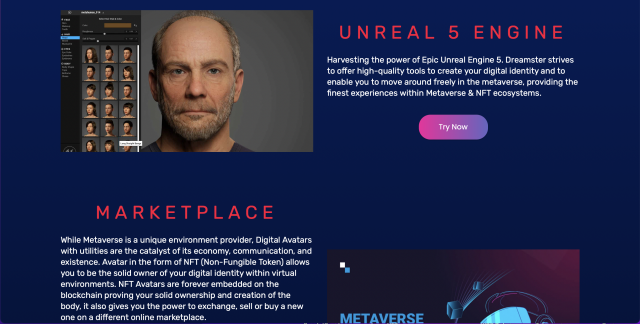 7. Is Dreamster being set up so that a user never has to leave your ecosystem for Crypto, NFTs, Meta-virtual worlds etc?
Yes, we are building to be a leading company in the industry where users feel safe with our services and products. There are tons of great companies building some of the most amazing technology in the blockchain space.
We would like to be viewed as a modern-day Walt Disney company where users can come to our amusement park which in our case would be the Metaverse, but also be the production company that allows creators to produce content on our Marketplace. We want our ecosystem to represent ease of use, dependability, high level security, compliance, and most of helpful for those who want to step into the Dreamster world of Web 3.0.
8. Where is Dreamster based at and how do people get in contact with you to do business and join your community?
Currently our general operations are based in Panama, but we hold licenses in Dubai as a NFT Marketplace, and Lithuania as a Cryptocurrency exchange and for our wallet to securely hold Crypto Assets. Currently the best way to contact us is at https://dreamsteravatar.com and subscribe to our email and social media channels or email us directly at [email protected]