Green blockchains have always been thought of like the mythical pot of gold at the end of a rainbow. However,  we did our digging and discovered there were a few green blockchains out there.  RubiX is one of them. We were so impressed with what the team at RubiX had done, so we reached out to  Nithin Palavalli, CEO at RubiX to find out more. Here is what he had to say.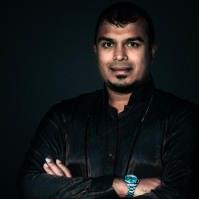 E-Crypto News:
What is the general idea behind the RubiX project?
Simply put, the idea behind the RubiX blockchain: We are built for purpose, not for profit. We wanted to create a blockchain that was available and accessible to everyone, from individual developers to large enterprises. Our blockchain is completely driven, controlled, and verified by our users themselves, and not controlled by cryptocurrency investors and large miners out to simply make money.

With RubiX, anyone from anywhere in the world with a computer or smartphone can download and deploy a full RubiX node and become a validator and miner. Our tokens have no monetary value.  Unlike blockchains like Bitcoin and Ethereum, RubiX is a democratized network, and 100% of our tokens are created for the purpose of mining, not for monetization.

One fact / note: Our blockchain is currently managing more than three million unique active users a week, which is more than any other public blockchain at this point of time.
E-Crypto News:
What are the major problems with legacy blockchains like the Bitcoin blockchain? How does RubiX solve these problems?
                                                                      Bitcoin and similar blockchains have three fundamental problems from an architectural standpoint:
1) Highly inefficient because all transaction data and proofs are pooled together in a common database and replicated across all full nodes in the blockchain. This creates significant storage inefficiencies as all data is replicated across all nodes. An Ethereum full node is already more than a TB in storage, and that is without any serious data-intensive apps running on it; Layer 2 centralized solutions are proposed to address these inefficiencies, however, to be considered useful for many real-world applications, the inefficiency problem needs to be addressed
2) Consensus: Having replicated databases across all full nodes means these nodes need to arrive at a consensus on the correct state of the database. The Proof of Work consensus protocol used by Bitcoin and  Ethereum ensures the consensus, however, this process also results in serious energy waste concerns. An attempt to move to Proof of Stake (PoS), while partially addressing the energy concerns, will result in inevitable centralization.
3) Security and Privacy: Since all data is replicated across all nodes in the network, users' transaction data can potentially be exposed to everyone in the network, raising privacy and security issues. This can have serious and negative ramifications if an individual or company wants to put healthcare, financial, or IP data on the blockchain.
Addressing all three of the challenges, we offer a new approach that makes the RubiX blockchain unique to the marketplace:
Ability to validate each transaction on its own (instead of pooling them in a global common database) and store the transaction data and proofs on a Merkel Tree-based decentralized file system.
Every node is a full node in our network; there will be billions of full nodes in Rubix soon. This compares to a maximum of about 10,000 full nodes in the Bitcoin network. Every Rubix node owns its identity and data on the internet, and every node is fully sovereign.
Anyone with a laptop can run a full node.
Rubix is a highly efficient blockchain since there is no unwanted replication of data leading to a wastage of resources.
All transactions are run in parallel – there could be a maximum of 25 million transactions running in parallel eventually.
Our network scales in proportion to the size of the network, while Bitcoin and other blockchains suffer in throughput and speed when increasing the size of their networks.
All transactions are run fully on-chain and there is no centralized third party of Layer 2 app running on AWS.
Rubix is fully green because transactions are validated on a laptop while running other computing operations. Rubix is more efficient than centralized data center/cloud storage or processing which saves tremendous energy.
Since every node controls and secures its own data, there are zero confidentiality concerns.
E-Crypto News:
What is Proof-of-Harvest (PoH)? What makes it different from other consensus mechanisms? 
Today's leading PoW and PoS blockchain architectures are accompanied by huge carbon footprints and energy consumption, privacy, security, and storage issues as we discussed above. However, we are committed to reducing our environmental impact by refraining from POW mining and thereby eliminating our carbon footprint.

The developers of these blockchains rely on a sequential transaction architecture to process and validate global transactions. This means that the "blocks" are organized sequentially, with each block having a finite number of transactions and each relying on the other in order to validate the transaction. Such protocols require exhaustive mining-based algorithms to secure every node on the chain, which results in high latency, low throughput, high transaction costs, and significant storage inefficiencies.

To combat these flaws, we invented a Proof of Harvest (PoH) Consensus Mechanism, the first of its kind to address the scale, cost, and privacy issues that come with relying on one sequentially organized chain of global transactions as described above.  Our PoH approach allows all transactions to occur asynchronously and in parallel. Parallel on-chain architecture allows our nodes to be scaled quickly and millions of transactions to be performed simultaneously, making our blockchain highly scalable and several times stronger than both Bitcoin and Ethereum.
E-Crypto News:
Please, can you explain to us how Proof-of-Harvest (PoH) works? How is the Proof-of-Harvest (PoH) consensus mechanism 100% green?
Under the PoH approach, all RubiX nodes on the blockchain are validators (harvesters) and any node can be chosen as a validator. Each node harvests rather than mines tokens, eliminating any and all dedicated power used for mining. Harvesting tokens in a decentralized and democratic way — instead of aggressively dedicating hash power to mine tokens — results in a reduction of carbon emissions by 100%. This makes our blockchain the world's first and only zero-carbon footprint, enterprise-level blockchain solution.
E-Crypto News:
Please, can you tell us more about the RubiX Blockchain Green Initiative?
We are the first to put blockchain sustainability at the forefront with our Blockchain Green Initiative, eliminating the high energy consumption associated with token mining. As noted above, because all of our nodes harvest (rather than mine) tokens, the RubiX PoH approach slashes the energy consumption and huge carbon footprint associated with PoW and eliminates the security flaws that come with PoS. Our alternative is cryptographically 1,000,000 times more secure than the ECDSA 256 used by Bitcoin or Ethereum.
E-Crypto News:
Please, can you tell us more about the security of the RubiX platform?
RubiX uses several proprietary security solutions including:
Decentralized Identity (DID) token split nonlinearly into private and public shares

Proprietary QR Code and Digital Rights Management (DRM) technology that secures, authenticates, and proves ownership of digital and tangible assets

Passwordless digital identity which allows blockchain access using biometric authentication to protect all coins including BTC, ETH, USDT, and CBDCs.

RubiX also incorporates proprietary HiDE technology that makes forgery of a digital asset impossible.
E-Crypto News:
What are your thoughts on the increased regulation of distributed ledger technologies (DLTs) and cryptocurrencies?
As DLTs and cryptocurrencies become more widely used, increased attempts at regulation should be expected and in some cases, can be welcomed.  Given that blockchains move power to people/networks from state, friction should be expected. However, the efficiencies that blockchains bring to the world (and the advent of participative capitalism that accompanies them) will lead governments to adopt benevolent regulation.
E-Crypto News:
There have been recent cryptocurrency and allied technology bans across the world by different governments. What are your thoughts on this?
As far as we know, there are very few governments that have banned cryptocurrencies.  Most big nations have made cryptocurrencies legal assets to own and trade – they are all adopting tax & AML regulation at these assets which should be welcomed. Several governments and even some U.S. states are looking to buy cryptocurrencies and/or will even accept them for paying taxes.  We believe that governments will adapt cryptocurrencies as the idea of participative capitalism will catch on with people faster than most expect.

E-Crypto News:
How did the RubiX project start?
Rubix started with an idea to explore whether decentralization of data would make cybersecurity better.  In our security startup, we realized that centralized and aggregated data is highly vulnerable to security and privacy issues. So, we started to build a blockchain platform that would give power (over data) back to users. In the process, we believe we have built a platform that will power fintech, supply chain, media, advertising, data innovation, and more (beyond just security).
E-Crypto News:
How did you get involved with cryptocurrencies and their allied technologies?
Rubix has a protocol token that powers decentralized transactions. The Rubix token is not a cryptocurrency, but a token that powers a decentralized economy.
E-Crypto News:
Where do you see the RubiX project in the next decade?
We would like RubiX to transform the way commerce is done and the way data is shared across several industries over the next decade.  We believe Rubix will usher in Web3, an internet that is built for secure digital commerce.
E-Crypto News:
Please, can you tell us more about the launching of Non-Fungible tokens (NFTs) on the RubiX platform? 
All the major NFTs like Flow, Nifty Gateway, Mintable, and Beeple are "off-chain NFTs," stored on a centralized server and accessible to anyone. They lack DRM (Digital Rights Management), forgery-proof technology, and digital identity. An owner of an off-chain NFT has nothing to show for it but a certificate of the digital asset.

RubiX NFT's are "on chain NFTs," meaning that the actual asset is stored on the blockchain itself, not on a centralized server storing any and all data. This is what makes our blockchain decentralized. Rubix is one of only a few companies which is offering on- hain NFTs at the moment.

The owner of the NFT is able to establish the ownership of the asset because it is attached to his/her Digital Identity. The asset can never be accessed by other parties and the monetization can be done through the DRM controls.  Users also have the ability to split and store private keys that not only enhance security, but also offer a strong recovery mechanism.

E-Crypto News:

How can developers get involved with RubiX projects?

We have designed our blockchain to make it easy for everyone to use, and without any knowledge of coding or blockchain. Anyone can download and run a node from their personal devices and be up and running in as little as five minutes.

Developers can start writing industrial-scale applications with the help of the Rubix Network Protocol, and we strongly encourage developers to embrace the strengths of what we have built and to start contributing towards the development of the ecosystem.

Accessibility: Anyone can access the RubiX whitepaper and Mainnet quickly and easily by going to our hub:  github
E-Crypto News:
Is the RubiX blockchain EVM compatible? What plans exist to enable the migration of DeFi projects to the platform?
Rubix is not EVM compatible. We are actually in the process of building our own virtual machine, RVM. Soon, we will build bridges to other blockchain platforms that enable the migration of entire DeFi projects.  Rubix is coded in such a way that makes it easy to learn and implement open source languages, so that anyone can build on it easily.
E-Crypto News:
What plans are there in place to build network bridges across different blockchains? Please, can you tell us more about this?
We will share more details soon.  We expect to build bridges to Ethereum and other major chains in 2021.

E-Crypto News:

What are your plans for expansion of the RubiX blockchain's features?

We are building a community that will help expand Rubix features.  We plan to add smart contracts; decentralized cloud storage; decentralized CDN and telecommunication layers; and additional security features like DNS.
E-Crypto News:
How exactly does the RubiX blockchain handle scalability?
Scalability has two aspects:
Portability: Every laptop can run a full Rubix node (We are the only chain to enable this). There will be billions of nodes that can validate transactions.
Throughput: Since transactions are not competing with each other to join mempool and blocks (and there is a need to pay high gas fees), transactions can be completed in parallel.  If there are 10 million nodes in the network transacting, a maximum of 5 million transactions can happen in parallel. This is a fundamental breakthrough when compared to other blockchains; a breakthrough which has dramatic implications for real-world usage in our opinion.
E-Crypto News:
If you had three wishes and a genie that could make them come true, what would they be for the RubiX blockchain?
Wider, faster adoption of Rubix by billions of nodes around the world

Faster development by both enterprises and developers

All data/assets in the world are tokenized and decentralized on Rubix, leading to massive proliferation of benefits to every connected user anywhere in the world.