It wasn't so long ago that Sam Bankman-Fried was hailed as something akin to a savant or a genius.
It's safe to say that the disgraced former CEO of the cryptocurrency exchange, FTX, isn't looking quite so clever anymore. The downfall of the crypto entrepreneur has been spectacular, swift, and brutal.
His net worth has plummeted. At its peak, it stood at around $26 billion. The precocious MIT graduate was compared to the likes of Mark Zuckerberg and Bill Gates.
In October 2022, he had a healthy-looking estimated net worth of $10.5 billion. But according to the Bloomberg Billionaires Index, by November 8, 2022, amid FTX's solvency crisis, it had dropped a whopping 94% in a day to $991.5 million. It was the largest one-day drop in the Index's history. By November 11, just three days later, the Index considered Bankman-Fried to have no material wealth. Ouch.
If that wasn't bad enough, the young founder faces a slew of criminal charges, including wire fraud, securities fraud, and conspiracy to commit money laundering.
The complaint against him by the Securities and Exchange Commission alleges that he orchestrated a "scheme to defraud equity investors in FTX" which involved "a massive, years-long fraud, diverting billions of dollars of the trading platform's customer funds for his own personal benefit and to help grow his crypto empire."
He faces up to 115 years in prison if found guilty.
Though the defenestration of Sam Bankman-Fried has rocked the crypto world and beyond, it's not as if there weren't any warning signs. While he was being hailed as a "phenom" he was widely quoted as saying: "I got involved in crypto without any idea what crypto was." In hindsight, that may have been somewhat of a red flag.
The story of Sam Bankman-Fried is a cautionary tale. It offers lessons in what not to do as a crypto CEO.
As Nobel laureate Paul Krugman economist suggested in the New York Times recently, petulant oligarchs such as Bankman-Fried are destroying the myth of the "genius entrepreneur".
We need to move away from an oligarchic model, with crypto CEOs viewing themselves as infallible and unassailable leaders of companies, to one that is focused on community.
Under this new model, those who wish to lead must do so by serving not themselves, but the needs of their communities.
Their focus should be not on expanding their own wealth and power, but on creating solutions to solve the real, persistent problems experienced by other community members.
In order to properly serve a community, it is necessary for a leader to be accountable to it. A leader cannot be truly accountable if there is no transparency. Light is the best disinfectant, and the murky way in which Bankman-Fried ran FTX allowed rot to set in.
Lack of transparency is a huge problem in the crypto world. It enables nefarious characters to operate in the shadows and cause an enormous amount of damage in the process. To address this, we need to build systems where claims can be verified.
This is particularly true of the crypto world, where impostors are a dime a dozen, and every big claim needs to be carefully examined before it can be verified and believed.
Studies clearly demonstrate that transparency is linked to "higher rates of employee retention, increased worker productivity, and an uptick in corporate loyalty among staff members". Without it, as we have seen, leaders run the risk of losing the trust of their employees, investors, stakeholders, and customers.
This is the case in the business world in general, but it is especially important when it comes to crypto. The very concepts on which cryptocurrencies and blockchain are based are those of self-governance, trust, transparency, and immutability. A leader who forgoes these key principles might as well switch to a different industry.
Transparency leads to challenge, which in turn leads to improvement, and enables a crypto CEO to develop a crucial trait, which is resilience. The murky system Bankman-Fried created was fragile in the extreme, which is less than ideal in a sector known for its high levels of volatility. He built a house of cards if there ever was one. Leaders need to be able to ride out periods of market instability, to be prepared for downturns and have the ability to turn challenges into opportunities.
Transparency also enables a leader to become a champion of open innovation, who collaborates effectively with people from outside the organization. As well as injecting fresh ideas and new energy into projects, it can have the additional benefit of preventing awkward organizational politics, which in turn creates a healthier environment for business development.
Leadership may well start at the top, but it should not end there. We need to turn the prevailing business culture on its head. Instead of serving the interests of thin-skinned overlords, it needs
to be rooted in community, transparency, and accountability. To fail to do so would be to beget further disaster.
If a leader does the opposite of Bankman-Fried, they won't go far wrong.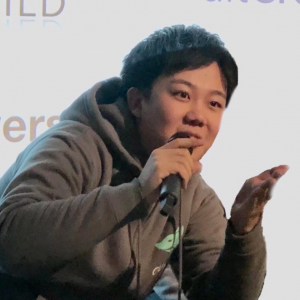 By Takashi Oka, CEO of Øverlay