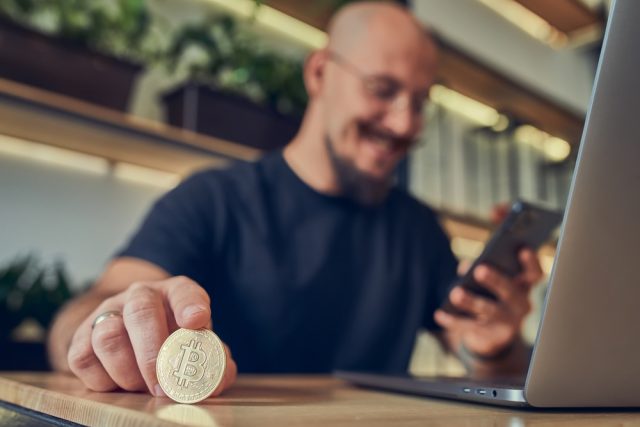 Place bets on sports events to win Bitcoin (BTC) or fractions of it in mBTC. You have a wide range of options between matches held around the world or bookmakers online. There are also plenty of fun bonuses that you can opt-in to increase the number of bets or the size of the stakes you place. If you want to try sports betting then here is everything you need to know:
What is sports betting
Sports betting is the act of placing money stakes in a professional athletic event. It encompasses most if not all major sporting events worldwide from world-renowned football to niche games like water polo. All you have to do is place real cash on an outcome and you get paid equal to its odds if you win.
The traditional way of sports betting is using bookmakers' services at the stadium where you watch the game. Today, you can do that online thanks to the internet enabling operators to create platforms for millions of gamblers worldwide. This lets you place bets on more than one game at a time while also not having to buy a ticket to watch any game.
What are the best sports for Bitcoin betting?
Most gamblers consider a few factors when choosing a game to bet on. The first is their personal investment in the sport whether they grew up playing or watching it in their household. If you aren't that invested in any specific sport, then you can start with the most popular ones.
Gamblers who aren't as involved in the sport look at a second factor, the game's number of markets or types of bet they can make. Based on these two factors, here are some of the best sports for Bitcoin betting:
Ice hockey
Ice hockey consists of six players from two sides. Five of them aim to propel a puck to the opponent's goal guarded by the sixth member called the goalkeeper. Ice hockey is popular given its cultural significance in North America. Although every game is just an hour long, there are plenty of bets you can make in any event because it is divided into three periods. Each one can have their own separate metrics for making fun bets.
Cricket
Speaking of a number of periods, cricket would be the king of sports betting in that regard. One Twenty20 (T20) match can have 20 overs, each coming with the same set of markets. The longer version known as Test runs for up to four days with 50 overs each inning. Cricket also has a strong cultural significance for India, Pakistan, Australia, and several European nations.
Soccer
Soccer is a lot different from the other two because it only has two periods in a game that lasts 90 minutes without considering overtime and time-outs. However, it is the most popular sport in the world. It has the biggest following in Europe, Africa, South America, and Asia. Thus, you can almost guarantee finding a community to join to share your passion for it. Soccer is also great to start as a new gambler because it's the most featured sport at online bookmakers.
Why use Bitcoin?
Using cryptocurrency for online sports betting has plenty of advantages. For starters, most fiat-based online bookies rely on several banking and remittance services. Each one comes with separate fees which is made more expensive if you're not using euro (EUR) or United States dollar (USD) for the conversion fee.
Crypto can be sent directly from one account to another and all you have to pay for is the Bitcoin network. It's also more reliable because fiat relies on traditional banking methods which have many possible points of error. The Bitcoin network, on the other hand, will continue running if even just one of its millions of nodes is active.
Where to play Bitcoin sports betting?
The best way to play Bitcoin sports betting is to find the best bookmaker available in terms of accessibility, supported payment services, and covered sports. Top crypto betting sites offer fun bonuses for Bitcoin users, a bet builder feature for combining markets, and support for various payment methods. Some sites also let fiat users buy Bitcoin through exchanges like Paxful and Onramper.
There are also top crypto betting sites like Bitcasino.io that partner up with impressive teams and athletes to create a fuller betting experience, even to sports fans and punters alike. Take this interview with one of ice hockey's greatest legends: https://bitcasino.io/blog/promotions/exclusive-interview-with-pavel-barber