If you are already into decentralized finance (DeFi), you are already familiar with token wrapping.
Tokens get wrapped and the wrapped tokens are another thing entirely.
The MonkeyFirm launched its Token-backed NFT Wrapping platform.
The platform has made everything about trading NFTs to be one quick, easy and seamless process.
One-click NFTs may sound like the stuff of science fiction but then again, so were NFTs a few years ago!
We reached out to Mark Berisha, CEO of The MonkeyFirm for more details.
Here is what he had to say.

Mark Berisha CEO of the MonkeyFirm
E-Crypto News:

Please, can you tell us more about token-backed Non-Fungible Tokens (NFTs)?
Our Token Backed NFT's are essentially a one click solution to the billion dollar OTC market. We have created a simple solution which is recognized to be a very complex issue.

The current OTC market faces a variety of headaches: Timezone issues, escrow agreements, high fees. Our one click solution eliminates these issues with a simple click on a URL. We are currently integrated with MetaMask and looking at additional wallets in the future.

It works like this:

Connect your metamask, you select the amount you would like to sell and how much for. It can be ANY BEP20 coin/token you like.

You mint this information into an NFT on MFRM, the tokens you are selling will then be wrapped in this NFT. Once you have listed your NFT for sale, copy the link address and share it with any potential buyer. It is that simple!

For the buyer, they connect through metamask, click on the buy button, then redeem their purchased tokens into their wallet. Once again, it is that simple!
E-Crypto News:

How do they differ from your average NFT?
Well they aren't just pretty pictures, they are perpetual utility NFTs, they have a purpose.

We have always viewed NFTs to be more than the wonderful digital art out there. Our Token Backed NFTs are providing a solution to a problem out there.
E-Crypto News:

How are values derived for the backing of these tokens?
In terms of value, this is dictated by the seller.

They choose how many tokens they want to sell and for how much. Of  course, with our chat box, this could also become a deal agreed upon by both the buyer and seller.

Beyond the chosen listing value decided upon, it would be the market itself which will dictate the token value.
E-Crypto News:

Why wrap tokens in the first place?
To create a streamlined process.

Wrapping tokens in an NFT locks in the value for the seller and ready for a buyer to purchase the tokens and redeem them.

It takes away the current requirement for a third-party escrow, which can be tedious and costly.

Related: NFT Space Generated $10.67B In Q3 Trading Volume – DappRadar Report
E-Crypto News:

What security measures are in place to prevent any bad behavior?
We take security very seriously.

Firstly, we cannot not touch the tokens wrapped in the NFTs, only our contracts manage this.

Secondly, we hired RD Auditors to complete a thorough audit. Not to mention extensive testing as well.
E-Crypto News:
How do peer-to-peer NFT marketplaces operate?
Well, when it comes to Token Backed NFTs we are the first one out there, so we are setting the tone.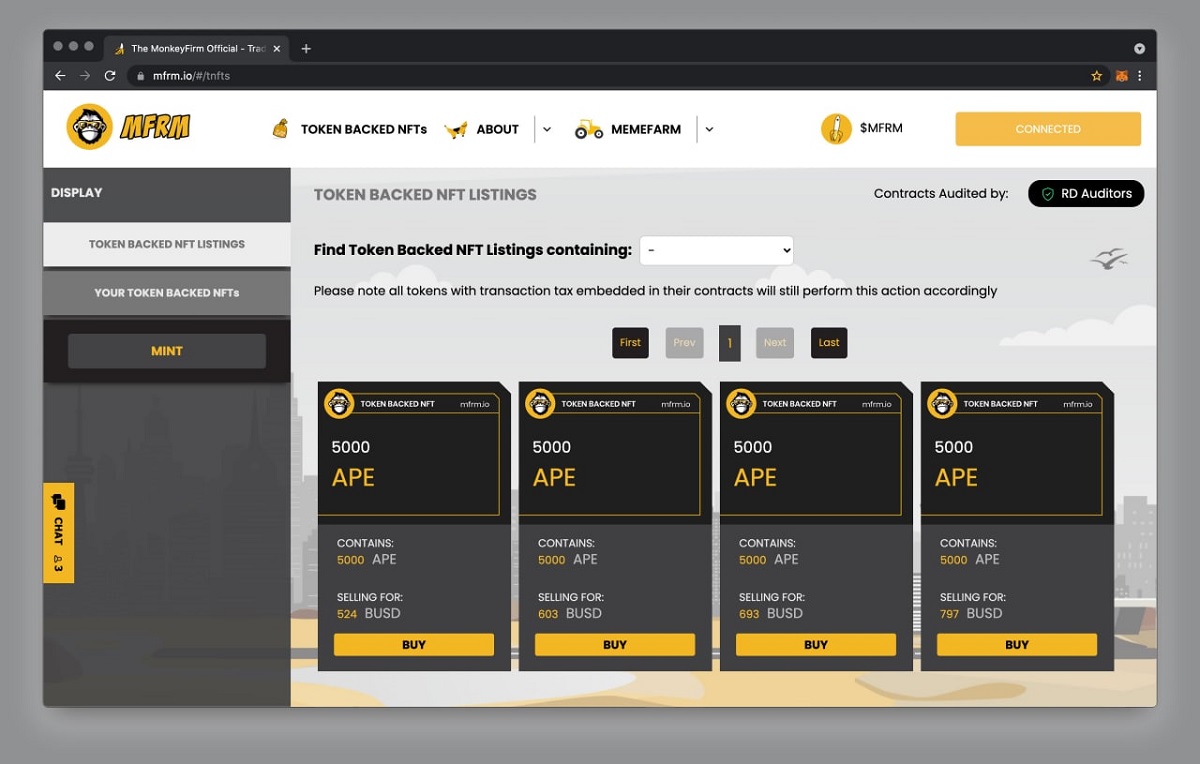 E-Crypto News:

How can anyone participate in the peer-to-peer marketplace?
Anyone who has a metamask wallet and tokens they want to buy or sell can participate in the trade of Token Backed NFTs.
E-Crypto News:

Are there any other cryptocurrency and allied technologies you are involved with? Please, can you tell us more about them?
Absolutely, our sister company BUSTA is going from strength to strength at the moment.

We have BUSTA DEX, BUSTA CRASH (first of many defi games to come), BUSTA COMICS etc. https://www.busta.gg/
E-Crypto News:

What impact do you think NFTs are making on the world?
There are a variety of impacts NFTs are already making and so many more to come.

We certainly have a tonne of ideas up our sleeves, so we look forward to a very exciting journey.

However, Token Backed NFTs are a great example of NFTs with utility.

NFTs are also disrupting the art world and putting more money in the pockets of the creators. It is only just getting started.
Related: NFTs: How To Mint And Sell Them
E-Crypto News:

Please, can you tell us more about APECoin?
APECoin is what started this wonderful journey we are on.

It began as a fun meme developer token and has since evolved as our incubator.

Both MFRM and BUSTA are spawned from APECoin.
E-Crypto News:

How far do you think the cryptocurrency space will go when it comes to innovation? Please, can you tell us more about this?
We believe it is almost unending with possibilities.

The sky is truly the limit and for creative people it is truly a new frontier.
E-Crypto News:

Are there any new projects you're bringing to the world before the end of the year? Please, can you tell us more about this?
We have our hands full with both MFRM and BUSTA at the moment.

Both are going to be continuously evolving and adding additional utility.

However, should we find some additional bandwidth, we have so many more ideas we want to bring to market.
E-Crypto News:

What are the values that drive the Monkey firm?
Innovation, community, fun/excitement.
E-Crypto News:

Please, can you tell us more about your team?
We all come from a variety of different backgrounds.

We look for problems which require solutions and then build them. We work hard and ensure to enjoy the journey as we go.
E-Crypto News:

What was your ultimate goal when founding the Monkey Firm? Please, can you tell us more about this?
To expand the use of NFTs with perpetual utility.

Therefore further harnessing the powers of blockchain technology.
E-Crypto News:

Do you have any secrets you want to tell us? Care to spill the beans?
Our innovation will not stop. I can certainly promise you that.
E-Crypto News:

If you had three wishes and a genie that could make them come true, what would they be for the Monkey Firm and the NFT space?
For The MonkeyFirm to be a multichain top 100 crypto projects in the world.
For the oculus to make headway and truly be a household item.
This way even art NFTs will be further appreciated beyond their current acceptance.