Faith-based decentralized finance (DeFi) solutions are rare.
We had never come across a faith-based DeFi ecosystem until we discovered Marhaba DeFi.
The Shariah-compliant decentralized finance (DeFi) ecosystem caught our interest as another use-case scenario that holds the keys to unlocking liquidity.
We reached out to Deniz Dalkilic who is the CTO at MRHB (Marhaba) DeFi for more explanations on how this works.
Here is what he told us.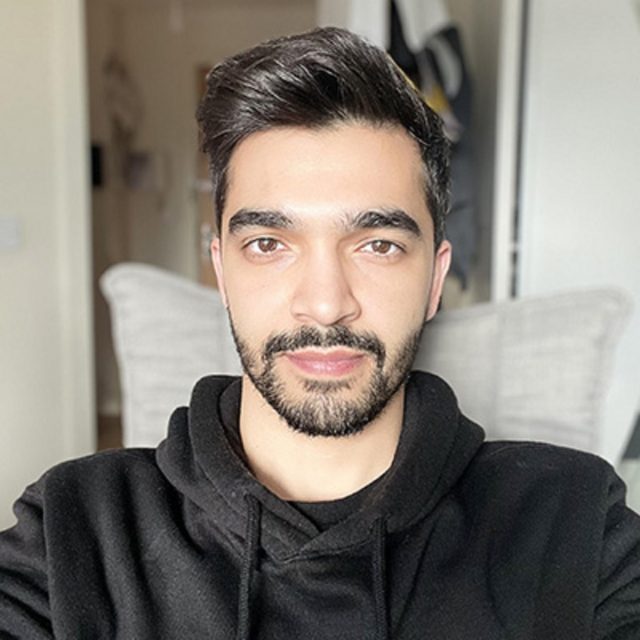 About Deniz Dalkilic
Deniz Dalkilic is the CTO of MRHB (Marhaba) DeFi and is an experienced Software Engineer with a decade of experience in developing small to large (distributed) systems, primarily focusing on backend development.
Deniz has been involved in the blockchain space for the past 5 years and has been building (and co-founding) decentralized platforms. He is interested in expanding blockchain (and decentralization) ideas beyond its boundaries and always looking out for opportunities to offer cryptocurrencies to the masses.
Deniz has earlier co-founded Bounty0x, which is an automated cryptocurrency bounty hunting platform. The platform now has distributed assets, across borders, close to $5m notional-value to its end-users.
MRHB DeFi Explains Ethical Issues and More  
E-Crypto News:
                                                                        Please, can you tell us more about the general concept behind MRHB DeFi (pronounced 'Marhaba')?
Marhaba is built around the foundational concept of promoting ethical finance in the cryptocurrency space. We are building a platform where Muslims and other faith constrained people can be assured they are using only ethical, Sharia-compliant products and services.

It will also be a platform that promotes equality by bringing unbanked, under-represented populations, primarily from poorer countries, into the empowering world of decentralized finance.
E-Crypto News:
How does the Halal concept work in finance?
Sharia law prohibits Muslims from using unethical products or services. So, for example, the buying and selling (and consumption) of alcohol is deemed "haram", or sinful and against Sharia law.
Specifically, concerning finance, Islam has strict injunctions against usury — interest is considered to be an inequitable, exploitative form of financial conduct that only serves to spread the state of indebtedness and inequality at the socio-economic level.
E-Crypto News:
What are the basic elements of Islamic finance? Please, can you tell us more about this?
The basic elements of Islamic finance revolve primarily around making sure one's investments and financial activities only promote ethical, Sharia-compliant businesses, people and products. As usury is considered unethical, Islamic finance bans interest on loans. Furthermore, Islamic finance requires that ambiguity and deception should be avoided at all costs.

Blockchain is truly the perfect tool for Islamic finance to ensure transparency and fairness for all.
Related: MRHB DeFi and Coinsbit India Partner to Bring Halal Crypto to India's 200 Million Muslims
E-Crypto News:
What are Halal crypto assets? Please, can you tell us more about this?
"Halal" crypto assets are those that have been determined to be Sharia-compliant.

The process of determining whether an asset is halal or not requires an intermediary, in many cases, as the judgement requires a deep knowledge and understanding of both theology and the financial industry.
E-Crypto News:
How does the Shariah validator work?
Marhaba employs a team of finance experts and a team of theology experts to deliberate and vote on every single asset or service we intend to include on our platform.

In order to be deemed Sharia compliant, and therefore permissible to include under Islamic finance, both our finance and theology teams must have consensus amongst them that the product or service is halal.

The team is independent from the inner-workings of Marhaba in order to stay objective and get rid of any bias.

The Shariah team has their own dashboard they review, scrutinize and make decisions on.

The rest of the applications within MRHB Network simply consume a list of coins that are deemed to be Shariah compliant and allow our end users to trade and/or interact with these coins.
E-Crypto News:
Can you tell us more about the Souq NFT Platform?
The Souq NFT Platform (sNFT for short) will be an open, "no-code" marketplace hosted by Marhaba where individual creators can mint their own NFTs. The platform will make use of AI to detect and filter out non-Shariah compliant content i.e. NSFW content such as nudity, adult content, hate speech and racism.

Aside from NSFW filtering, the marketplace place will be cross-chain (EVM based chains initially) and will have a built-in "uniqueness" checker to ensure no copyrighted or already existing NFTs can be re-minted.

sNFT will also team up with orphanages and special schools to teach kids how to mint and sell their own NFT artworks, with the proceeds of these sales going directly to the participating institutions.
Related: NFTs Allow Gamers To Enjoy Digital Property Rights
E-Crypto News:
Can you tell us more about the liquidity harvester?
The liquidity harvester will be a cross-chain liquidity harvesting protocol hosted in the MRHB ecosystem. It will essentially operate similar to a Savings Accounts whereby users will generate passive income 5-15% EAPR/annum*** (on stablecoins initially).
The idea at a bird's eye view is simple; the tool will scan the crypto universe and find the most lucrative liquidity pools across chains and protocols and offer it as an option to the end-user.
V2 of the dApp will behave similarly to a fund where we move users funds on their behalf to most lucrative pools periodically to maximize their gains as well as open the doors to beyond stablecoins where returns can range from 30-60% EAPR whilst of course increased risk due to volatility of altcoins and impermanent loss.
In order to remain Sharia-compliant, liquidity harvesting will be focused on profit sharing and joint ventures under a contract called Mudarabah and will only allow users to deposit Shariah-compliant tokens as well as only utilize Shariah-compliant methods such as liquidity mining as opposed to interest gains via lending, etc.
In short, users will be able to deposit their supported Sharia-compliant tokens into supported DEX liquidity trading pools and earn returns through trading fees.
E-Crypto News:
How much money is locked within the Islamic financial ecosystem? How can the cryptocurrency space help unlock this liquidity?
Total liquidity/assets locked in the Islamic finance sector are around USD 3 trillion in value, which is around 20 times the total value of assets locked in DeFi. Currently, $0 of this Islamic liquidity is locked in DeFi, showing an enormous potential for growth once halal DeFi options are made available.

MRHB aims to capture just 1% of this total liquidity which will set it at $30B TVL, larger than any major player like Compound or AAVE TVL.
E-Crypto News:
Please, can you tell us more about governance within the MRHB DeFi ecosystem?
It is our hope that in the future MRHB will completely decentralize and be governed entirely by its community. If you hold MRHB you can raise proposals and allow other MRHB holders to vote on protocol level changes such as fee mechanism, burn rates, buy-backs, integration of chains or pools and so on.

Until DAO governance is released, we have two governance boards — one group that governs the protocol and one group that ensures Sharia compliance — to guide MRHB's evolution.
E-Crypto News:
Tell us more about your cross-chain DEX aggregator.
Our DEX aggregator, or 'The Dexregator' as we like to call it, will be a hybrid platform that uses both on and off-chain methods for connecting to and analyzing several approved DEXes.

It also works across blockchains, so our users will not be stuck within any single ecosystem.

Idea of the Dexregator is to provide users with a single point of entry to the entire liquidity available across all chains thus get the best rates with minimal slippage. Dexregator will only charge a small fee if POSITIVE slippage is achieved otherwise completely feeless.
Related: How DeFi 'Degens' Are Gaming Ethereum's Money Legos
E-Crypto News:
Can you tell us more about the concept behind decentralized philanthropy (De-Phi)?
Our vision is to build the world's first dedicated protocol for decentralized philanthropy.

MRHB DeFi Platform users will have the option to send a portion of their crypto portfolios to approved charity organizations with full traceability and transparency while preserving donors data.

In addition to voluntary donations and general philanthropy, we will include a system to help users make automated donations at set intervals — this is useful for Muslims to fulfill their "Zakat" obligations but at the same time help non-Muslims to fulfill their obligations as a human to help one another without compromising their privacy.
E-Crypto News:
More about the $MRHB token?
$MRHB is a digital utility token with a total supply of 1 billion.

In addition to having monetary value when traded on exchanges, $MRHB has many uses on our platform (check our whitepaper for full list), and will have many further uses added as Marhaba grows.
E-Crypto News:
What are the various functions of the $MRHB token within the Marhaba DeFi ecosystem?
Intended uses include:
A $MRHB fee must be paid for a project to apply for Sharia approval

Fees for minting NFTs on our marketplace

Buying and selling NFTs on our marketplace with lower transaction fees than other cryptocurrencies

Fees for use of the liquidity harvester

Fees paid to boost a cryptoasset's exposure in the Sahal wallet

Paid to users who opt in to view advertisements

Fees for DApps to go public on our Launchpad

Transaction fees on the MRHB DEX

Incentivization strategies to promote $MRHB on other Shariah approved projects

People who hold 10,000 $MRHB or more will have voting rights on our DAO

MRHB will be compulsory for API integrations with B-2-B customers and any payments to utilise any MRJB product
E-Crypto News:
What is the general idea behind your decentralized autonomous organization (DAO)?
DAO
All products will have a fee that can only be paid in $MRHB. Our DAO will include a smart contract holding a pool of all fees paid.
Our community of token holders will have voting rights on proposals, which will all be regulated through smart contracts and automatically paid out from the pool. It will be a truly automated blockchain-based system — no human interaction involved.
E-Crypto News:
What are the para-chain capabilities within the MRHB DeFi ecosystem? Can you tell us more about this?
The final phase of our platform rollout will be to migrate to the Polkadot ecosystem as a parachain.
We are aiming to do this in order to become a truly frictionless platform bridging across a range of networks.
E-Crypto News:
What is the DAO Treasury? How does it work?
All products will have a fee that can only be paid in $MRHB.
Our DAO Treasury which is a chain of Smart contracts will be holding a pool of all fees paid across all our products. The pooled funds will be utilized for many things including buy-back, marketing, burns, subsidization of TX fees where possible, and more.
E-Crypto News:
Please, can you tell us more about the entrepreneur launchpad?
The launchpad will be an initiative to help fund entrepreneurial dreams and goals in a Shariah compliant manner whilst utilising Quadratic Funding model.

We aim to finance entrepreneurs from around the world, regardless of their backgrounds, to onboard Shariah approved projects to our platform.

The projects have to be cryptocurrency-focussed.

The launchpad will have built-in features to deter bots, "sniping" and any other exploit that puts "whales" at an advantage and will set a fair playing field for all.
E-Crypto News:
How do you think MRHB DeFi will change the world?
First and foremost, we will bring DeFi to the Islamic Finance community, representing USD 3 trillion in value. This will undoubtedly make the DeFi and cryptocurrency industry, in general, grow rapidly.
Secondly, our hope is that the ethical, moral standards of Shariah-approved finance will be recognized by an even larger demographic, and thereby help to reposition the financial industry in many ways to become more ethical itself and not make the same mistakes fuelled by greed we see in Wall St today.
Through blockchain technology, we can fight against injustices such as money laundering, human trafficking, excessive fees, and the opaqueness of the financial world.
E-Crypto News:
Please, can you tell us more about your tokenomics?

From a total supply of 1 billion tokens, our tokenomics break down thus:

Seed: 30%

Treasury: 20%

Team: 15%

Platform rewards: 10%

Strategic partnerships: 7%

Advisors: 5%

Private whitelist: 5%

Exclusive entry sale: 5%

Public sale: 3%
Notably, we have chosen to implement a long vesting schedule to all but the public sale tokens.

We are committed to building a platform that brings value to the Muslim community and the world at large.

We are steadfastly against 'pump and dump' schemes!