JPMorgan Chase & Co. is said to be in the early stages of developing a blockchain-based digital deposit token. The token is meant to speed up cross-border payments and settlement, based on a source familiar with this matter.
The United States' largest bank by assets has developed most of the underlying infrastructure required to operate the new kind of payment. However, JPMorgan said it would not create the token unless the project gets approved by US watchdogs, according to the source who spoke to Bloomberg anonymously.
Notably, the new type of digital currency, when approved, will help accelerate international payments and settlements. This bank might launch the product for use by corporate clients within a year after it gets approval from the authorities.
Currently, JPMorgan is investigating a blockchain-based deposit token that would operate as a transferable digital currency that represents a deposit claim attached to it.
Deposit tokens are described as transferable digital coins that signify a deposit claim against a commercial bank. In essence, they are a digital version of the deposits that clients hold in their accounts. Since the transactions using the coins get processed on blockchain rails, settlement is instant, and proponents of the new form of money say these transactions are cheaper as well.
Related: Deposit Tokens: Are They The New Stablecoins?
A JPMorgan spokesperson stated:
"Deposit tokens bring plenty of potential benefits, but we also appreciate that regulators would want to be thoughtful and diligent before any new product gets developed and used. Should that appetite develop, our blockchain infrastructure would be able to support the launch of deposit tokens relatively quickly."
Notably, JPMorgan has already tested issuing tokens in one transaction in 2022 as a part of the Monetary Authority of Singapore's Project Guardian and mentioned the potential of this type of money in a study published recently.
1/3 Embrace, extend, extinguish? @OliverWyman & @jpmorgan renamed them deposit "tokens" (https://t.co/XDrHXxLrbq)…

— Christian Catalini (@ccatalini) February 10, 2023
This move would represent a significant growth of JPMorgan's blockchain efforts, which have been at the top of Wall Street's effort to utilize crypto's underlying technology to help simplify some of the complex processes involved in banking.
While this sector has been testing for nearly a decade, generally it has not yet reaped any significant benefits from the nascent technology. This scenario has made some critics question blockchain's real utility in the world of finance.
More Utility Than JPM Coin
JPMorgan is not new in the world of blockchain. The investment bank has developed many applications previously using blockchain. Currently, the bank most notably operates a system known as JPM Coin, which was introduced in 2019 and enables some of the JPMorgan corporate clients to move their euros and dollars from their different accounts within the whole financial institution.
The bank stated in June 2023 that it has utilized the platform to process nearly US$300 billion of transactions since it was launched. By comparison, JPMorgan moves around US$10 trillion in US dollar transactions on average.
Based on a source familiar with the current project, the deposit token would work differently compared to the JPM Coin, since it would be used to seamlessly send money to clients of another bank. It is also well-designed for the settlement of trades of financial instruments and tokenized securities issued on a blockchain.
Just like the JPM Coin, its infrastructure would link to the bank's current compliance networks so that transactions can undergo anti-fraud, know-your-customer, and other essential checks and be part of the firm's regulatory reporting.
Interestingly, the deposit token might first get denominated in US dollars. Nonetheless, it might later become available in other fiat currencies, if approved by all the relevant regulators, as explained by a source familiar with this matter.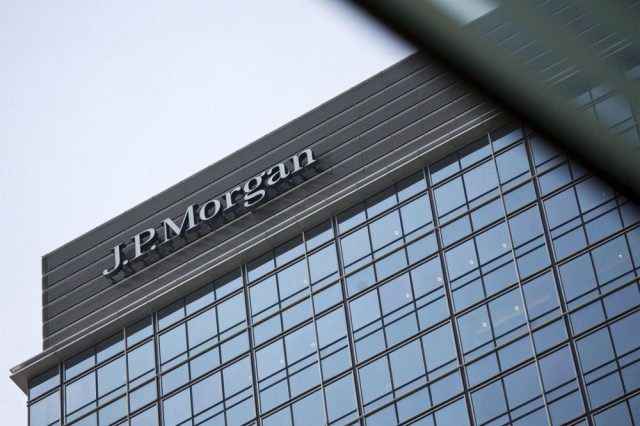 This token would not be intended to be utilized for purchases of cryptos, or as a replacement for so-called stablecoins like Tether's USDT. Stablecoins are always meant to maintain their 1:1 value to hard currency, and they are utilized by traders to move in and out of the cryptocurrency market or to switch digital assets between exchanges.
Deposit tokens are well-designed to be utilized in the traditional financial ecosystem, for settlements, payments, and other similar functions. JPMorgan highlighted in its recent study:
"We believe deposit tokens will become a widely used form of money within the digital asset ecosystem, just as commercial bank money in the form of bank deposits makes up over 90 percent of circulating money today."
In February 2023, JPMorgan said that deposit tokens might provide more reliability and stability compared to similar solutions, including central bank digital currencies and stablecoins.
JPMorgan's deposit token helps expand the bank's blockchain-based solutions and adds more competition for the currently available stablecoin issuers. Another major operator that recently joined this race for quick settlements powered by crypto tokens was PayPal.
Related: PayPal Launches PYUSD Stablecoin For Payments, The Community Reacts
The fintech company unleashed its stablecoin, PayPal USD (PYUSD), in early August, pushing traditional competitors in the United States market, including Circle, to expand the reach of its stablecoin USD Coin to six new blockchains aiming to boost adoption.