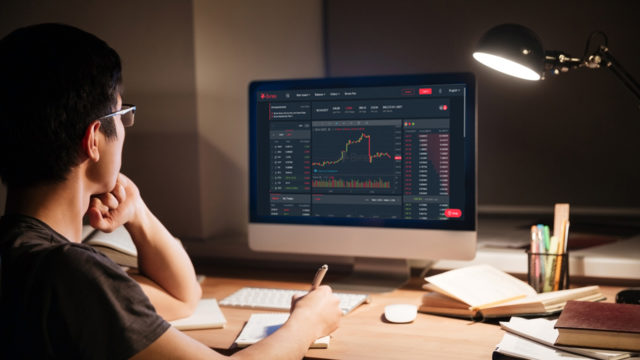 As the crypto industry continues to grow, so does the number of ways to make money from it. And one popular way is through crypto copy trading. The recent data claims 2 in 5 traders copy trade. Now, what is copy trading? It is a process where traders can automatically copy trades of other successful traders with help of crypto copy trading platforms.
This is a great way to learn from more experienced traders and to start making profits without having to put in a lot of time and effort. However, it's important to pick a regulated copy trading platform so that you can be sure your money is safe. Here, we will discuss crypto copy trading, how it works, and some of the regulatory bodies regulating different platforms.
What is Crypto Copy Trading?
Cryptocurrency copy trading is a process of replicating the trades of experienced and successful traders in the hope of achieving the same success. This is done by using software that analyses the master trader's behavior — a professional trader whose trades new traders copy and then creates a signal that is sent to your account.
The aim of copy trading is to allow investors to make profitable trades without having to learn about the complexities of the cryptocurrency market. By following the trades of experienced traders, new traders can hope to achieve better results than if they were to trade on their own.
Hence, this can be a great opportunity for traders who have just stepped into trading. What Are the Benefits of Cryptocurrency Copy Trading? There are numerous benefits to crypto copy trading.
Perhaps the most obvious benefit, as discussed earlier, is that it allows you to access the expertise and trading abilities of experienced traders that you can utilize to make profits, without even having much market knowledge. The second benefit of cryptocurrency copy trading is that it allows traders to diversify their portfolios.
By copying the trades of a number of different traders, you can spread your risk across a number of different cryptocurrencies, which can protect you against price fluctuations that come with trading only one pair. Lastly, the most important benefit of crypto copy trading is that it is also a great way to maximize your profits.
Since you are copying trades of traders who have far more trading experience than you, you can have a high potential of earning big rewards as well as an understanding of how trading strategies work in detail. In the future, you can also use this information to make more informed and profitable trades.
How to Crypto Copy Trade?
Now that you know what crypto trading is and its benefits, the next thing to come to your mind is – how do I copy trade crypto? Well, it's a simple process: you sign up with a reliable copy trading platform and find a trader who has a history of successful trades and then copy their trades. This way, you don't have to spend time analyzing the market and trying to make trades yourself.
You can simply follow the trades of a successful trader!
There are a few things to keep in mind when crypto copy trading. First, make sure you find a trader who has a good track record. You don't want to risk your money on someone who does not have a history of making successful trades. Second, always make sure to do your own research.
Just because someone has a good track record does not mean they are always right. Finally, remember to stay disciplined. Crypto copy trading can be tempting to try and "ride the wave" and make lots of money quickly. However, take everything with a pinch of salt and be ready for the unexpected.
Stick to the plan and don't get caught up in the hype. Coming to the crypto trading platforms, which is the most important aspect of crypto trading, make sure you pick the best platform. Since there is plenty of fish in the sea, do not sign up with any random platform. Register with one that is regulated.
This, however, can be confusing. So, you can take a look at some of the regulatory bodies that monitor trading platforms.
l CySEC: Cyprus Securities and Exchange Commission (CySEC) is responsible for regulating the financial markets in Cyprus.
This includes ensuring that all brokers and firms operating in the country are following the law and protecting investors from financial fraud.
l FCA: The Financial Services Authority (FSA) is a UK-based regulator that covers financial services and markets.
Their main objective is to protect investors/traders and promote competition in the financial services industry. They do this by making sure that firms are providing clear information to consumers, and treating their customers fairly.
l HCMC: The Hellenic Capital Markets Commission (HCMC) is the public authority responsible for the supervision of the securities market in Greece.
Its mission is to ensure the smooth functioning of the capital markets and to protect investors. To achieve its mission, the HCMC takes a proactive approach to regulation, continuously monitoring developments in the markets and taking action to address potential risks.
l ASIC: ASIC is an Australian regulator that oversees financial markets and firms. It has specific regulations regarding copy trading platforms.
Benefits of Choosing a Regulated Crypto Copy Trading Platform
l Safety: Regulated platforms are required to follow certain rules and regulations designed to protect investors.
l Transparency: Copy trading platforms that are regulated under regulatory bodies are obliged to disclose their fees and other important information to their clients. This helps to create a more transparent environment.
l Better customer service: Regulated platforms are typically more responsive to customer complaints and queries.
Copy trading is an exciting way to trade markets, and it offers many advantages for traders. However, it is important to choose a regulated copy trading platform in order to ensure the safety of your investment as regulated copy trading platforms are overseen by financial regulators, who ensure that the platform is fair, transparent, and compliant with financial laws and regulations.
This protects your money and gives you peace of mind that your investment is in good hands.